My trip to Nantes was unplanned and frankly not one I would have chosen for myself.  This is not a bias against Nantes, which has its merits, like an adorable chateau, but I was more interested in the Atlantic coast!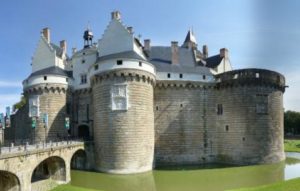 Aimée, my daughter had a chance to go on a "formation" paid by her hospital, Sainte Anne to a week long conference and training on using dance and body movement as a therapeutic treatment of psychiatrically ill patients.
An offer for her too good to have turned down and despite my initial reluctance to tag a long for the ride, she thought it would be good for me to "changer l'air" as the French love to say as a reason to go anywhere.
Though the literal translation means changing air, it really means , getting away, taking a break, and some fresh scenery!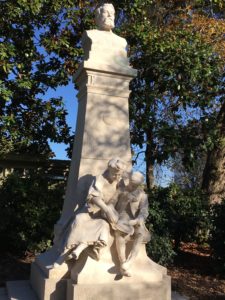 Yes, however beautiful and exciting Paris is, I love just about any adventure  outside the city to get some "fresh" air too, as the pollution here is real.
It is an easy four hour drive, on the wonderful highways, except  they charge you an arm and a leg in tolls.  The airbnb apartment had a pretty view and a well equipped kitchen, as I like to cook from local markets.
I did not realise that Nantes is a city built on  hills overlooking the Loire, so I did enjoy getting the benefit of some cardio walking up some fairly steep streets.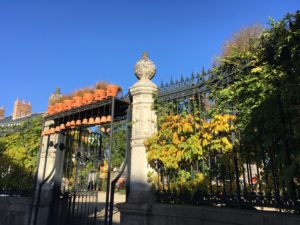 The trams and buses made it easy to get around and because I have a good sense of direction, I rarely got lost.
My first attraction visited was their lovely park.  They were offering free guided visits to some of the wonderful old greenhouses.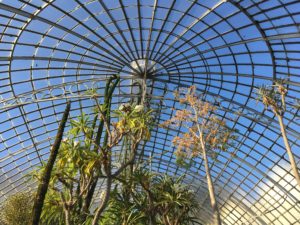 There were just two of us, so I had plenty of time to ask a lot of questions.  The first greenhouse was full of cacti, mostly from American deserts in New Mexico, Joshua Tree and Arizona, which certainly must be more "exotic" for the French than me.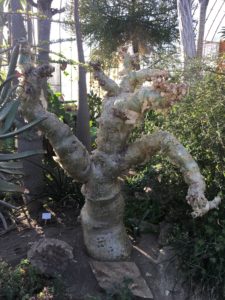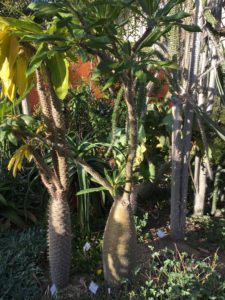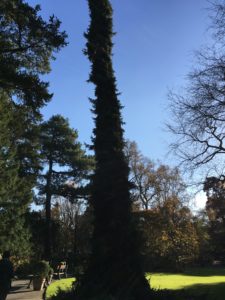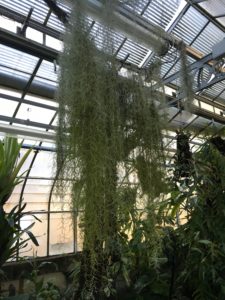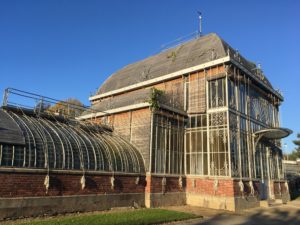 I learned a lot about their survival  and adaptation abilities, but being from Louisiana, I prefer lush flowering greenery in the Madagascar and  other tropical greenhouses.
This strange truncated shrub  looked like it had leprosy  and surprisingly is a member of the grape vine family.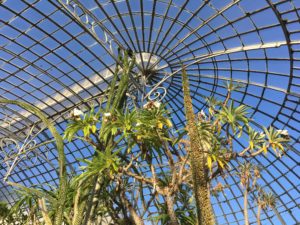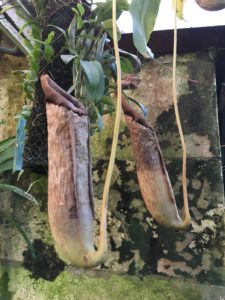 I liked those huge goblet looking flowers that make for a great reserve of water and insects as well.
Most of all I just liked wandering along the paths taking in the autumn browns and golds in the bright sun and enjoying all that fresh air.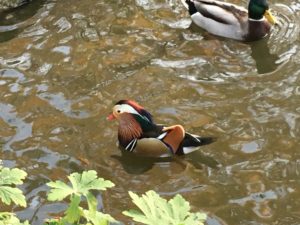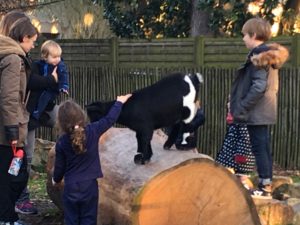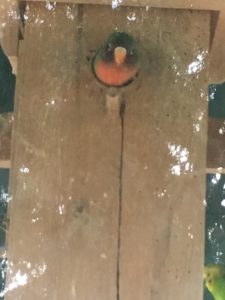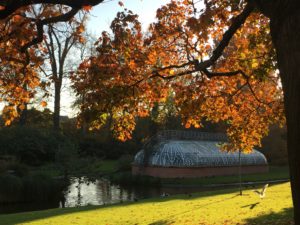 Some very colorful birds and cute goats frolicking with the children, along with some curious lovebirds checking me out, all made for a pleasant few hours.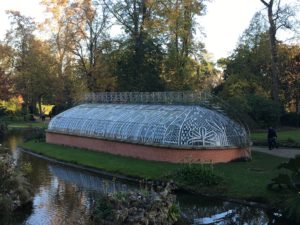 I lingered in the cold crisp air till shadows crept in, just walking around sucking up all the glorious fresh air, that indeed felt different in walking the streets of Paris or even in the parks.
The sun was setting fast and cast a bright golden hue on ancient Cathedral Saint Pierre. I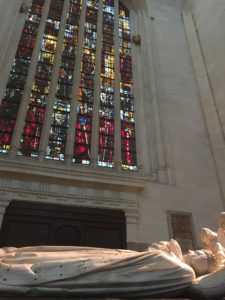 walked all around its vast rather austere interior except for the pretty stain glass windows and funerary tombs of the Duc de Bretagne and his wife Marguerite de Foix.
Nantes has a lot of "pietonne" or pedestrian streets  throughout the central town, which made for enjoyable strolls and window shopping till the lights came on.
After visiting the Jules Verne Museum, which I wrote about last week, I walked all along the Loire, then hiked up a steep street to the Passage Pommeraye.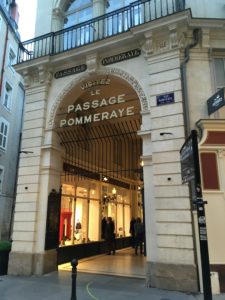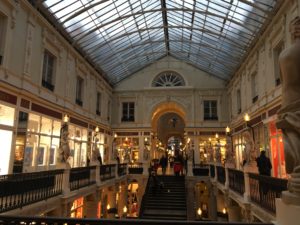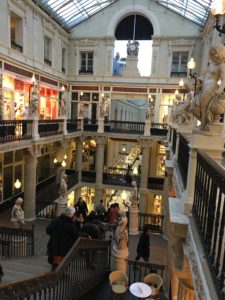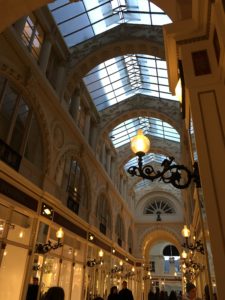 Paris has lovely filigree glass covered passages too, but this one was more elegant and refined.  The center part was outlined in lovely white statues, giving it a neoclassical look.
It was getting dark, so I did not go through it all, nor was I interested in peering into the shops.
I had made reservations for a restaurant carefully selected amongst many well researched from different sources, but made the reservation through Trips Advisor's The Fork.
With my sms confirmed reservation, I set out to find it, only to find the whole place dark and  closed till the weekend.    Using internet reservation services in the past has gone without a glitch, but this definitely shows its limits.
Quickly doing a mental rundown of possible alternatives nearby, we headed off to one that was already full.  Fortunately Aimée had the notion to ask if they could recommend another restaurant with similar cuisine.
They could, just down the street!  Only opened for a week or two it turned out to be a real find with wonderfully elaborated food with an adventurous flair.
Numéro 23  is a bustling wine bar, with some great food, and fantastic wines.  Though is wasn't cosy with candlelight, a bit noisy, I was grateful they had a table!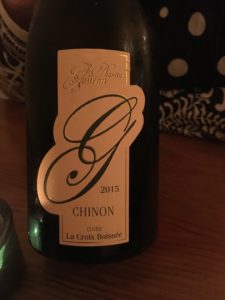 There are vineyards around Nantes, mostly planted with the Gros Plant grape that makes Gros Plant wines and Melon de Bourgogne that goes into making Muscadet.
Since I had already had several interesting Muscadets, like one aged in chestnut barrels. it was the white Chinon that caught my eye.
Chinon is vastly more famous for its powerful chewy reds which I adore, but I had discovered a few years ago that a white Chinon, made with 100% Chenin blanc can be just as captivating.
This one was absolutely divine, rich and heady with a lovely perfume of white flowers.  The taste gave way to hues of pineapple, vanilla, and apricots.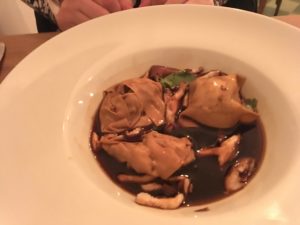 My first course was innovative and succulent.  Three fluffy and very tender ravioli filled with butternut and walnuts  floating in a deeply flavoured shiitake bouillon.
My fish, a lieu jaune was finished with the renown Nantaise carrots, fennel and a sauce hinting of passion fruit.
Actually it was the young chef who came out to serve and was interesting to hear his story about his creations, well deserving of my praise.   If ever in Nantes, go!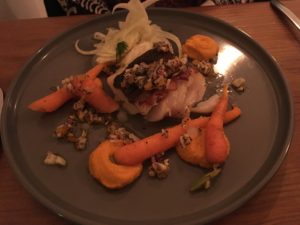 The main reason I tagged alone was to get to the coast again, as the ocean is something, I can never get enough of.
It was too late to take in a visit of the giant shipyards in Saint Nazaire, that I would have loved seeing.
Having built the SS France, and Queen Mary 2; they are currently famous for having just finished Royal Caribbean Harmony of the Seas and are working on the sister ship Symphony of the Seas.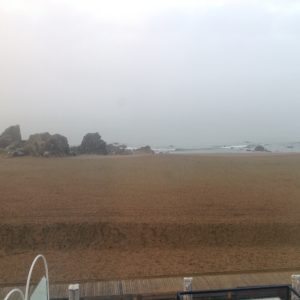 By the times we reached the hotel on the beach, the clouds had started to accumulate.
The little seacoast town seemed nearly vacant as we drove towards the center of Pornichet that evening.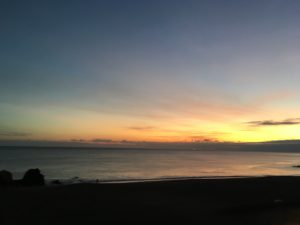 The lights of the Casino glowed brightly, but the town's square was dark and silent for a Friday night.
Le Valentin was filled with flowering plants cared for by the chef's wife, who also served with much friendliness.
Their 9 year son could be seen occasionally peeking out of his dad's kitchen.  A cloud of sadness wafted through my memories of how my grandson would sometimes do the same with his dad.
The food was fabulous and presented with a very gastronomic flair, usually seen in pricy 3 star restaurants.  A basket of delicious home baked bread along with salted butter with minced seaweed was the amuse bouche.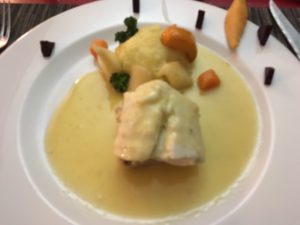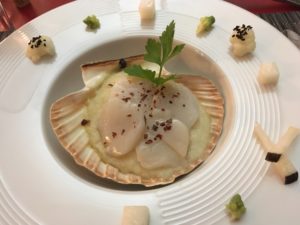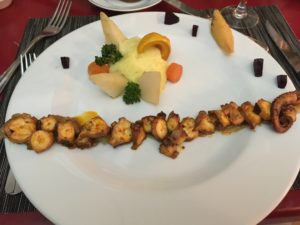 My favourite was the really succulent sweet sea scallops slightly warmed and still milky translucent like they should be atop creamed Jerusalem artichokes.
Octopus Spanish style with smoked paprika was intriguing and my plump filet of cod was perfect swimming in a beurre blanc sauce.
The desserts were really delicious and were garnished artistically.  The pink pyramid was a nougat of rose set in a pool of creme anglaise.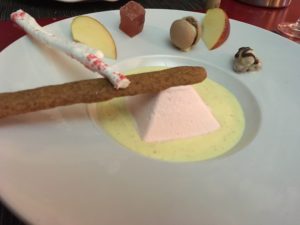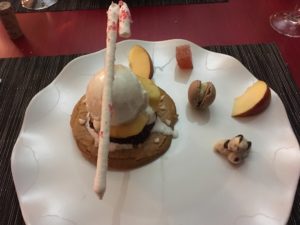 The other was a sable of hazelnuts topped with baked apple and a dome of  salted caramel mousse.  Obviously the chef is a very skilled pastry maker as well.  His wife joked that she calls her husband Monsieur three in one, chef, baker and pastry chef.
Returning to the hotel, the fog was so thick you could have cut it with a knife, literally hiding the ocean from view except for a few waves.
As long as I could go to sleep with the sound of the waves crashing on the shore, I was happy, as for me it's the best part of being on the beach.
The next morning, we decided to drive back to Paris, but before I wanted to go to Pornichet for saturday outdoor market to get some fresh vegetables, as I would missing my own marché in Paris
The multiple seafood stands were so tempting bulging with heaps of blue lobsters and jumping alive  shrimp, but I was afraid that my car refrigerator wouldn't keep them as cold as they needed for the five hour ride back.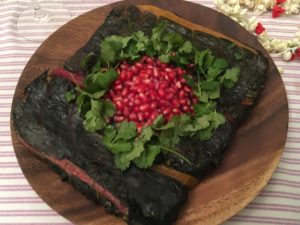 The pretty rainbow chard I bought , I turned onto a torte like dish stuffed with rice, herbs and some leftover minced beef, topped with a mound of pomegranate seeds and coriander.
My favourite culinary discovery in Nantes was the absolutely delicious Gateau Nantaise.  It is a sumptuous and very rich moist  confection of butter, rum and ground almonds.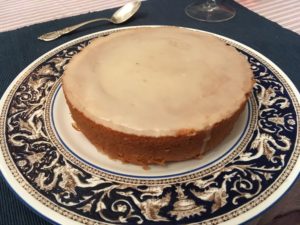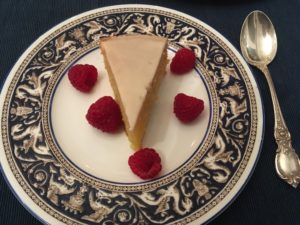 My own rendition made this past Sunday was made with less sugar, but with more butter and a tad more almonds.  It's very rummy to say the least, as there is rum in the batter, then poured over the warm cake and glazed with rum icing.
Served with some raspberries or sliced oranges, it is so rich, just a small piece suffices.  A  really succulent cake that lingers in your memory and I can see I will definitely make again soon.
Changer l'air should not be seen as a luxury, but something to do quite often.  You don't have to go to a great tourist attraction, but just a change of scenery from your everyday reality.
Hearing the waves from the hotel window  for one night was worth the money spent, even if it was bitter cold and very foggy.
The ocean is always a welcome sight and sound, and nothing can beat the smell of fresh sea breezes.  For me,  it is like a transfusion of vitality to lift somewhat my veil of grief.
Even if you live in the most beautiful and idyllic of places, like Paris, taking in  new sights and new discoveries adds to the dimension of your life.
So, head out anywhere, wherever you live, just to break up your everyday weekend routines now and then. Changer l'air is good medicine for all of us!