Printemps new  marché and marvelous food hall just opened, and I had been
wanting to take a peak of this magnificent rooftop/terrace full of gastronomic delights.
I had already visited several times the older terrace just to take in the breathtaking 360 degree views of Paris, which was a rather hidden secret, few even knew about.
The fabulous views are still there of course, but now complemented with high-end gourmet food specialities and several eateries that makes it an outstanding place to shop, eat and be enthralled, all at the same time.
True, there are already lovely rooftop restaurants and of course the Jules Verne in the Tour Eiffel with wonderful views of Paris, but the vast majority will set you back  hundreds of euros for the privilege of eating, drinking and admiring the view!
At Printemps, you can at least pick and choose from the affordable to as high as the sky foods and enjoy the outstanding views while tasting some of the best morsels that Paris has to offer.
I went last Friday a little before sunset, getting off bus 68 on Rue Mogador.  Passing in back of Galeries Lafayette and the first Printemps building, I entered the second with the ornate golden turrets on the top.
I was very pleasantly surprised and happy to be handed a welcome card to Printemps du Goût that allowed me to have a free flute of Champagne!
Perfect timing I thought since I had arrived exactly at aperitif time! I waited before getting my free flute of Champagne though, because I wanted to wander around and take photos without having to balance a wine glass in hand.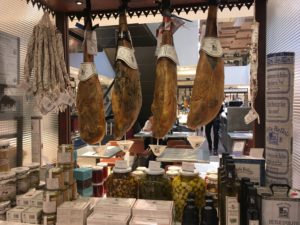 The whole affair takes up the last two floors.  Even before they built this new food market, there were a few gourmet outlets here and there in the two buildings.
You can still enjoy the pastries of Ladurée and the Russian Café Pouchkine in lovely settings and the Spanish hams of  Bellota Bellota, on lower floors.
If you have visited Paris before, perhaps you had gone to the Galeries Lafayette food hall that has now been transplanted across the street and is excellent on many counts.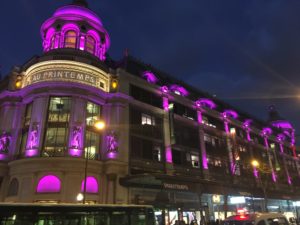 Maybe Printemps wanted to cash in on their main competitor's successful venue down the street, which is always chock full of tourists every time I have gone.
La Grande Epicerie on the left bank, behind the Bon Marché is another fabulous place that opened a second store in the 16th.
Then there has always been Fauchon across the Madeleine church that has drawn foodies from all over the world for years.
Paris has always been a gourmet food mecca for tourists and residents alike. The city is crammed full of small little speciality food shops, and enjoys the bounteous  and superlative outdoor marchés spread all over the city.
I would even say that there has been a renewed  awareness and appreciation amongst  certain segments of young French around their immensely glorious culinary heritage.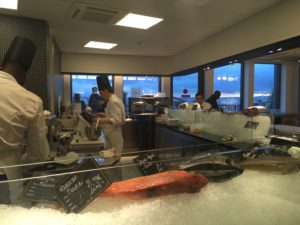 Printemps is a beautiful department store in the first place and has been undergoing extensive renovation for a while.
My first impression upon arriving was the overall airiness of the place, almost completely lined with windows overlooking the city.
The floor of entry is on the 7th floor, where you will find wines and a Champagne Bar of the Repaire du Bacchus, a Parisian wine store chain.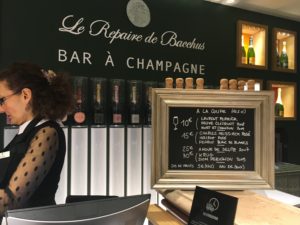 As you can see in the photo, a flute of Perrier will only cost you 10 euros, which is a bargain given that you can sip it overlooking the rooftops of Paris.
I was impressed with their immense varieties of Calvados, or apple brandy that I don't see often here.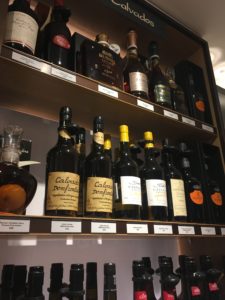 There are aisles of what Printemps considers the best of French food products  that are packaged.  Nothing sold here is imported and is meant to highlight the stupendous culinary glories of France.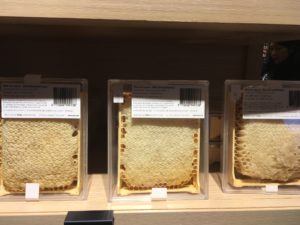 This includes, candies, chocolate, cookies, condiments, oils, olives, flours, and I could go on and on.
I must admit they did have a very impressive shelf of canned truffles to choose from, and fresh ones too, which is not often seen, except in a truffle store.
Others than the oils, honey and combs, chocolates, truffles and flours, I tend to lose interest because they come either canned, wrapped or boxed, however wonderful they may be.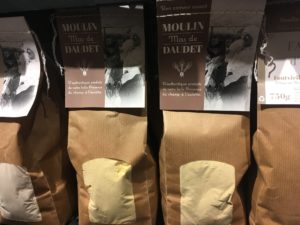 If you are a regular reader of my blog, you probably know that I am a purist and prefer to make my own from raw ingredients that I buy.
In  their aperitif section, I thought it a little silly to have a shelf of so many chips for example and boxed aperitif offerings, but I guess their point is to provide a one place shop for a party spread along with some sumptuous charcutries.
They do redeem themselves however in offering some really lovely first class truffles,  caviar and the superb foies gras, pâtes, térrines,  and sausages from Maison Dubernet that have made France famous in this department.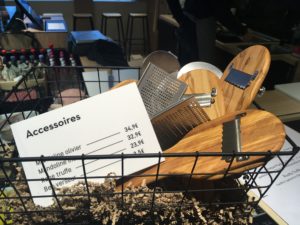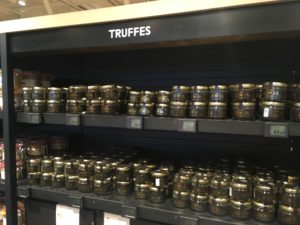 On the counter of the Balme truffle stand, I spied an adorable wooden truffle shaver that would make more of a conversation piece chez moi, than be put to use.
Fresh truffles are not something I have often had in my kitchen, not out of desire, but from the scandalous price of just a tiny one!
At Balme, their first shop in Paris, you can find shaved fresh truffles adorning some foie gras and foods for a fraction of what it would cost you to buy a whole one.
Byzance offers wonderful smoked salmon and several varieties of French farmed sturgeon caviar from the Aquitaine region.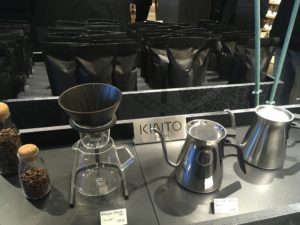 You can also find chocolates from La Maison du Chocolat, teas from the Le Palais des Thés, and coffee from Lomi, where they were selling an expensive Japanese filter system.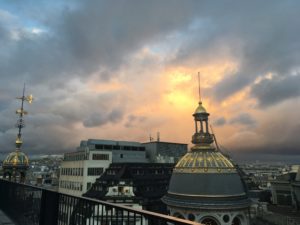 The Juicerie offers fresh pressed juices, smoothies and a few vegan and gluten free dishes.
Even if the weather is too dismal or cold to venture outside, the views out of the windows are still beautiful.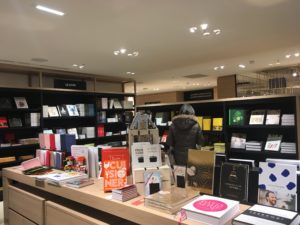 The first floor also houses a fairly large cookbook section as well.  I stumbled upon one of the first cookbooks that I had ever bought, that immediately overwhelmed me with sadness.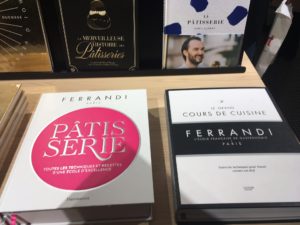 La Cuisine and the sister book La Pâtisserie Est Un Jeu d'Enfants was often used a lot by my son, who loved the whimsical illustrations.
Nearby was another astute reminder of him; the books from Ferrandi École de Gastronomie in Paris, where he learned to be a chef.
The 8th and last floor is where you will find more places to eat, and shop, along with a tea salon.
There you will find some famous names in pastry, cheese, breads and a stared chef's  orchestrated restaurations.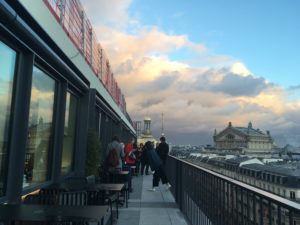 Here is where you can exit out on the divine terrace with tables and chairs to admire all of the gorgeous scenery that a bird's eye view of Paris encompasses.
There was a small produce selection that advertisers to offer only that which is season, selected by famous vegetable guru/farmer Joel Thibault.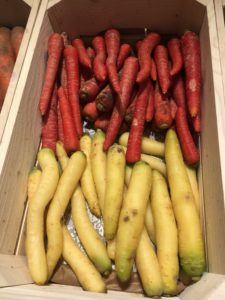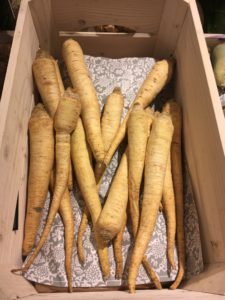 From time to time I would go to his stand at the President Wilson Marché over my Place Iena for vegetables that I would not ordinarily find at other marchés.
I was happy to see parsley roots for sell for example and would have bought some, but had already bought enough root veggies previously.
I love parsley roots puree for their indescribable taste.  The cute multicolored carrots look prettier raw than when cooked.
Fromager Laurent Dubois had a stand offering his excellent cheeses.  His renown shop over by Maubert Mutualité I frequented more when I lived in the fifth.
He is a MOF cheese affineur, which in the complicated and diverse of over 1,600 cheeses, is like having a PHD in cheeses.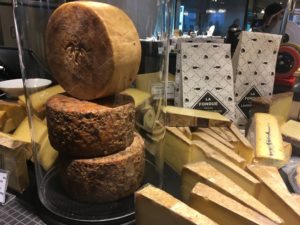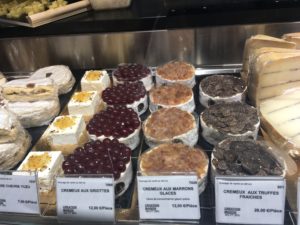 He had some very old  Cantals I believe, which are very sought out here, though quite expensive.
I noticed the offerings of some of his cheese creations topped with cherries, candied chestnuts and even shaved truffles.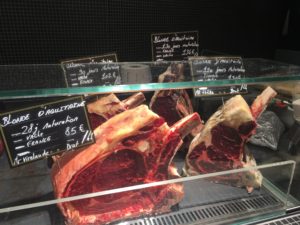 Chef Akrame restaurations are divided between seafoods and meats; take you choice.  You can also buy some aged Blond Aquitaine beef to take home too, if you can afford the luxury.
Christophe Michalak, the well know pastry chef has a stand here too with his pretty pastries and unusual boat shaped cakes.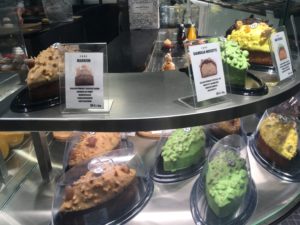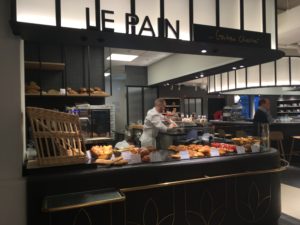 One of the reason I came to Printemps was to buy some breads from the young renown baker Gontron Cherrier.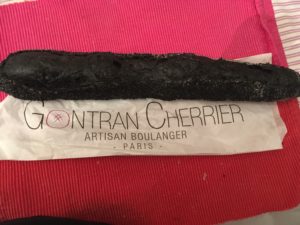 I was happy as a clam to know that I can get his breads here, rather than the long trek up to Montmartre for his fantastic baguette of squid ink, that I adore.
The sun had set by the time I had toured around the two floors and bought the pure black squid ink baguette, my only purchase.
It was definitely time to savor that free flute of Champagne, offered with a smile.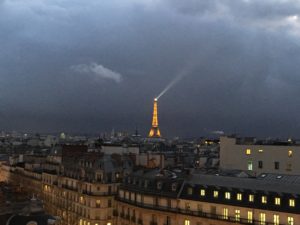 Of course I headed directly out on the terrace, where la Dame Eiffel had become golden with the rotating spotlight making circles in the dark blue sky.
The gold and grey ornate turrets now took on a pink tinged glow from the lights and the Opera Garnier glowed a golden hue.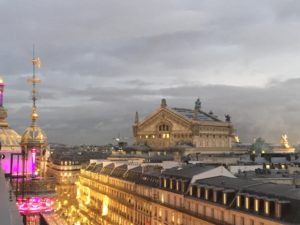 There is a certain very appreciated quietness this high up as I walked around the almost deserted terrace, sipping the Champagne and  taking in these glorious views.
I will definitely be coming back often for the breads, and other exceptional foods that one can find in one place, but most of all for the views of beautiful Paris that are dazzling in all directions.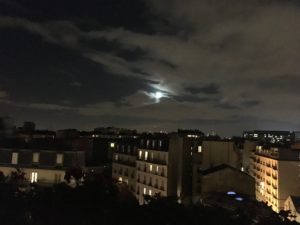 Once home with my sought after baguette, I was able to enjoy my own special view 8 floors up where I eat every night with candlelights glowing galore, though perhaps not as spectacular as from Printemps.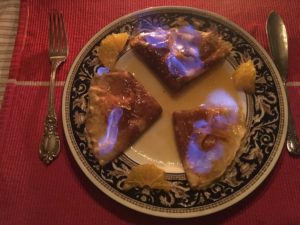 The finalé that night was my own homemade crepes Suzettes redolent with Cointreau flamed the last minute to celebrate Chandeleur or Candlemas!