Song and dance and great wines all go into making for good cheer and great times! It was all good medicine to lighten up a heavy heart!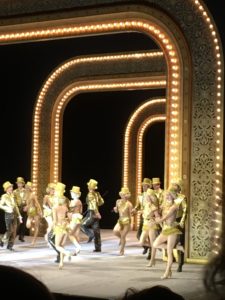 Just what fortification I needed to wade through the preceding days before Christmas, which frankly I do not look forward to.  Yes, it was the first sunday of Advent.
First joyous event was the wine salon of independent vintners, a biannual event that usually falls on Thanksgiving week, but this year took place a week later.
If you have ever read any of my previous posts on this beloved ritual of  mine,  and there have been several, then you know that it is a monumental task of study and discipline.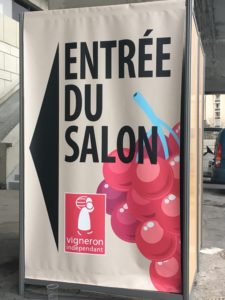 The study is the more fun part, as I scour the wines that I want and vintners that I want to buy from.  I do have my favourites!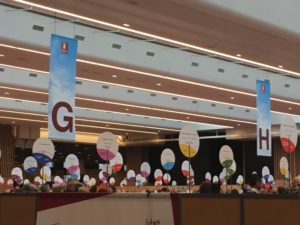 Some of these wine makers I have been buying wines from for well over 14 years!  So seeing them is sort of a family affair, having seen sons and daughters grow and take over the family vineyards.
Though French vineyards can be bought, if you are a billionaire, in some of these more renown areas, most are handed down over many generations, so each of them has an interesting history.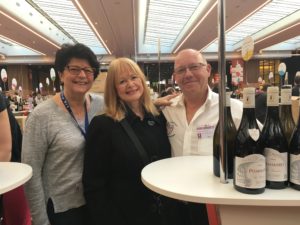 Take very kind Pascal Laboureau,  seen here.  His vineyards in Burgundy for example,  have been in his family since 1640!
Besides his wonderful reds, his Blanc de Noirs cremant made from 100% pinot noir  can easily rival good Champagnes.
The vast majority of vintners are quite humble and more interested in getting you to taste and learn about their wines, rather than make just a quick sale.
Once you find vintners you love, it's easy to trust that their yearly wines will be good, because each adheres to their own particular style.
These adorable ladies of Domain Lartigue are from Gasgogne and make wonderful white and red wines that I buy each year, plus a marvelous aged Armagnac that will last me several!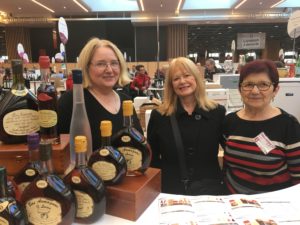 I generally come home with a few  new ones, like this year a rare White Mondeuse from the famous Dupasquier house in Savoie, and a divine Jacquèr de Cruet from Idylle, another Savoyard.
The discipline part is that I don't drink the wines that I taste at the salon!  Just can't be done it you want to keep your palate fresh to taste other wines!
Here is a relative newcomer, Domaine D'en Ségur with pretty Clemence serving up the delicious wines from the Tarn region.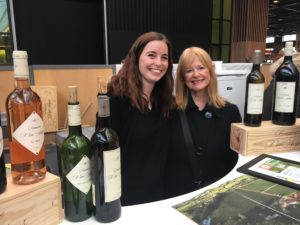 With close to 1000 wine stands, the choice is overwhelming in diversity from every known winemaking region in France.
Once I have a really great wine in my tasting glass, I hate to spit it out and pour the rest into the spittoons, which feels so unlady like, but fortunately they are situated more discreetly on the floor.
I'll prefer drinking wines with my beautiful prepared dinners, not by themselves, with the exception of course for Champagne or cremants.
The second uplifting event came as a total surprise.  A lovely friend ended up mysteriously buying two extra tickets to the musical Singing In The Rain.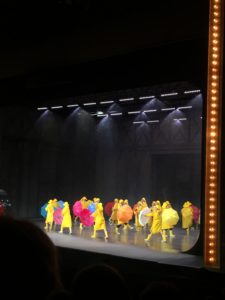 How that could ever happen without notice is beyond me, but I happily accepted the fabulous offer with much gratitude from very generous Kristen!
I was shocked that the whole musical was performed in American english! Fortunately there was French subtitles, as even if a French person prided themselves on knowing English, the dialogue was  often very accented New Yorkaise!
I had often passed by the billboard of the Théâtre de Châtelet who produced the musical outside the theater's walls at the sumptuous Grand Palais, as the theater is currently being renovated.
The seats and staging was set under the magnificent glass ceiling of the Grand Palais, and they even passed out blankets to keep us warm as it was quite cold outside.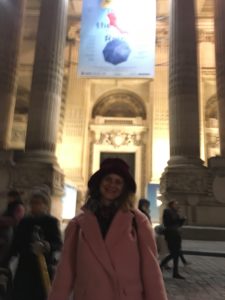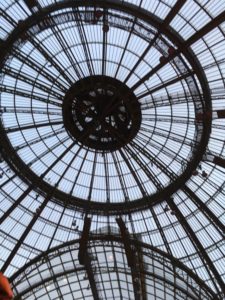 As you surely must know, the music is wonderful and very engaging enough to appeal to all ages, even Kristen's beautiful little girl, who sings them all by heart.
The legendary music is very upbeat, positive and plain uplifting to tempt you to sing along with them, like I could hear little Vivi doing softly.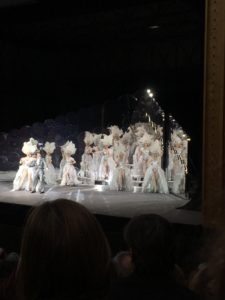 Splashy and very lavish costumes of course, and knock out sexy dress designs from the flapper days added to the glamour.
The dance routines were fabulously choreographed, with some really superb tap dancing.   It was those taps that brought back memories of my own foray into taps as a little girl, who was proudly able to execute the "wings".
The musical has been a smash hit here and will play till January 11, 2018.  The whole feeling was a bundle of Americana full of joyous energetic dancing and singing.
Yes, there was even real pouring "rain" and spurting water from the downspout onto the sidewalks to splash around in  glee!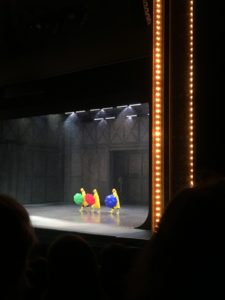 It was enough to make you want to get up out of your seat and join along!  I believe I saw the movie starring Gene Kelly and Debbie Reynolds as a child, and it was wonderful to revive those songs buried in my psyche.
It was also much fun to witness the excitement in Vivi's eyes,  seeing such colourful splendours of happiness.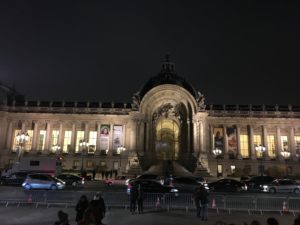 I felt exhilarated by it all upon exiting into the freezing cold ,with the spectacular Petit Palais glowing in the darkness
The musical was great medicine for me and I have  even been catching myself singing a few lyrics of the songs, very badly of course.
Thank you again Kristen and your numerical misadventure of tickets, as it was a wonderful and much appreciated gift for Aimée and me!
Last week and this weekend was chock full of the some of the most wonderful glories of  America and France.
Can not beat the majesty and diversity of French wines!  This country runs on wine as well as butter and the splendors of French cuisine!
American cinema and Broadway musicals make for some the best cultural exports that America has to offer.  When I was a student here many moons ago, many pictured New York  through  the scenes of West Side Story.
Now the musical Grease is currently running here but I haven't decided yet if I want to see a French rendition of John Travolta.  Hard to pull that one off I would think!
Vive la France et Amérique!