Jules Verne, dreamer and visionary is a perfect example of how we should all value and launch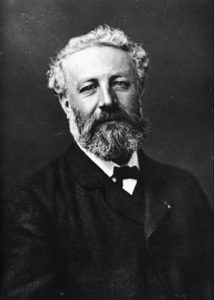 our dreams into the cosmos!  It is totally mind blowing how his visions have become our present day reality!
The seeds of great adventures, our personal goals and futuristic ideas  are all within us, waiting to be played out!
Most children are much more gifted in imagination than adults, who with age have lost the ability to believe!  Jules Verne's dreams for himself and his futuristic visions took hold within him at an early age.
I happened to spend a few days in his birthplace of Nantes,  a rather hilly city set above the turbulent Loire before it soon spills into the Atlantic ocean, about  50 kilometers downstream.
I had wanted to write about this famous writer for a long time, and after visiting the Jules Verne musée in Nantes, it seems like a perfect time.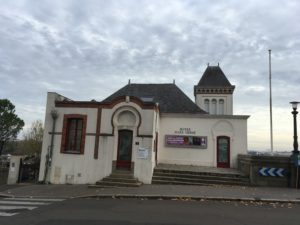 Jules Gabriel Verne was  born on an island in the Loire, on February the 8, 1828.  He was the first born of family of five, composed of a brother and three sisters.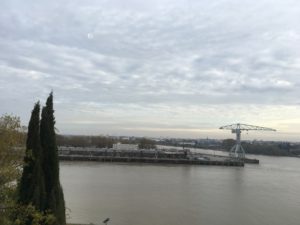 He was fortunate enough to be born into a well off bourgeoise family that valued books and learning, and had the means to nourish his boyhood curiosities about the world.
His mother's family and uncle were navigators and ship owners.  In his childhood he delighted in hearing his uncle's stories about  his many travels around the world.
His family moved to the banks of the Loire, and Jules spent the majority of his boyhood seeing  ocean-going ships sail in and out of the port of Nantes.
Jules said each time one of those ocean going vessels would sail pass,   he would imagine himself onboard.
It was as if his soul was destined to be bathed beyond the banks of the Loire, and beyond the constraints of reality of his present time.
He developed a love of writing at an early age, excelled in geography and held a fascination for the sciences.
His wonder lust dreams of travel provided many visions of the world that he would later incorporate into his novels.
He started writing poems, songs, short stories and even plays during his youth. He loved Victor Hugo and Shakespeare and devoured their writings, often rereading them multiple times.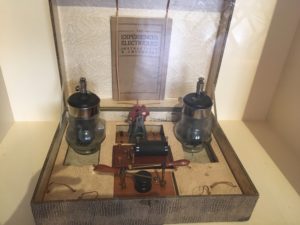 Besides writing, he showed an early fascination with electricity, then barely discovered.    He often engaged in playing with a science kit that demonstrated the elemental concepts of electricity.
After graduating from high school in Nantes, his family sent him to Paris in 1847, where he started to study law.
Jules would have preferred to study the literary arts, but his father encouraged him to take up law, as he  had high hopes of Jules taking over his law practice someday.
Throughout his law studies, he continued to write, and by the age of 20, he had already written several theatrical plays and his first novel.
Besides writing, he often could be seen at the national library researching science articles and gathering geographical data.
He lamented in a letter to his mother about having to study law, because  he knew he would make a really good writer, but felt he would be a bad lawyer.
By this time, he was starting to internalized the continuing stress and control he felt from his father's ambitious designs for him to become a lawyer, when his interests were in writing.
He started to display  bulimic anorexic symptoms, primarily of binge eating, along with at times depriving himself of satiating his hunger.
He experienced an initial episode of facial paralysis, which plagued him several times during his lifetime.  At the time it was felt that a middle ear infection and swelling caused compression of his facial nerve, which can occur occasionally, but it is also possible it could have been psychosomatic.
After he had finished passing his law exams, he got up the courage to tell his father he could not come back to Nantes to practice law with him.
In a letter, he wrote " the career that suits me best will be the one I pursue". "if I can't succeed, not for a lack of talent, but for a lack of patience, or discouragement, only then I would  consider returning to the bar."
He had the good fortune to be introduced to the son of Alexandre Dumas while frequenting the various literary salons that were popular in Parisian society.
Around the same time he met French explorer Jacques Arago, who despite his blindness continue to be a global traveler. His stories  nourished Jules growing  wonder lust and travel dreams, which initiated writing about foreign lands
Because his plays started to attract attention, he was offered to direct the Theatre Lyrique,  but turned down the offer as he felt it would constrain his freedom to write.
His romantic life had been very disappointing, filled with a string of broken relationships.  He felt like every time he fell in love with a woman, they ended up marrying someone else.
Jules formed a group of his friends without wives called  Onze Sans Femmes( eleven without wives) as a way of getting support from other bachelors in the same predicament.
He reportedly became so distraught he wrote to his mother to help him pick out a wife, explaining that he had been jilted multiple times.
It wasn't till 1856, till he risked falling in love again, this time to a young widow aged 26, who had two young daughters.
Apparently he had some misgivings about this new relationship expressed in a letter he wrote to his mother explaining that he thought he had fallen in love again.
"Why does she have two children?" he laments, and "Ah, I never have any luck". Despite whatever conflicts he might have had, he married Honorine du Fraysne de Viane 8 months later in 1857.
Concerned that his writings would not be enough to support his wife and ready-made family, he decided to become a stockbroker, figuring that he could still have time for his writing.
He did not last too long in that career move, as he often locked himself in his room in the mornings writing, rather than going to his stockbrokers office.
From what I can deduce from historians, his marriage was not that fulfilling and he often took trips without his wife.
Considering he was traumatised with multiple romantic rejections prior to his marriage, that is not surprising, as I suspect he had developed intense fears of intimacy.
His first foreign travel was to England and Scotland, and in 1861, while visiting Denmark and Norway with a friend, his wife gave birth to his son Michel.
Michel would grow into a troubled teenager and adult, who lived a reckless life, accumulating debts and became a financial drain on his father.
Jules's first novel, Five Weeks In A Balloon was published in 1862, and was a great success.   He now started to concentrate his writings on travel adventures, incorporating futuristic scientific inventions unheard of at that time.
I found some of his original manuscripts in the museum fascinating with his own illustrations, such as these seen here.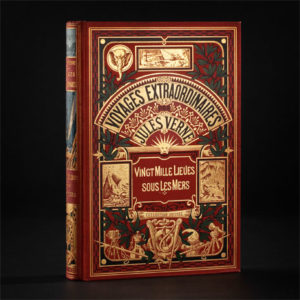 In his most famous novel, Twenty Thousand Leagues Under The Sea, It was Captain Nemo who commanded the electric powered giant submarine, the Nautilus.
Captain Nemo also had a gun that would deliver an electric shock, which today is called a taser gun.
Then in his book, From Earth To The Moon, he described projectile looking spaceships carrying passengers to the moon, that was given enough force through an exploding fuse to break through gravity.
He wrote about  spaceships landing and floating in the ocean when they returned to earth, which became the landing trajectory first used.
In that book, he also mentions light propelled spacecraft, which is now called Solar Sails, like orbiting NanoSail-D from Nasa.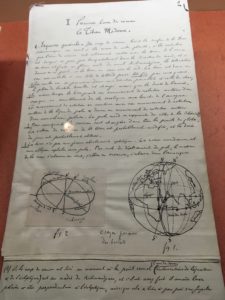 Likewise as striking was his descriptions of growing technology now in place.  His book, In The Year 2889, his invention that he called a phototelephote was used to communicate images from afar, as we do in video conferencing calls.
In the same book he foresaw writing advertisements in the sky and said that people would get news by spoken word broadcast, more than through printed newspapers.
The changes in society that he envisioned  in his novel; Paris In The Twentieth Century are startling in accuracy.  He finished the book in 1863, but his publisher considered it too "negative" to be published.
It was published 131 years later in 1994 and was a bestseller in France.  His science fiction ideas were incredibly on the mark!
In it he talked of cars propelled by gas combustion engines, trains and subways powered by magnets and compressed air, fax machines, skyscrapers, electric lighting of cities, electronic music, the electric chair and a prototype of present day computers and the internet.
His sociological predictions were amazing in that he saw society placing more value on business and technology than human values or the arts.
He saw more women going into business and the rise of illegitimate births.   He depicted a decline in social mores where entertainment focused on lewd language and nudity.
He predicted a decline in classical music and that music would be fabricated by a synthesiser.
He foresaw remote controlled weapons and chemical warfare and felt that weapons would be so destructive that war would be seen unthinkable.
In 1867, he and his brother Paul traveled on the Great Eastern, a multi mast British ship to New York, where he went to see Niagara Falls.  A replica seen here.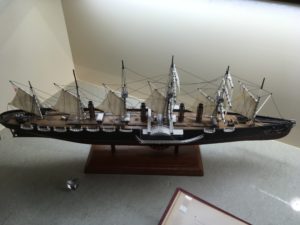 Not surprising that Jules Verne would want to sail in his own boats, of which his largest yacht, the Michel III he used to sail around the Mediterranean sea and had it harboured in Crotoy on the English channel, where he had moved.
In 1871 he relocated again to Amiens north of Paris.   His bingeing became more severe and he developed diabetes type II, which was untreatable at that time.
He was known to sometimes devour a whole leg of lamb or roast beef, or eat 8 whole artichokes at one time.
In 1886, he was shot by his mentally ill nephew during his paranoid psychosis.  The bullet lodged in his femur causing him much pain and reduced his mobility.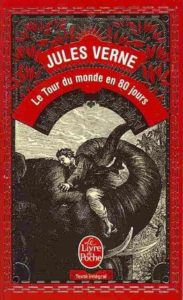 Due to his declining health and visual acuity due to the diabetes, he sold his boat and became more sedimentary, though he never abandoned writing.
He died on March 24, 1905, at the age of 77 of a diabetic coma, leaving multiple unpublished manuscripts behind.
His two best selling books, Around The World In 80 Days and Twenty Thousand Leagues Under the Sea went on to become two of the world's  most translated writings after Shakespeare and Agatha Christie.