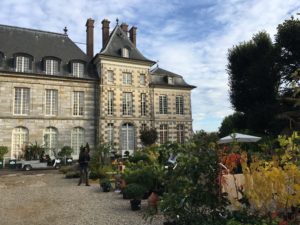 Twice a year I am royally tempted by this extravagant garden show at Château Saint Jean de Beauregard, and this time I gave in.  Right now, as autumn approaches, my grief brain needs all the flower power I can soak up.
It is the oldest and largest garden show in France.   I always found the admission price excessive, when you can see the gardens of Versailles for free.   This autumn fair had 199 exhibitors and the spring one over 250.
You would think that they could get more visitors that would have more money leftover to buy the plants  if they reduced the admission price, but marketing is not the forte of the French.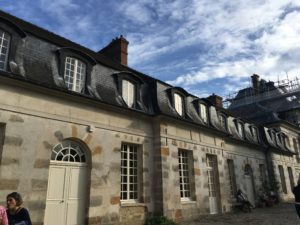 This château is rather small in so far as châteaux goes, but the grounds, especially their prized expansive vegetable garden isn't.
Just 30 minutes south of Paris set on a promontory overlooking a  sweeping green valley below , the view is lovely and inviting; and very appropriate for the name, meaning beautiful view.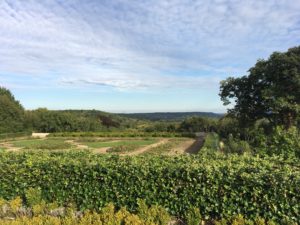 The château, which I have never visited before has no outlandish grandeur to speak of in the land of a thousand châteaux, but it is pretty and famed for their garden shows.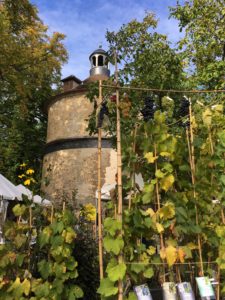 It does have a very pretty pigeonnier or pigeon house that provided roosting holes for up to 4,500 pigeons, one of the largest in France.
Pigeons fattened on grain are still popular French fair as well as their eggs.  They also provided excellent fertilizer for the vast vegetable garden.
Château Saint Jean de Beauregard dates back to around 1610  and is in the style of Louis XIII.
It still is privately owned, having once been the country house of a wealthy Parisian.
The grounds were once was part of a powerful Abbaye Vaux de Cernay, written about in another post several years ago.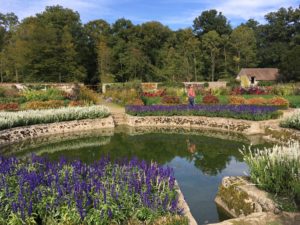 There were ponds and some walled in rectangular ones to gather rain water and another I thought might have been used for pisciculture at one time, which the monks used to do.
The first time I learned of this grand event was when I was coming back from another château in the vicinity, and saw hordes of people with arms full of plants and  the signs pointing directions to Saint Jean de Beauregard Fête de Jardins.
Judging by the amount of people there the other Sunday of this 3 day event, there were plenty who either didn't care about the price to get in or just caved in like me.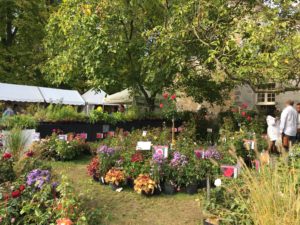 I did not go with any real intention of coming away with plants.
My little balcony garden is already an overstuffed jungle, with just about every available space taken on the ground and up on the railing.
From the street,  at 8 floors up the beauty is hidden, but from my windows it's lush color, that looks beautiful towering above the Parisian roof tops.
I went for the distraction and my love of flowers and plants, which I find healing, beautiful, soothing and just plain interesting.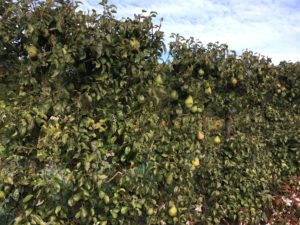 I have always recommended to patients who are depressed to hang around flowers, trees and plants, for they give off sweet healing energy that envelopes and touches crevasses of our minds even without us knowing.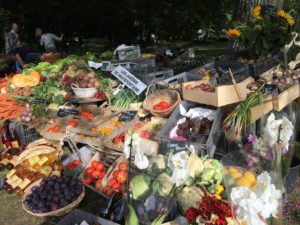 Perhaps it is just osmosis that those flying molecules and green atoms penetrate our skull and skin, like an invasion of a spiritual army of soldiers fighting for your survival.
Maybe it's just the beauty of the kaleidoscope of colors flashing my retinas, and all the different shapes that intrigue me.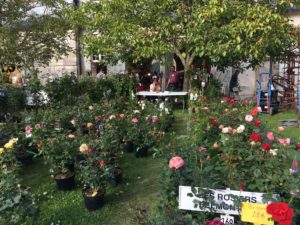 I was astounded to see so many exhibitors listed in the catalogue! I immediately wondered if we had time to take them all in, since we arrived mid afternoon, other than just pass by with a slight glance.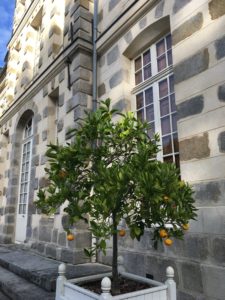 You name it, they had it in the garden world, from plants, flowers bulbs, decor, ornaments, funiture and even beer and wine made from berries.
The French flair abounded with crepe booths, pretty pastries, the ever present pain d'epice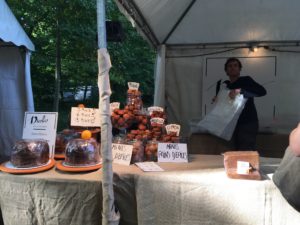 (ginger spice bread) and a terrace for food and wine.
I heard a few english words as I mingled in the crowds and someone talking dutch to the vast bulb dealer from Holland, but there were 5 plants sellers from Holland.
I was slightly tempted to get another Fritillaria imperialis, a bulb that bit the dust, and to add another Rothschild summer lily to my lone one, who just finally grace me with her delicate red flowers.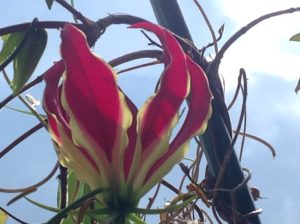 I never quite understand why the French don't plainly price everything, as if they are all waiting to size up the pockets of any potential buyer.
Even if listed, their hand written script of numerals can be hard to decipher, as it generally looks messy and hastily slapped on, like the blackboards menus in a neighborhood bistro.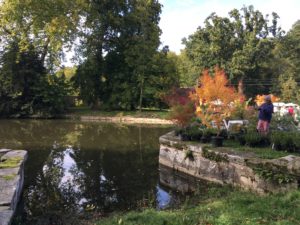 I made a beeline to the perfumed rose seller, sniffing about to see if there was a rose that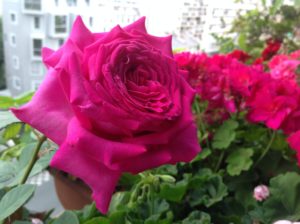 smelled more lovely than one I bought back in the spring.
Called a Chartreuse de Parme, this gorgeous red rose has a powerful big perfume, that is addictive.
It had been marked down to a reasonable price, and looked like a very sparse Charlie Brown tree.
I had my doubts, but with some TLC, it has started to fill out and is still blooming!  Maybe because after each precious spent bloom, I would cup back above the first 5 leaves.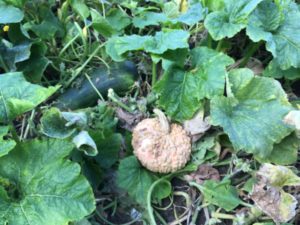 The majority of the vegetables had been harvested except a few potimarrons and this ugly leprous looking pumpkin, called very appropriately Galeuse d' Eysines.
Had to look it up to find it was described as being as a very delicious one despite the hideous warts!
The fat bright red knobbed berries are impressive and are called a Cornus Kousa , aka Japanese or Korean dogwood. The berries are edible, but how they taste have no idea.
Saw wine for sale made out of the surreau berry, or elderberry which is very popular here for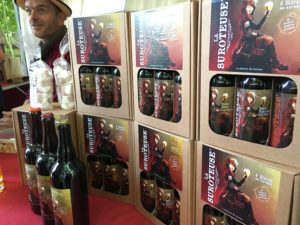 marmalade and syrups.
I was somewhat tempted to buy a fig tree, though right off the bat did not have a clue where it would fit in. The seller recommended one called Bornholm from an island in Denmark of all places as being suitable for a Parisian balcony.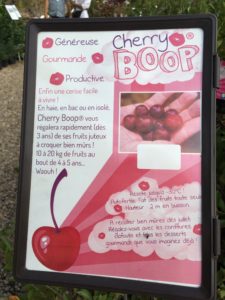 A cherry tree called Cherry Boop caught my eye even more for having such a silly name, though there is a soul singer named the same.  The fact that it is a dwarf cherry that produces in 3 years might be enough to get me to try one, if I can create some more space.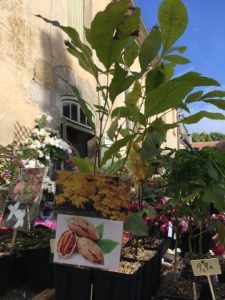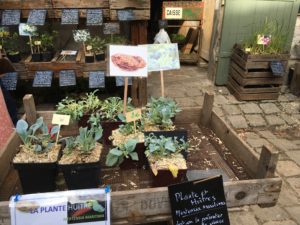 In the rare plant section, I had a chuckle over seeing a pecan tree for sale, and wondered how it would do in northern France?
The oyster plant was another curiosity, having its only attribute as smelling like oysters, if that is something one longs to smell of often!
By this time, I was starting to wish I had a real garden again, but  big gardens equal big time and effort, whereas my little balcony is so much easier to take care of!
In life there are always tradeoffs and living in Paris, despite the noise and pollution wins hand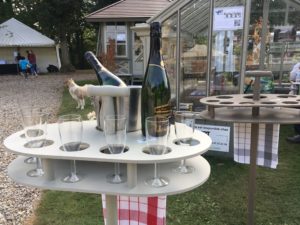 down.   Besides, there are little parcels of communal gardens in the city for folks like me, who may not even have a balcony to take care of their obsession.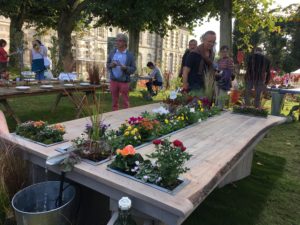 If I did have a huge terrace, I definitely could see myself buying a table like this one! So pretty and cute with a rustling stream of water trickling through the middle, surrounded with flowers.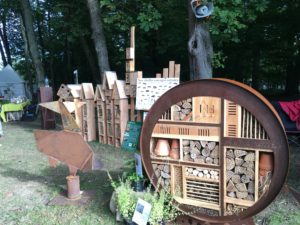 And why not a bee or insect hotel on the grounds as well?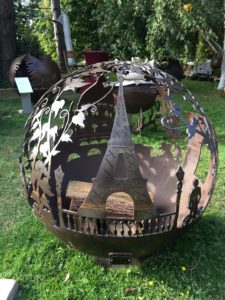 The hand carved metal fire pit of the Eiffel Tower would also make a perfect gift for any Francophile, like me.
Then there were those whimsical oh so cute little wooden mushrooms that would look adorable anywhere.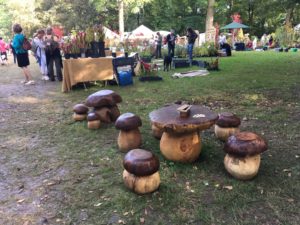 Since I ruled out at least for now the fig and cherry tree, I  settled on a tiny bay leaf plant to replace one that died.
On the way out we spied some "miniature" indoor plants that were affordable enough to buy a few, including a dwarf banana and a poisson rouge plant with red flowers that with a little imagination resembles goldfish?
My only splurge was another Aeonium Schwarzkopf, a native of the canaries to replace one that I somehow lost despite care.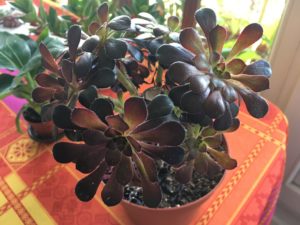 By the time we left the sheep had come out to munch around the entrance, keeping it all tidy and manicure.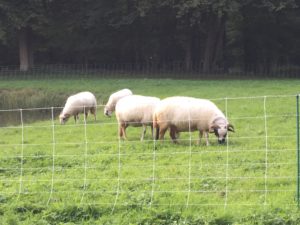 The drive back in on a late Sunday afternoon is alway drawn out and as slow as escargots due to all the other Parisians coming back into the city too, unless you head in before 3.
I'll probably want to come back for the spring show and maybe by that time will have a little more room to spare on my  balcony.
I seem to have more garden designs going on in my head in the spring than in the fall anyway, including some challenges.
Last spring it was planting an exotic and hard to find cherry tomato from Mexico, and some tomatillos from some I had brought back from the states.  Both of which by the way did great!
Maybe that dwarf cherry tree is just what I need to take care of next!