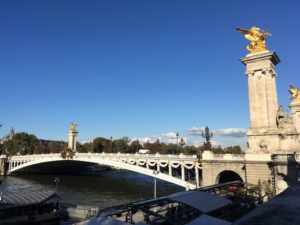 Paris had two big "fetes" of gastronomy and gardens going on this weekend.  I chose the ethnic food fair on the Seine and a famous garden show at a château that I will write about next.
Autumn is always full of activities to do here, so it  was somewhat of a dilemma to fit in all the things that interest me.
Fête de la Gastronomie had several activities all over the city that made it hard to decide between all of them.
One that I did miss was the annual marché des Grands Chef, including master classes, which I attended and wrote about last year.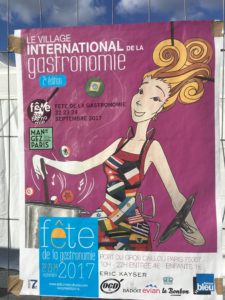 Les berges de Gros Caillou use to be a highway, that was one of the first to be closed to cars and now is a wonderful space for strolling and leisure activities.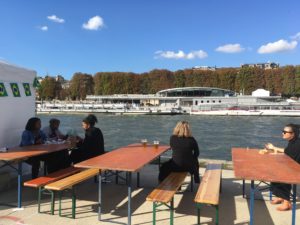 I enjoy going there just for the views and fresh river breezes near the fabulous Pont Alexandre framed with its golden statues.
The successful and well known baker Eric Kayser  organised the whole event.  There was supposed to be 40 different countries represented, but I didn't  count.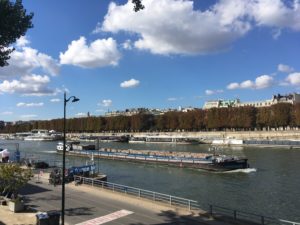 Last friday the sun finally came out again after a week of rainy cool days that have so far plagued September here.
It's an easy ride from my place on bus 28 that stops right at Gros Caillou before crossing the Seine to the Grand and Petit Palais.
Not surprising one of the first stands was Eric Kayser showcase bakery goods, who now has several bakeries throughout the city.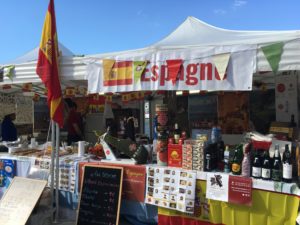 Most of the stands were set up by  various established ethnic restaurants in Paris and outskirts, rather than any governmental consigns to promote their culinary culture.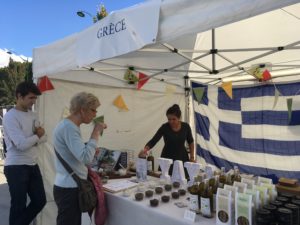 As you can imagine, Paris, being a huge cosmopolitan city has many ethnic food restaurants.
They may not be overwhelmed with tourists, who rightfully  seek out the glories of French cuisine, but are very popular with Parisians, including me.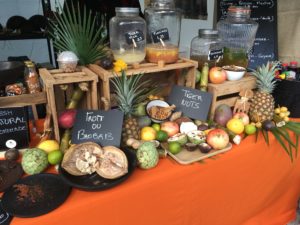 There may be more concentrations of one ethnic group over others due to the different waves of immigrants that France has welcomed throughout the years.
Therefore the number of particular ethnic restaurants has changed throughout the time I have known Paris.
For example, when I was a student, almost every street in  the Latin quarter and elsewhere had a Vietnamese restaurant due to the influx of Vietnamese fleeing the Vietnam war.
Now it is mostly a melange  of Laotian Vietnamese, Thai and Chinese who came in droves in the 70's and are now concentrated in the 13 arrondissement and around Belleville in the 20th.
There were more Russian and Eastern Europeans, especially Hungarian, escaping the revolution and soviet bloc impoverishment.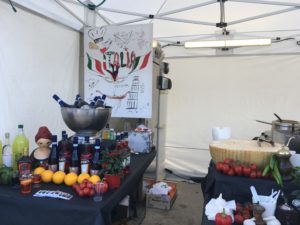 Italian immigrants came long before as it seems there has always been too many pizza joints still dotting the landscape, which is not in my mind the apogee of Italian cooking by any means!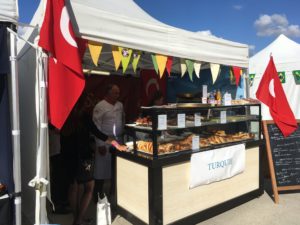 Invading them has been the Turkish Kurdish kabobs everywhere, with a super concentration on Rue Faubourg Saint Denis north of Porte Saint Denis.
Likewise the same for several enclaves of Pakistani and Indian ones too.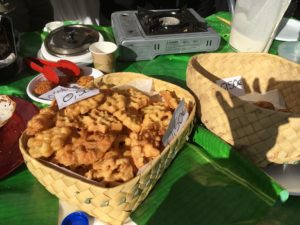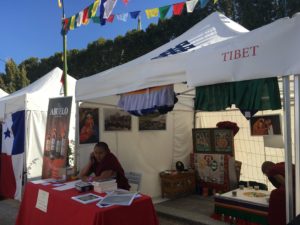 Further north on the same street on the right side of Gare du Nord are loads of Sri Lanka restaurants.
Tibetan restaurants a few in Paris, and the ones I have frequented were in the Latin Quarter.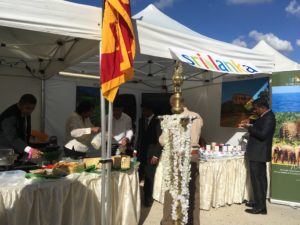 There has always been immigrants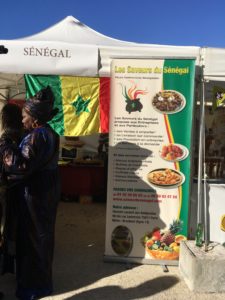 from the old French colonies of Morocco, Algeria, and Tunisia, but even more so in the 80 and 90's setting up couscous restaurants galore.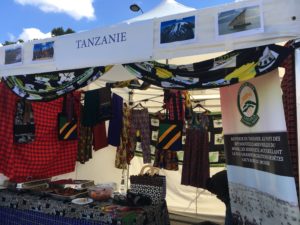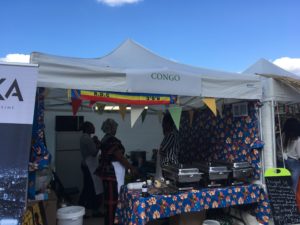 Same with former French Ivory Coast countries of Senegal, Mali, Benin and also Congo and Cameroon.
The Ivory Coast representatives seen here occasionally would break out in song and dance as well as the Peruvians.
Seems like there is an increasing amount of  Latino restaurants from South America appearing now .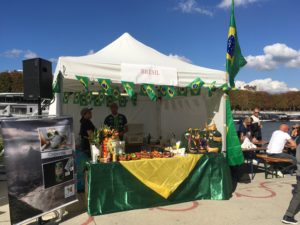 Paris is not loaded with real Mexican restaurants, nor many from central America.
I most enjoyed stopping by the Armenian booth, where the ladies selling were very friendly though their French was limited.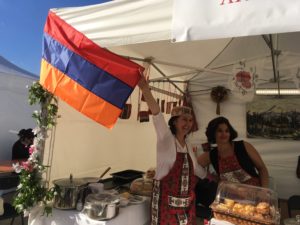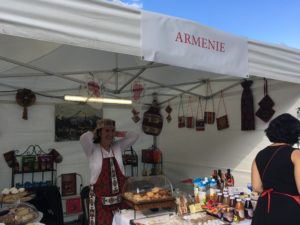 I found their specialties intriguing, such as a delicious thick pancake filled with spinach and dill and a pastry with goat cheese and chives, that I bought.     They had lovely sweet pastries as well but I didn't buy any, though retrospectively I should have.
The most unusual stands for me were the central Asian stands of Uzbekistan and Azerbaijan. I loved the shape of the breads from Uzbekistan and ended up buying the crown looking one.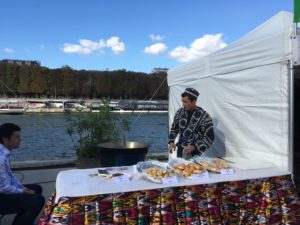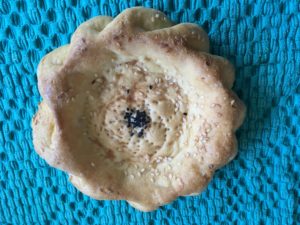 Unfortunately, it was prettier than it tasted being made with tasteless white flour.  Maybe it is used to serve as a plate to pile foods upon?
I had already been introduced to Azerbaijan cooking from a demonstration at a cookbook fair, and a lot of their foods are baked rice based creations with various meats.
Of course there were stands from several Asian nations, which I feel are all very well represented here, except pure Taiwanese.  The organizers made sure they were not anyway near the China stand.
Missing were the many Antilles restaurants that one finds here, but perhaps due to the horrible damage their home lands suffered during the recent hurricanes, that is understandable.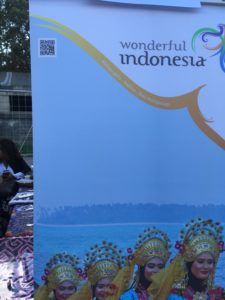 The Indian ocean was  better represented by Indonesia, Comoro islands and of course Reunion. Surprisingly there wasn't any from French Polynesia.
Despite it being a French territory, I can't name a Tahitian restaurant here either.
Paris does have many Lebanese places, due to the former French occupation of Lebanon after World War I, and it remains a popular ethnic choice for the French.
There wasn't a stand from Iran, though there are many Iranian immigrants in Paris.  A lot of Iranian markets and restaurants are located in the 15 arrondissement.
I was surprised to see a Yemen stand that was set up by a Yemeni family restaurant in Melun, a town southeast of Paris.  They were very friendly as well.
Perhaps in a few years, we will see more Afghanis and Syrian cuisines represented, though there have been a few Afghan restaurants here for a long time.
Keeping in an ethnic spirit, we chose to go out Saturday night at a wonderful Reunionese restaurant in the 10 arrondissement called Maloya.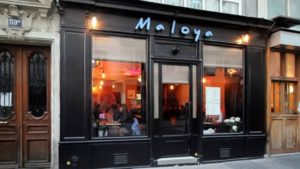 We had previously met the lovely owner, Marie Claude, when stopped for an ice cream near her place a month ago.
I was impressed with her insistence on using traditional spices from there and her creativity with recipes reworking some traditional dishes.
Everything we ate was delicious, fresh and perfectly seasoned.  Her Réunionese rums macerated with vanilla and lychee were extraordinary!
Perhaps due the  polished palate of the French, who travel often and generally have higher culinary expectations, many foreign chefs have elevated their cuisines  to assure acceptance in a competitive restaurant scene.
My only complaint is that culinary foods traditionally well spiced with hot peppers have been seriously toned down here , as the French are not used to them at all.
I have learned to request that they add extra peppers, whom many are reluctant to do out of fear of it being too much.  Some will instead bring the pepper preparations in a separate dish, such as Marie Claude.
Certainly tourists do not come to Paris for ethnic foods, and they shouldn't with all the marvelous French dishes to try
The culinary treasures of France and  rich heritage of fine dining  is very much alive and well in Paris, from the bastions of gastronomy to the little neighborhood bistros.
Those of us who live here just like a little diversity from time to time.  For me, I look forward to eating ethnic foods as I my daily menus are generally French.
If affords this cook a day out of the kitchen and a feeling like traveling without taking a boat or plane. Bon Appetit!