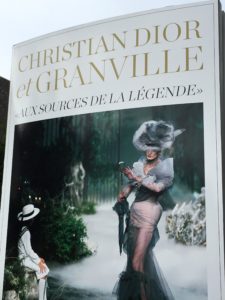 Frankly, I hadn't planned at all to write much about Granville and Christian Dior's boyhood home.
Why? I had other grand plans for even going to Granville on the Normandy  coast, and they had nothing to do with this very famous couturier.
I had this great idea of doing the "traversée" of bay Mont Saint Michel and chose this old seaside resort as being near the beach where bay walkers would depart.
I wanted to at least once in my lifetime, walk across the wet sands of the bay of Mont Saint Michel during low tides to reach the monumental monastery again.
I spent several days researching guides who take a few "pilgrims" who have the same idea of doing this almost 7 kilometer trek when the seawater mostly recedes.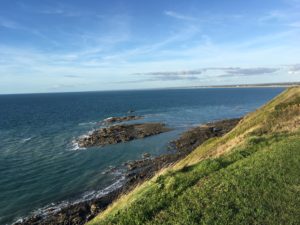 On Saturday October 7, it said you could leave the beach at 1 pm during low tides and reach Mont Saint Michel in about one and half to 2  hours.
All of the "traversées" are done barefoot in preference, unless you insist on neoprene rubber shoes.
I had looked up the temperature of the water, and although rather cold, I thought I could make it.
Afterall, it said that the deepest water generally would not be above the knees, that is in normal low tides.
Unfortunately I ended up catching a cold virus from Aimée, who already felt quite sick, which suddenly  made my great plans a very bad idea.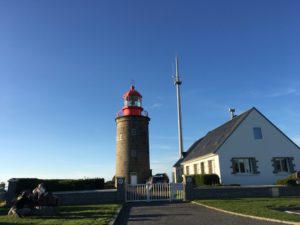 Since an airbnb apartment had already been reserved, I headed out despite knowing that the Mont Saint Michel crossing had to be ruled out.
When I told the owner what I had originally planned on doing, she immediately started shaking her finger adamantly saying that Saturday was a day of the grand marées or big tides.
Due to this phenomena that occurs ever so often, the ever present "rivers" needed to be crossed, even when the tide is out, would easily come up to my hips or waist!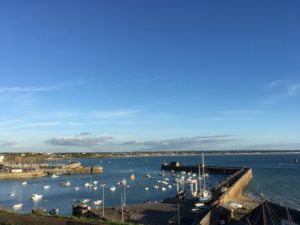 Granville had been a popular seaside resort for Parisians for years, long before Christian Dior was born there on January 21, 1905.
He was the second born of five, consisting of two brothers and two sisters, born into a bourgeoise family with long Normandy roots.
Soon after his birth, his parents  purchased a  stately villa on a cliff overlooking the blue green Atlantic ocean surrounded by a vast garden of pines.
This magnificent garden infused with the smells of pines, roses, lilies of the valley,  and colors of his native Normandy were primordial in Christian Dior's psyche.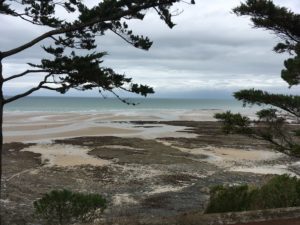 His boyhood home is now the Christian Dior museum and gardens, which is managed by the House of Dior,  no longer  controlled by Dior family descendants, but  a part of the luxury line house of LVMH.
Christian Dior spent his early childhood years there before the family moved to Paris,  and it was from there that his initial interests and passions  were formed and developed.
Though his family moved to Paris when he was five, they kept the villa where the family often returned weekends and always during the months of summer vacation.
Upon entering the  garden, the sweet smell of sea pines was prominent interspaced with tall stalks of bamboo, which hid the villa from view.
The views high above the  coastline and ocean were marvelous and there was an uplifting energy and even gaiety that seem to dance around the flower beds and many rose gardens, now looking rather spent by the cold mighty autumn winds off the Atlantic.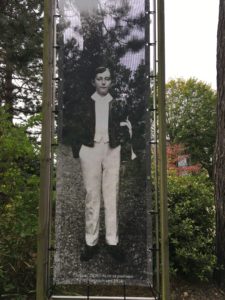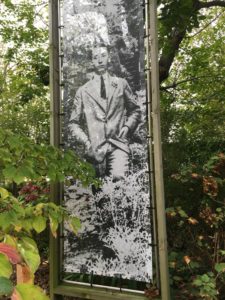 Despite this wonderful light energy, I was immediately struck by the sad faces evident in the several portraits of Christian Dior as a young boy and teen displayed in the garden.
He looked lost and as if his spirit was hidden with lifeless vacuous stares.    I sensed right away that this famous personage, who I had never read anything about his personality before, had a story to tell.
As a therapist, who is very sensitive to energy states of people and places, I was puzzled to why this young man looked so withdrawn and sombre having grown up in such a beautiful garden and house.
My first impressions were validated when I stepped into his family home.  Suddenly, as soon as the door clacked behind me I felt a stark contrast between the free flowing sweetness of the garden and the heavy closed and stifling feeling I experienced in his boyhood home.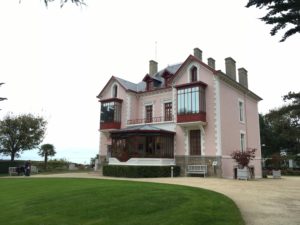 His father Alexandre Maurice Dior had a very successful chemical producing business,  making primarily bleach and fertilizers from guano imported from Chile.
I found it quite ironic that this little boy who would grow up to be one of world's most famous haute couturiers and perfumers, came from a family of manure producers!
Obviously, it  wasn't from his father that the young Christian would develop his interests, but from his mother, who loved flowers and tending to her garden.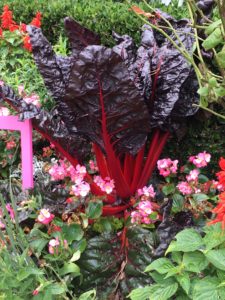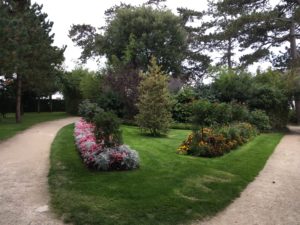 He was said to be so impassioned with horticulture, that he could recall the botanical names of all the flowers at a young age and devoured the seed catalogues of Vilmorin, the well-known French horticultural firm.
It was Christian who designed and expanded the rose gardens, pergolas and created a reflecting pool in his late teens.
His favorite flowers were roses and lily of the valley, and he was known to tuck a few sprigs of lily of valley into the hems of each season's new collection for good luck.
The colours of pink roses against the often grey skies of Normandy were imprinted in his heart, as rose and grey remained his favorite colour scheme throughout his life.
Although he was close to his mother Madeleine, whom he would trail around  while she tended to her roses, she expressed dismay that her son seemed to be overly preoccupied with horticulture.
A good friend of Christian remembers meeting his mother and commenting on their garden; after which his mother referred to her son as being the gardener in a condescending manner.
Beside the garden,  his favorite place in his home was the laundry and ironing room, where he  loved to hang around the family maids, listening to them talk about clothes,  knitting and sewing.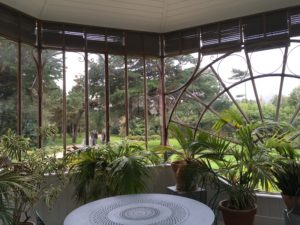 Unfortunately the interior of the entire house has been painted white, and emptied of any family furniture or heirlooms, leaving it without much soul, except for the winter garden.
In reading some of Christian Dior's memoirs, he appeared driven to do the same, whitewashing his life history, being careful to not let his torments become known.
There are many of Christian Dior's clothing designs, shoes, hats and lingerie on display  along with his early sketches of women's hats.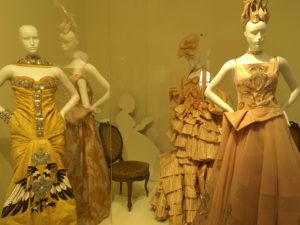 It was mentioned that as a child, he loved to design and create his siblings carnival costumes to wear in the annual Mardi Gras parades.
Only a few family photographs were displayed on the mantel of a chimney and they left a portion of the original tile floor in his father's office.
Christian recounted rarely going into his father's office without fear and apprehension, as most often it was for being reprimanded and lectured.
Not surprising that little Christian had little in common with his father, who probably did not know what to make of his overly sensitive and artistically inclined son.
Christian Dior was said to have been an intensely private man and there was not any mention of any of his relationships, other than his loyalty to childhood friends.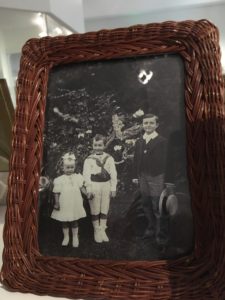 He preferred to maintain a tight cloak of privacy on his personal life and feelings, which I suspect he had to do growing up with his parents who had other designs on his life.
His sense of being diminished in his parents eyes and his resultant self doubts was evident in how he preferred to sign his name.
He would leave out the "Chris", and only sign his name as "Tian", which remained his traditional signature for the rest of his life.
When he was a young teen, a palm reader at the Casino, in reading his palm predicted that he "would make money off women, and that they would save him".
Though he remembered her words, he thought them nothing more than plain nonsense at the time.
When this eventually became true, it solidified his belief in fortune telling and he regularly consulted tarot readers before each new show.
His desire to attend L'École des Beaux Arts was quickly dismissed by his parents, who wanted him to pursue a diplomatic career.
He acclimated to their desires and enrolled in political science at the prestigious École Science Po in Paris.
After a few years of barely passing grades, his parents agreed to allow him to drop out and his father acquiesced to his artistic son desires, by buying him a small art gallery in 1928.
Life for Christian Dior turned sour during his twenties, presenting him with tragic events.   First it became evident that his younger brother Bernard was severely mentally ill with persistent delusions and had to be institutionalized.
When Christian was 26, his mother died from septicemia after  surgery, which Christian felt was escalated by her intense grief over her son's mental illness.
A few years later his father's business speculations fell dry because of the great depression of 1929, which finally reached France, causing his father financial ruin.
For the first time in his life, he had to confront not having the money that he had grown accustomed to as his safety net. He persisted with his art gallery, occasionally selling his own paintings and design drawings.
In 1934, his art gallery had to be closed, liquidating all of his stock.  He then turned to what he enjoyed doing as a child, creating costumes that he was able to sell to the theatrical and film industries.
He also sold sketches of women designs of clothing and hats that were occasionally picked up by manufacturers.
This eventually led him to be recognised for his talent for designing and was employed first at Le Figaro and later by Robert Piquet, in 1938 and in 1941 by Lucien Lelong, both  well known couturiers.
In 1944, his sister Catherine, with whom he was very close was arrested for being a French member of the resistance and deported to the concentration camp of Ravensbruck, but was liberated in 1945.
He named his first perfume, Miss Dior after Catherine in remembrance of her courage and love.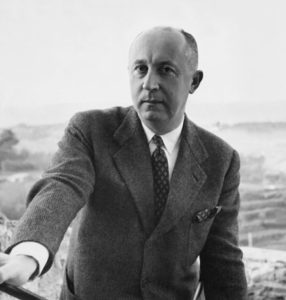 In 1945, a wealthy investor encouraged him to create his own house with his backing. After consulting his tarot reader, who told him to accept,  the House of Dior saw the light of day in December, 1946 on 30, Avenue Montaigne.
He had finally arrived at doing what he loved to do and being globally recognised for his talents.
Though his worldwide success brought him much financial rewards, he remained the shy and polite well-mannered man he was brought up to be.
Despite his worldwide acclaim, Christian Dior never wanted to  reveal his homosexuality and stayed "closeted" till his premature death in 1957 at the mere age of 52 years.
It was officially stated that he died of a cardiac attack while he was attending a slimming "cure" at the thermal spa of Montecatini, Italy.
He had gone there with his much younger lover, Jacques Benito, of Moroccan origin, out of fears around his weight and aging physique.
Throughout his life, Christian Dior was plagued with feelings of insecurity about his physical attractiveness and early onset of baldness, especially difficult as a gay man .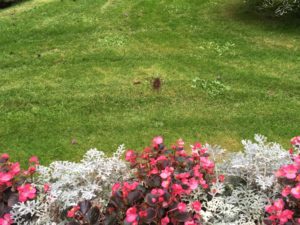 Those close to him said he never risked exposing his family to his sexual orientation that he tried desperately to keep hidden from them.
All of his life, he felt as caught in his parents web of expectations as that spider's web dangling above the flowers  and fearful of them finding out who he was.
The first designer after his death was Yves Saint Laurent, who had been an early apprentice of his in the house of Dior.
The fabulous clothing and perfumery line that Christian Dior created  is still going strong today.  After seven male designers,  a woman artistic designer was recently appointed in 2016 to head the house.
Only time will tell if Italian Maria Grazia Chiuri will be applauded like Christian Dior would hope.
After hearing the lamentations of several patients who worked in haute culture, I feel for anybody involved in this tremendous stressful industry, where strong egos clash and mutilate on a daily basis.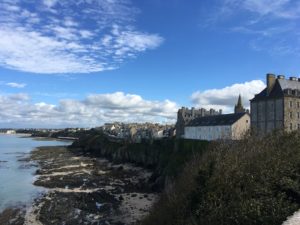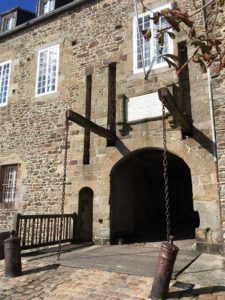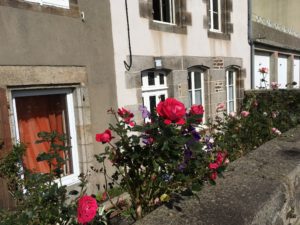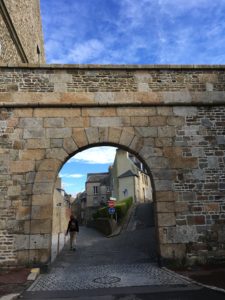 I enjoyed the wonderful refreshing sea air, and walking along the old ramparts of Granville,  protecting the fortressed medieval city built high on the cliffs.
The height afforded the residents some degree of protection from marauding invaders, such as the Vikings, who did eventually sail up the Seine river at Le Havre.
Granville is a great place for all sorts of feasting on crustaceans, oysters, and all seafood without the high prices in Paris, so I did indulge in the season's first scallops.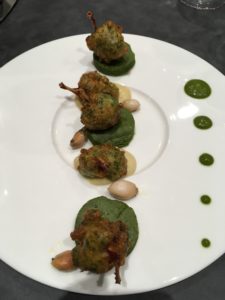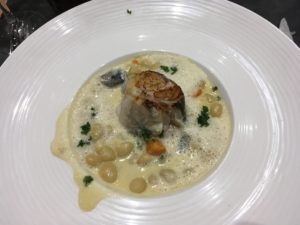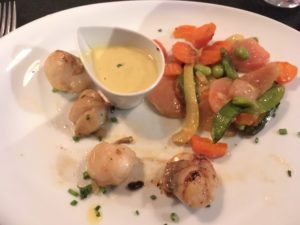 As for me,  I found it rather strange that I ended up going to Christian Dior's boyhood home, as I had tried to go to the  current and very popular exhibition of the House of Dior the weekend prior at the Musée des Arts Decoratifs.
Since it was free museum Sunday, I ended up going to the Louvre instead, as the Dior lines were too long.
I am glad I got to see his boyhood home and gardens instead, as I am always more interested in someone's personality and life, rather than their business pursuits.
I still am planning on returning to the Normandy coast to make my barefoot walk across the wet sands of Mont Saint Michel.
The next time I will choose a weekend with warmer weather and water temps and make sure it will not be during les grands Marées!