Terrorism never starts suddenly in a vacuum or out of the blue.  No, it starts by ignorance,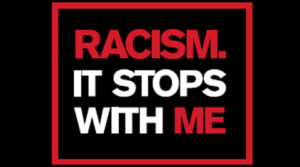 lack of empathy, and prejudice that grows into intolerance for those different from you.
They could have a different color of skin, a different nationality,  a different religion, different sexual orientation or a different ethnicity.
Prejudice mixed with scapegoating is  toxic and can lead to an explosive momentum that can spread like wildfire.   It can infiltrate society and cause divisions that become the substance of  domestic terrorism as well as international terrorism.
Total lack of empathy is intolerance in extremis.  When lack of empathy is magnified it becomes terrorism in your heart.
Triggered by angry convictions,  this intolerance can go on to violent verbal assaults, physical  aggression and harm.
Those of you who have developed a sense of prejudice towards other human beings different from you  have never  known or really listened to those different "others" nor their fears, hurts and burdens.
It can start subtlety with negative thoughts towards others, who have never been directly involved in any difficulties in your own life.  Prejudice comes out  of ignorance and fear.
Prejudices are propagated and nurtured by others who have the same ignorance.  Those who are vulnerable to being influenced, can be easily indoctrinated by the prejudice of others.
Sadly this often starts in families that can be passed down through generations.  What children hear proclaimed by their parents and grandparents is generally assumed into their own thinking.
Throughout history, human beings seem to have a need of a scapegoat.  A scapegoat is someone or a group of people who you feel are to blame for a difficulty or hardship, even though  that have no real direct involvement in your "problems".
Human beings find it much easier to blame someone else rather than  see themselves as being a part of the obstacles in their life.
Although that might be human nature, mounting a case of unwarranted prejudice  and blowing it out of proportion can easily lead to violence of thought, word and deed.
When violence of thought proceeds to acts , then you have plain and simple acts of terrorism.  So terrorism starts with  prejudiced thinking and that later explodes over towards scapegoating with  intent to maim and destroy.
First there are the thoughts, then there are verbal  or written attacks and then there is acting upon those prejudices with violent behavior.
Prejudicial thoughts are like a rock rolling down a hill gathering toxic moss to the degree that by the time the rocks arrive at the bottom of the hill, they become bombs of hatred just waiting to explode.
Empathy is simply being able to imagine the plight of someone else.  To imagine what it would feel like to YOU  being in their situation.
When you are unable to conjure up the feelings of another person's situation and or unable to sense their discomfort or pain, then you are insensitive.
You are only aware of your own needs, wants and feelings, but not anyone else!  That is a major indication of a narcissist or sociopath.
Lacking empathy is more common than you think.     It  begins when you are unable to put yourself into someone else's shoes.
Without empathy, there can not be any compassion. Without compassion the heart grows cold and dark where evil creeps in to take over.
Recent resurgence of violent racist demonstrations in my own country have frightened me.  The fact that they  were not immediately and sincerely denounced is a more grave concern.
Without guilt, cruel heinous acts are carried out maiming and destroying others.   The seeds of the holocaust were planted long before Hitler rose to power.
Legislation was enacted to exclude Jews from certain positions, occupations, and designate where they could live in several European countries.  Russian pogroms were also in place long before.
Jewish ghettos were in set up in numerous big cities in Poland, Austria, Czechoslovakia, Italy, Germany and Hungary.
Once a leader normalizes  prejudicial ideology and terrorism, then  waves of like-minded others will easily follow suit.  The fuel of prejudice and scapegoating can spread like wildfire and give way to war, as it did in Germany.
During the Nazi occupation of France, the Vichy regime was likewise complacent with the Nazi and helped deport Jews to the concentration camps.
Fortunately, Germany today is extremely vigilant towards any hints, signs or displays of Nazi ideology.  Laws are firmly in place against all such activities and perpetrators are arrested and punished.
Germany also recently passed laws to steeply fine social medias for not removing  hate speech, defamation and incitements to violence within 24 hours, which I find very commendable.
Saint Bernard de Clairvaux who died in 1153 and is considered a Doctor of the Catholic Church proclaimed: "For us the Jews are Scripture's living words, because they remind us of what Our Lord suffered. They are not to be persecuted, killed, or even put to flight."

For me, our Jewish brothers and sisters are the true vines and family from which Rabbi Jesus grew up.  All Christians should honor and protect them from all persecutions and harm.
Fighting prejudice starts within our own hearts and is up to each one of us to stand up to the bigots of the world wherever we are.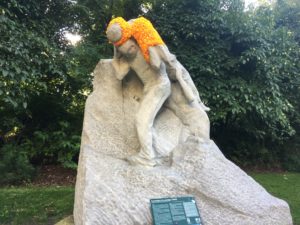 We are all called to carry and lighten the burdens of those persecuted for being "different".  Difference in the sacredness of human beings is an illusion, regardless of race, religion, ethnicity, sexual orientation, nationality or culture.
I will leave you with one of the most sobering and fitting words written by a German Lutheran protestant pastor Martin Niemöller, who became an outspoken opponent of the Nazi regime.  He was imprisoned for 7 years in a concentration camp for his views.
"First they came for the Communists and I did not speak out-                                                                          Because I was not a Communist
Then they came for the Socialists, and I did not speak out—
Because I was not a Socialist.

Then they came for the Trade Unionists, and I did not speak out—
Because I was not a Trade Unionist.

Then they came for the Jews, and I did not speak out—
Because I was not a Jew.

Then they came for me—and there was no one left to speak for me."