I really wasn't in the mood to celebrate my birthday.  To fully celebrate my own birthday when I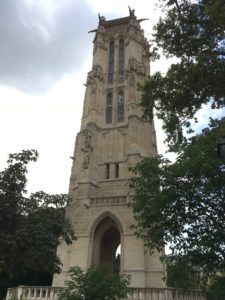 have lost my son is not possible right now.  Walking in Paris provides great distraction for me, and fortunately is still enjoyable.
It is also good therapy for the bereaved and depressed.  After the onslaught of a loss, our neurons take a beating, and dysfunction follow, both emotionally and physically.
Fortunately our brains have some degree of neuroplasticity, which is the ability to change by "rewiring" through physical and cognitive exercises.
Learning to live again after a death of a child feels like trying to climb up 300 steps of Tour Saint Jacques on your knees.
I am grateful that I am alive despite my pain and grief, so for that I give thanks.  I am also grateful to have the eyes to see and the legs to carry me to all the beauty that living here affords me.
No gastronomic restaurants, nor anything on a grand scale was wanted.  Any fancy restaurant is another sad and poignant reminder of  Andre, who was a talented chef  during happier times when he had his own place.
In the past I would spend a lot time deciding what kind of sumptuous pastry I would create for my special day.  This year, I did not  care.
I even hid the mention of my birthday on facebook in hopes others would forget.  I nevertheless am very touched and grateful to those who very kindly wished me a happy birthday.  Thank you!
Losing a child realigns your priorities in life.  What might have been more important in the past, has either been replaced or demoted.
If you are a regular reader of my blog, then you already know how much I love sailing around this wonderful city on my own two feet.
I have often noticed  that  my legs and  feet seem to have a mind and energy apart in that they propel themselves along the sidewalks with little effort, like they were motorised!
Therefore, I rarely feel fatigued walking here.  There is always something ahead that calls me along to the next interesting stop.
It doesn't have to be pretty to look at, but at least have an intriguing history.  I love walking the crumbling  crooked cobblestone streets  such as  Rue Mouffetard or Rue Faubourg Saint Denis and many others too numerous to name.
Even if I have walked the same street many times, I always seem to discover something new.  In the winter when the trees are bare I am often surprised by what treasures there are hidden by the leaves.
Keeping an eye on uneven pavement, which is sometimes necessary, unless you are asking for a tumble, I can easily miss something higher up a building.
These little discoveries happen often  even though I have walked that same street multiple times.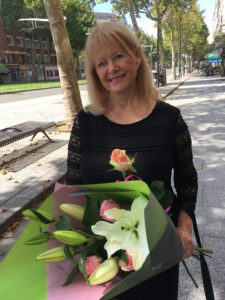 Before I go on one of my serious tourist walks, I like to read  the wonderful Around And About Paris books by Thirza Vallois, who covers in detail the history of each arrondissements.
My birthday started with Mass, as it was also a Marian feast day, Mary Queen of Hearts, and afterwards I was graced with a bouquet of flowers.
Afternoon was spent in the haut Marais in the 3rd, which has its own charm and rich history, as all other arrondissement in the city.
The huge mansions of wealthy nobility are now mostly used as museums or national buildings, such as the Carnavalet, Cognacq- Jay and Picasso museums, and the National Archives for examples.
There were also many monasteries and convents throughout.    Exciting Metro Temple, which is just a jump from Place Republique, first stop was the church Sainte Élizabeth de Hongrie.
Though the exterior is rather nondescript the interior has lovely carved Flemish wood panels and some interesting works of art, like most churches here.
Going down Rue Dupetit Thouars is the former spot where a very large Knights Templar lodge stood  in 1139, surrounding by  expansive grounds.
The Carreaux de Temple which was a former covered market  from the late 1800's has been renovated and now is a cultural center with all sorts of interesting exhibitions and salons.
Heading south towards Rue Bretagne you encounter a very pretty park and small pond in front of the 3rd arrondissement town hall.
Although the city of Paris does have a main town hall, the Hotel De Ville, each of the 20 arrondissements of Paris have their own.
Called a mairie in French, each one can rival the other in terms of grandeur and size.  Besides all the administrative work involved in governing each arrondissement, they serve as civil marriage halls as well, and often put on very interesting exhibits for free.
A peek into the oldest marché in Paris, Les Enfants Rouge, era 1615, was too calm and quiet, as half of the merchants were gone for the annual vacation.
Continuing down Rue Charlot, we passed a few  impressive mansions, but the prize was stumbling into a classical concert in progress at the Armenian Catholic church of Saint Croix.
As I was enjoying the lovely violin and piano music, I thought: how nice is this! An unexpected  gift of music on my birthday!
The building was the ancient Capuchin convent, where monks in addition to their life of prayers served had the burden of being firemen.
With each fire, the hooded monks were seen with their flowing brown robes each rushing out with two pails full of water, which I doubt were that effective except for the smallest of fires.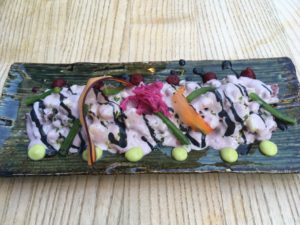 Afterwards, it was time to head back to Rue Dupetit Thouars to settle in for an aperitif and early dinner.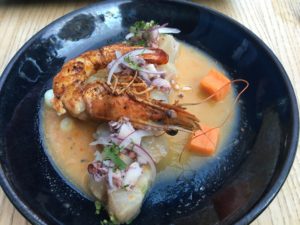 I had eaten  Peruvian ceviche at Mancoeur before, and it was just what I wanted, light and fresh for a very warm summer day.
Starting with octopus in a creamy  sauce highlighted with puree black olive, we proceeded on to more raw marinated seafood.  The succulent cerviche of lieu noir, and more octopus was superb except for a overcooked prawn that added nothing except decoration.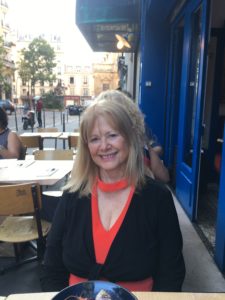 An Argentinian wine made from the torrontés grape that is said to grow only there had lovely minerality and citrus overtones and reminded me of a  Grillo from Sicily.
It was all enjoyable despite my rather forced smile and sad eyes seen here.  The birthday Champagne chilling in my refrigerator would have to wait another day.
The next two days we headed to the lower Marais, where streets have a more Medieval look and flavour.  The lower Marais , now the 4th arrondissement was swamp land and often flooded before it was drained and built up to house the growing population of Paris.
It is very popular with tourists and offers a lot of history with interesting boutiques.  There are a fair amount of medieval houses still standing that look bulging in the middle.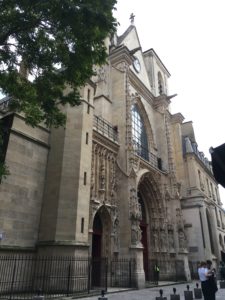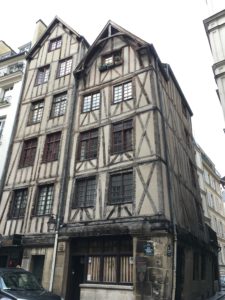 I generally start at Châtelet in front of Tour Saint Jacques, beautifully restored after over 8 years work!  Then I head up Rue Saint Martin towards Saint Merri Church and turn on Rue Verrerie that runs behind BHV department store.
On Rue des Archives, is one of the few intact ancient gothic cloisters, that was a part of the convent.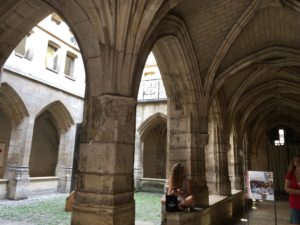 Roi de Sicile and Rue Saint Croix De Bretagne are beacons for ice cream and pastry lovers, which I wrote about in a previous post on the simple pleasures of Paris.
We meandered around there and spotted a statue of Saint Mary,a poignant reminder that Virgin Mary statues often adorned many street corners and houses here.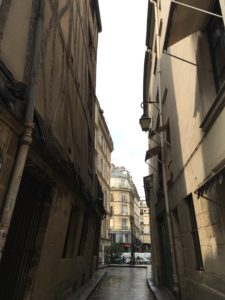 From there we headed towards Rue Rosier, which is the old Jewish quarter on the 4th, and always filled with tourists to try out the falafel.
This area welcomed more than 110,000 Eastern European Jews who fled in well before and after WWII. There are two good pastry shops selling pastries, such as the cheese cakes, strudel, and poppy-seed pastries from that area.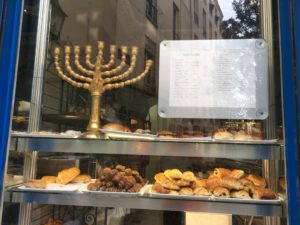 I discover a small park there that I don't remember seeing before that had a huge and heavy laden pear tree.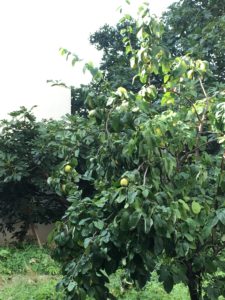 Since the area had a lot of gold and silver smiths, there was even an old chimney, seen from the park, that would melt down the remaining dust left from jewelry making to recapture these precious metals.
The building, well restored, with the chimney in the middle now houses a Uniqlo store! Paris is fortunately famous for preserving and putting to new use old places of interests.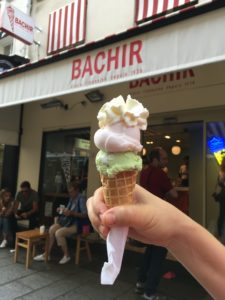 At the end of the day I wanted to try the Lebanese ice cream near the Pompidou Center.  The texture is a little different due to the addition of mastic, that I had discover in Greece, where it is used as a flavouring.
While sitting on a bench savoring the ice cream, we enjoyed the antics of some talented street performers dancing on the corner.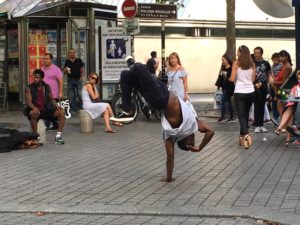 Even on the way to catch the metro we stopped to hear some ethnic music near Les Halles.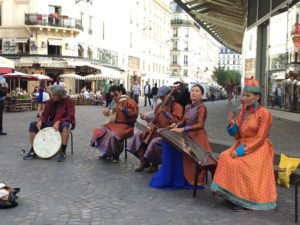 The last day spent in the Marais, was shorten due to heavy rains that finally cleared in mid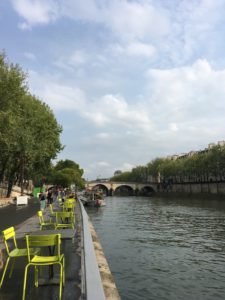 afternoon, leaving us plenty of space to sit at tables along the Seine, set out as part of Paris Plage.
There we enjoyed one of Fred's Merveilles, which is a  renown pastry from Lille.  It is simply a ball of two crunchy meringues filled with various pastry creams and rolled in nuts.
Saint Gervais- Saint Protais church, behind Hotel De Ville dates back to 1620 and was said to have built on an ancient celtic  shrine.  It suffered a deadly bombing during WWI and has been restored.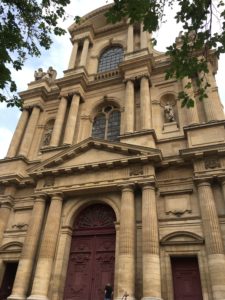 In back of it is a small alley with  a monastery shop and outdoor terraces with steps leading down to the Quai.  On the Corner is a restaurant, Le Louis Philippe that has been there since 1810.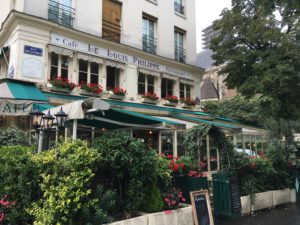 Friday was the 73rd celebration of the Liberation of Paris and we joined the festivities in front of Hôtel De Ville to witness the pomp and circumstance of the Garde Republican marching in and music from their orchestra.
A few very poignant  letters were read from those who lived through the occupation and eventual liberation of Paris describing the extreme day-to-day harsh life and the jubilation of finally being free again.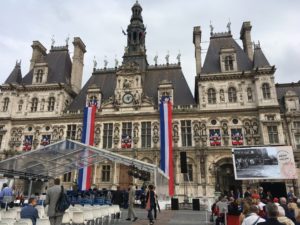 The final two days were spent walking in the 10th arrondissement, which still reeks of old Paris.  In the middle ages it was outside the city wall, and later became a very poor working class neighborhood, filled with immigrants and prostitutes.
I am often up on seedy Rue Saint Faubourg Saint Denis to buy some of my ethnic foods I use on a regular basis, written about before.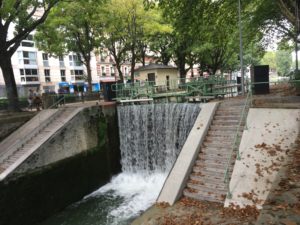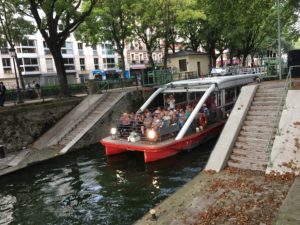 The canal Saint Martin area made for a very pleasant picnic spot watching the locks and dams spill and fill to allow passage of the many tourist boats that go up and down the canal, built by Napoleon I, that empties into the Seine.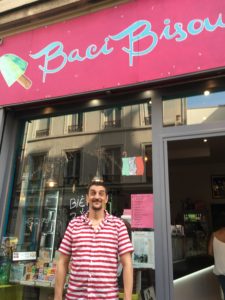 Afterwards we stopped by Baci Bisou on Rue des Vinaigriers( vinegar makers) for some delicious gelato created by the friendly owner seen in front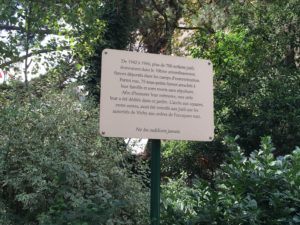 .
The pretty park Villemin was once the grounds of a  convent, then a military hospital, where there was heart wrenching memorial for thousands of  Jewish children, who were deported from Gare de l'Est train station never to return.
At the end of the day, we walked up alongside  Gare de Nord train station, where the Eurostar tunnel train connects England to France in a few hours time.
I like to go there to buy Indian foods, but this time all I wanted was a Jasmine flower lei to wear and sniff to my heart's delight.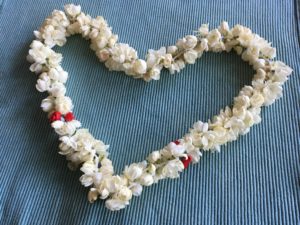 There is a small flower shop that specializes in Indian bouquets and the lei was pristine fresh and very perfumed.
While there we saw signs reminding us that Fëte de Ganesh was Sunday, which sealed another festive event to attend the next day.
After arriving at metro Marcadet Poissonniers, my usual attendance spot, I was surprised that there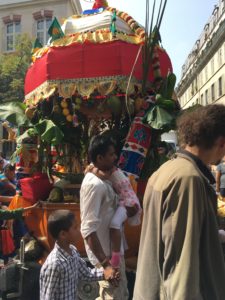 weren't any shrines and stacks of coconuts, so suspected the route had been changed.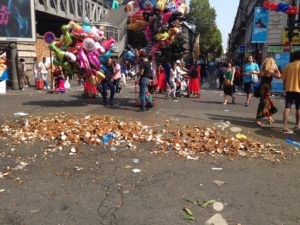 The usual parade route had indeed been changed due to the security measures needed these days  to  prevent trucks from barreling down on spectators.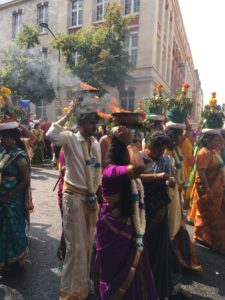 The parade was just as colorful as ever and because there were fewer people, I was able to obtain better photos.
I find the energy very nice and benevolent, as hundreds of the faithful Hindus march barefoot chanting, some with pots of wind blown flames atop their heads.
One of the priests was offering blessings to those who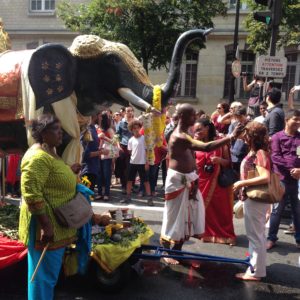 approached barefoot to the Ganesh  elephant shrine that lead the pilgrims in their celebration.
Instead of smashing coconuts at each shrine erected along the route, I found one central one  probably due to the route change and short notice to sanitation workers.
The Indian market street was totalled filled with brightly coloured sari draped women and families drawn from all over the Ile de France Hindu community who came in to celebrate.
There were brisk sales of sari dresses going on and before we headed home I bought some pretty okra pods , coconuts, mangoes and tiny round eggplants  to fill out my menus.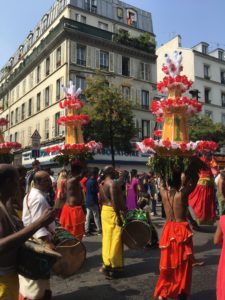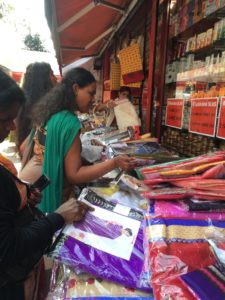 Life goes on and remains what it is; a mysterious consciousness of  learning  with incomprehensible suffering that  forms a part of it.
As I write, my heart and prayers goes out to the many thousands who are suffering losses from the caprices of mother nature in Houston and along the Texas coast.
Though my faith sustains me; it is up to me to fill in my crevices of grief with whatever pleasant sights, smells, foods and events I find and help others in need.