August the 15th is Assumption Day and a national holiday in France.  I will be joining the Mother Mary procession along the Seine.
It is a special day of celebration for Roman Catholics and Orthodox Christians, who call it  the Dormition of Mary.
Assumption is my favourite Marian holiday, that is also the anniversary of my formal conversion into Catholicism.
It is also the date that I found myself mysteriously brought to the Assumption Eve celebration in Rocamadour  years ago that started to crystallise many spiritual events in my life that lead to my conversion.
Families all over the France gather together for a celebratory meal.  If they are not already on vacation, they usually will turn it into a long weekend, making the streets of Paris the quietest ones in the year.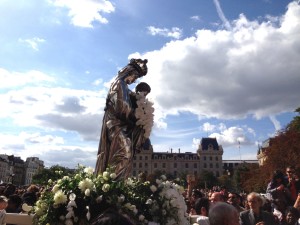 On the eve of the this fete, Notre Dame cathedral has  a traditional procession for the faithful on bateau mouches plying up and down the Seine.
Invitations are from the diocese, but go quickly as you might guess.  With the lighted monuments along the Seine, the procession is beautiful to watch from the banks.
Processions honoring the Virgin Mary take place all over France today.  Along the coastal cities there will be flotillas on the sea to honor Our Lady.
In the countryside as well, there will be processions to local shrines.   My favorite takes place In the medieval walled city of Rocamadour,  perched high on the edge of a steep cliff.
You can read about my very mysterious journey here:
http://www.cherrychapman.com/2012/09/10/rocamadour-my-own-journey
A renown Marian shrine as famous and as visited as Lourdes.   La Vierge Noir de Rocamadour has drawn pilgrims  and Kings from all over the world.
Torch lights and glittering candles follow the statue of Notre Dame de Rocamadour as the  candlelit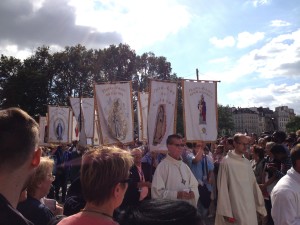 procession winds down through narrow streets as it has continuously done for over a thousand years.
Clutching my candle and chanting  Ave Maria, I always felt transported back to another dimension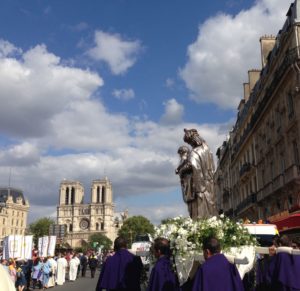 and era long before my time.  Mystical experiences such as these leave lasting imprints in our minds .
I could not be back in Rocamadour this year, but instead will meet in front of Notre Dame this afternoon as I usually do, and walk in procession through L'ile de la Cité  and L'ile St. Louis, along the banks of Seine.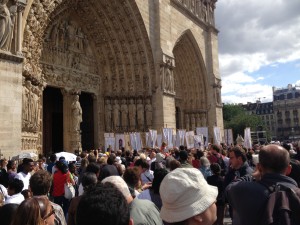 This year, I will be walking with an aching and painful heart from the loss of my son.  My own tears are certainly  known and shared  with  Holy Mary Theotokos, who loss her own son on the cross.
Singing and chanting from my heart gives me solace as I walk almost in a trance like meditated state as we slowly wind along our way.
I will nevertheless rejoice in remembrance of this special day.
Our hearts and soul are in as much need of spiritual nourishment as our body for food.   Be it on a mountain top, along the sea, or in the quiet of your garden, I hope you will find time for your own introspection, prayer and gratitude for the blessings you have today.
Note: This is a updated post of where I will be today praying for my home country scared with racial hatred and violence and world peace threatened anew.
Related Posts
Rocamadour is a tiny medieval village perched high above on a cliff, overlooking one of the most beautiful deep green valleys below.  It sits so precariously on the edge, almost dangling,  that one fears it could topple off.  I went there this weekend to be refreshed and restored and feel…

Tomorrow many will gather in Saint Maximin la Sainte Baume in southern France, to honor Mary Magdalene, as they have for ages.  I wish I could be there again, as I find my heart heavy over all the deaths and violence of last week.  Not in much of a mood…

Toussaint or All Saints Day is a world wide Catholic feast day and in France it is a national holiday.   Besides the religious significance, it is a day I like to visit the lovely Paris cemeteries, especially the majestic Père LaChaise, which many consider to be the most beautiful cemetery…

Church bells tolled at noon throughout France on August 15, during Assumption, a national holiday here as a wake up call to the increasing genocide of Christians in the Middle East,  who are being displaced and slaughtered without mercy by the Islamic State. Assumption is my favourite Marian holiday, that…

I have always loved going to Fête de la Musique, that rowdy, crowded, and  almost anything goes music festival that celebrates the summer solstice.  The crowds of inebriated merrymakers reminds me of Mardi Gras in New Orleans, minus the costumes and  parades.  This year, I thought I would approach  Paris's…