Aimée's birthday celebration was for her as difficult as Christmas and New Years.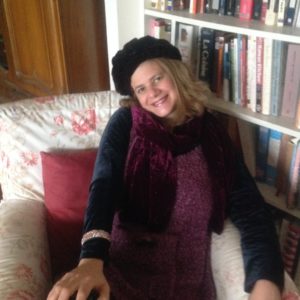 Despite my best attempt for distraction and evasion, it is impossible to blot up the grief that seeps through the fabric of our lives.
Plus there is always a sibling's survivor's guilt at play too, though not always expressed at every turn.
She and Andre remained very close throughout the years, despite the geographical distance.  Aimee given her caring nature, was likewise always ready to help and protect her brother.
Holidays and birthdays take on a new reflection of attempted joy tinged with sadness.
They are bittersweet moments of happiness intermixed with sorrow and the longing for Andre to be with us.
Aiming for a joyous as can be evasion back in time, I decided to get tickets to see Grease. It opened two months ago to for the most part raving reviews, with the exception of it being performed in French, and with some of the songs being sung in French.
Actually, I was surprised that the negatives around this all came from French reviewers, who were indignant that they were deprived of singing along with the english songs that they knew by heart.
American and English songs are valued and enjoyed here without any dubbing and the same goes for American films much prefered by the French public to be seen in version original with subtitles.
I must admit that I too had reservations about going for this reason. The thoughts of seeing a Frenchified Grease and the role immortalised by John Travolta in French just didn't seem very plausible to me, nor Aimée.
So it came as a total surprise for her to discover that she was going to see Grease exactly on her birthday.
With an 8pm opening, there wasn't any time for a restaurant dinner before, nor envisioning one afterwards since the show ran over 2 and half hours.
I nevertheless prepared a nice menu served very early, to ensure that we had enough time to get there.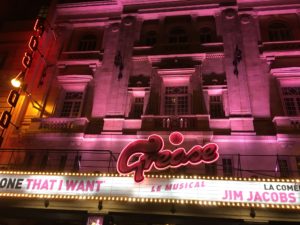 The streets were slick with rain as we boarded bus 68 that would take us directly to the Rue Mogador where Theatre Mogador was located, not far behind the huge department store of Galleries Lafayette.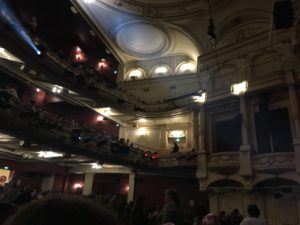 The crowd appeared to be  a good mix of older and younger folks and the mood was surprisingly cheerful and talkative in expecting a good time for all.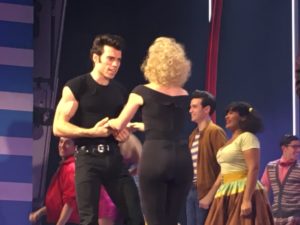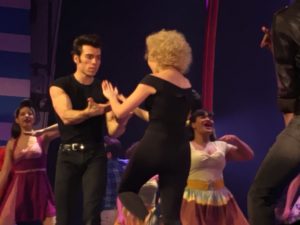 We had great seats, only about 4 rows from the stage, so it was perfect in being able to catch every move of the breath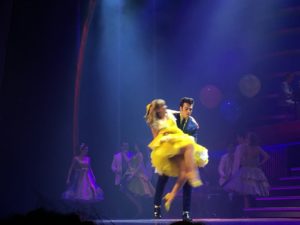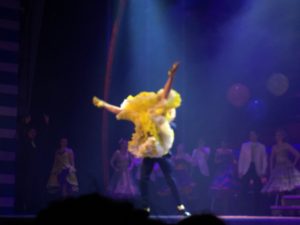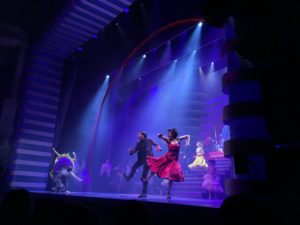 taking dancing.
Generally the French come across quite reserved in theatrical or movie settings, and you will be admonished or hushed at if not perfectly quiet as in reverence.
Grease made it all completely different.  From the beginning to the end, there were gushes of appreciation, breakthrough applause, laughter and always some singing along.
The energy of the actors and singers was purely electrifying with high amps of enthusiasm bouncing back and forth between them and the audience.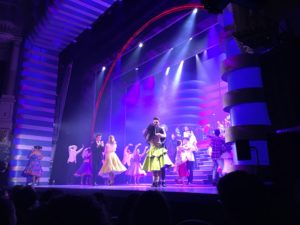 All of the prancing and dancing around the stage was mesmerizing for me and Aimée.  It was wonderful to be lifted up to a few moments of forgetful oblivion over the pockets of grief never far from our consciousness.
The whole scenes were filled with jubilance and the approving roars from the audience gilded the vibrations of happiness that filled the theatre.
During the intermission, I noticed there were 4 women, at the end of my row all dressed in pinkish wigs with pink plush scarves.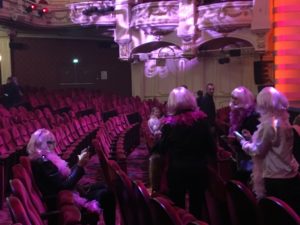 In the dark, I first thought some of the Crazy Horse dancers had caught the show, as the haircuts are similar, but they looked a little too old for that.
Who would have guessed that there are some "pink lady" fans of Grease here willing enough to show their devotion?
The actor who portrayed Danny had an uncanny resemblance to Travolta and was tremendously talented in song and dance.
Frenchie was pulled off  with all the same facial expressions as well as snarling  Rizzo, and the character of Mrs. Lynch of Rydell High was just hilarious and very well played!
In the end, it didn't really matter that the musical was in French, Grease turned out to be completely translatable, after all.   The  enthusiasm of the all French cast captured the soul and emotions that flowed well beyond the stage.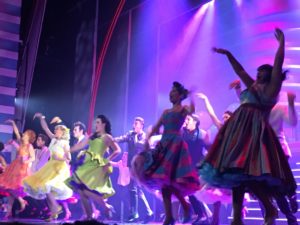 Feeling revived and energised at the end as we walked out into the cold damp night, the high spirited crowds reflected our own feeling of exaltation.
Aimée was thrilled by it all and I felt happy to see her with some unrestrained joy on her birthday.
The songs of Grease lingered for days  with both of us finding ourselves spontaneously replaying the songs in our minds like reoccupying tapes.
Aimée did not want me to fix her birthday cake so soon after all the delicious gorging on the final sumptuous slices of the Bûche de Noël and buttery rich Galettes des Rois.
My next thought was a gift of evasion, not that either of us feels the need to evade beautiful Paris per sae, but only in attempts to provide alternative joys.
The sea is a magnet for her as well as myself, so it was the next thought in mind to celebrate her birthday.
Fortunately Paris is an easy two ride to the beach around chic Deauville, where I found a room overlooking the sea at Villers Sur Mer, 4 kilometers south.
Frankly it didn't matter that the high was a very cold and windy 6 degree C.  The ocean is a well of revitalizing energy to soak up at any time.
The pounding of the waves, the screeching seagulls always beckons us like an irresistible calling.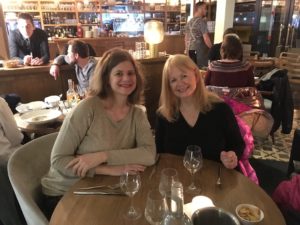 I had chosen a seaside restaurant for the good reviews and the fact that the female chef had graduated from the same culinary school in Paris, Ferrandi, as my son.
I was glad to see a roaring fireplace in the center and that we were able to sit near by to warm our Southern girls hearts.
The dinner was very good, maybe the sauces needed more definition, but overall made for a lovely casual experience.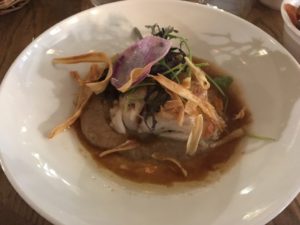 A big plus, being in Normandy, at least in my experience is the friendliness of Normans.  Coming from Paris, it seems so unexpected that it catches me pleasantly off-guard!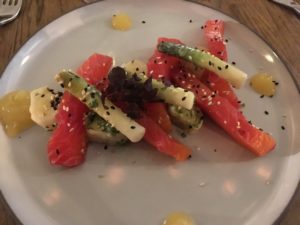 Both the hotel clerks and restaurant staff were extremely cheerful in welcoming us and seemingly really enjoy their jobs.
The next day the sun came out bright enough to fool you in thinking it wasn't as cold as it really was.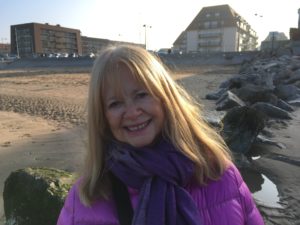 Wearing ski pants and lots of thermal polar wear, we enjoyed taking a really long walk along the shores dodging the occasional surprise wave that sneaked up to our feet.
With the sunshine, it didn't feel that cold, and we only turned back towards the hotel due to checkout time.
I found oodles of empty razor clam shells that I wished I could have dug for the ones still intact buried in the sand.
Even the seagulls seem to be enjoying sunbathing, bobbing in the water and  surfing the waves.
They must have had their fill of fish that morning, as none were interested in our offerings of leftover breakfast croissants.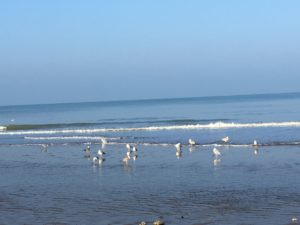 We decided to stop in a small village for the "typical Normandy architecture, that for the most part had miraculously escaped the destruction of WWII.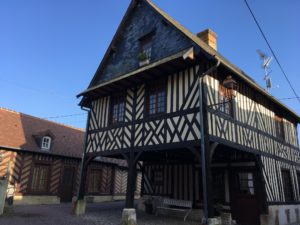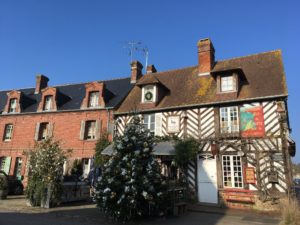 The tiny village square of Beuvron en Auge oozed the charming pain de bois so prevalent with Norman buildings.
With nary a person in sight, the village looked asleep, with all certainly tucked away for the long Sunday lunches that are de rigueur with the French.
We headed back around 2, to avoid the ever present late Sunday afternoon traffic snarls back to Paris that ends up being an extra hour plus crawl along at snail's pace bumper to bumper.
Winding our way back to the highway, the back roads were full of little apple orchards farms with signs selling  the famous Normandy sparkling cider and apple brandy, called Calvados.
I wouldn't think of knocking on their doors at this sacred time of day, though I am sure they probably often get Anglo tourists who don't know better.
The refreshingly tangy  apple cider, lightly alcoholized,  is the beverage of choice for crepes, and come February the 2, or Chandeleur, it will be readily flowing everywhere in France.
By the time we reached the outsides of Paris, we did hit some pockets of slowed traffic that eventually eased off.
It is always a blessing to come home safe and sound from the aggressivity of Parisian drivers and motorcyclists always angling to either weave amongst cars or dangerously cut in front of you.
I let Aimée take the wheel coming back into Paris, as it makes me too nervous to deal with that.  Driving in the countryside does not bother me, though even then it seems few obey speed limits.
The requested birthday cake finally got put together last night.  Aimée wanted a coconut pastry cake in memory of her maternal  Southern grandmother.
My version was a revisiting of the classic Southern coconut cake, make with very tender and moist rum soaked French biscuit, filled with white chocolate and coconut ganache and frosted with plain whipped cream and freshly grated coconut.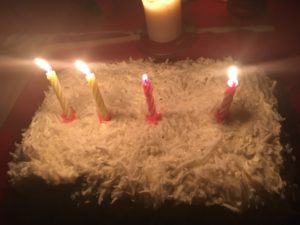 Rather homely  to look at, it was nevertheless delicious in the most coconutty way.
Birthdays come and go as do holidays, and with each one after a death, you can only plan ahead and strive to obtain some joy and pleasure despite the clouds of sadness that become part of your new normal.