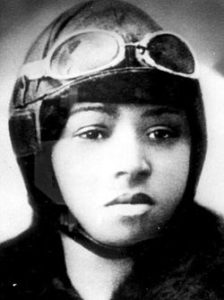 Bessie Coleman was really an extraordinary woman who had to fight against tremendous odds stacked against her to accomplish all that she did.
This woman who grew up in the piney woods of East Texas made her dream come true in a time when it was plain unthinkable of doing what she did.
Her story is one of courageously leaping over racial and gender obstacles to be the first African American women to ever obtain a pilot license.
She had to come to France though, in order to follow her dream, as did many other African Americans of her time.  She went on to be the first woman ever to obtain an international pilot's licence.
I had never heard of Bessie Coleman, until I went to a small village named Rue several years ago.   It is not far from  Le Crotoy, a lovely seaside resort on the Northern French coast.
The wonderful aviation museum  there had stories and photos of her because  it was there that she learned to fly at the Caudron aviation school.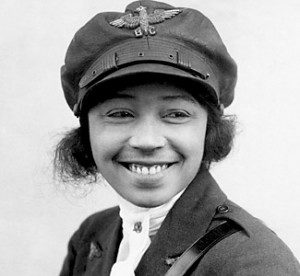 Elizabeth Bessie Coleman was born on January 26, 1892 in rural east  Texas in the small town of Atlanta, northeast of the Louisiana/Arkansas border.  She was  tenth born of 13 children of sharecroppers.
Soon afterwards, the family moved to Waxahachie, Texas where Bessie grew up.   Black families in East Texas lived amongst poverty and severe discrimination rampant at that time.
Her father had been able to buy a small plot of land and had hope of working in the cotton mills there.   East Texas has long been immersed in racial strife and tensions, where lynchings were frequent; making life there difficult for black families.
Because of all the racial barriers, and barely able to make ends meet, her father who was part Cherokee or Choctaw tried to persuade his wife to follow him to Oklahoma where he would have more job opportunities.
Bessie was only nine years old at the time when her father left , but her mother decided to remain behind, becoming a cook and domestic.
Though she had to walk 4 miles a day to school to her one room rural segregated school, she graduated from the eight grade with honors and was noted to be gifted in math.  She then was able to attend a Baptist missionary school on scholarship.
As was the plight for the majority of black families, their livelihoods also depended on back-breaking work in the cotton fields, where children joined their parents to pick cotton during the harvest season.
During the cotton picking season starting late July or August; lasting way into the autumn, black school schedules were interrupted to accommodate children in the fields.
Bessie was able to save enough of her meager earnings  to attend one semester of college at Oklahoma Coloured Agricultural and Normal University, now called Langston University in Langston, Oklahoma.
Having no further funds for college she had to return home, where she worked as a laundress from her home.
Bessie at age 23, decided to go live with her brother Walter in Chicago , who worked as a Pullman on the railroad.  He and her other brother John had returned from combat in France during World War 1.
They often recounted their views of France culture  and how they felt less racial discrimination in French society.    They mentioned  about french women having the opportunity to learn how to fly.
Along with her brothers stories, and while working as a manicurist she met several pilots who had returned from the war, enthralling her with their accounts of flying.
It was there that her desires and hopes to fly took flight despite what may have seemed to her a very improbable, if not impossible dream.
Aviation schools in America did not accept women, nor blacks.  Undaunted, Bessie  felt determined that France was her only hope to learn how to fly.
From there she went on to work in a chili parlour and applied her earnings to taking French lessons at Berlitz in Chicago.
She did have the good fortune of meeting the publisher on a black newspaper, Robert Abbott of The Chicago Defender who encouraged her to pursue dreams.
With her meager savings and  diligent will, along with some financial help from him, she scraped up enough money to sail to France on November 20, 1920.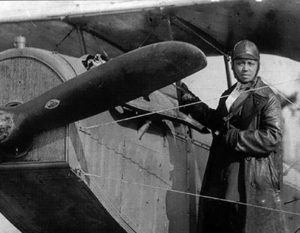 Gaston and René Caudron had set up their aircraft construction business in 1909, where they produced planes that were used in World War I and WW II.
In 1910 they opened the world's first pilots school in the small village of Rue at first training civil pilots, then in 1913 military ones.
Bessie refined her basic French language skills and learned all of the technical aviation terms in French at the Caudron's aviation school.
She learned to fly in a large stick steering plane with pedal rudders, called a Nieuport 82, practicing landing and taking off the long runway flying high above the picturesque  blue green shores of the English Channel.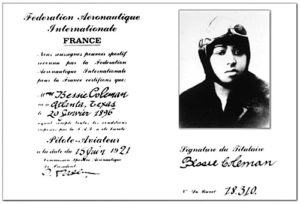 Within 9 months of study, she was able to obtain her pilot's licence from the Fédération Aéronautique Internationale on June 15, 1921, making her the first African-American and Native American ever to obtain a pilot's licence and the first to have an international pilot's licence.
She then went on to study with a pilot in Paris before she returned to New York in September 1921.
Unable to work as  a pilot, she decided to become a stunt flier, but could not find anyone to teach her.
She decided to return to France in February 22, 1922 where she learned the art  of stunt flying and later took an advanced aviation course from the Fokkers in Holland.
She returned to the United States and held her debut aviation stunt event at Curtiss Field in Long Island in September 1922 to admiring crowds.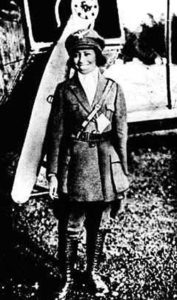 She reportedly made a name for herself in flight circles and for the next five years became a poplar well sought out stunt performer, called Queen Bess.
Bessie wasn't willing to stop at her already incredible breakthroughs as the first African American female pilot, but longed to open her own aviation school.
She was intent on being able to teach other African Americans how to fly, but again another financial obstacle of buying her own plane made that future look dim.
Befriended and taken in by a couple in Orlando , Florida, Bessie opened a beauty studio to increase her earnings with the intent to buy an aircraft.
She was quite used to flying in leftover biplanes from the WW I, and knew that she would only be able to afford perhaps an even older one to start.
In September 1926, Bessie purchased a used  Curtiss JN-4, better know as a "jenny", an American made aircraft originally used in training pilots but later became known as a stunt craft.
This one had been poorly maintained and wasn't considered very air worthy, but Bessie had hopes that with repair it could be renovated to be safe enough for stunt performances.
Her mechanic and publicity agent William Wills flew the plane from Dallas to Jacksonville , Florida, but had to make three forced landing on the way.
With this very grim news, family and friends tried to convince Bessie to abandon plans to fly in an upcoming airshow.
Perhaps because she had already survived a crash several years ago with a broken leg or perhaps out of desperation to put the show on despite the obvious dangers, she and Wills wanted to do a practice run after the plane had reportedly been repaired.
Wills was in the cockpit and Bessie was in the back seat when the plane stalled and started to spin downwards.
Whether she unbuckled to try to reach over to help or was already unbuckled is not known, but she was thrown out and died on impact.
Wills who stayed in the cockpit crashed and died in flames.  It was later reported that a wrench was found jamming the controls, which caused the crash.
Bessie Coleman died at the young age of 34.  Though her life ended very tragically, she had conquered in her short life many  improbable goals through her intelligence, will, diligence and persistence.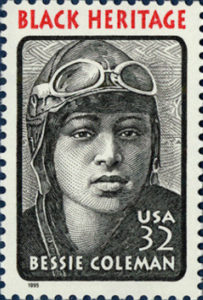 As Martin Luther King's day was celebrated yesterday and next week is the 126th anniversary of her birth, I thought it very fitting to write about this very daring and courageous woman.
She is a perfect reminder that dreams can become true, even seemingly impossible ones.  She also fostered courage and determination to other African Americans  to overcome the immense racial discrimination during her day.
America has come a long way since Bessie Coleman and Martin Luther King, yet pockets of discrimination persist that tarnish the American dream.
Bravo Bessie Coleman! May your spirit still fly high in the hopes of others to soar above racial and gender barriers of any kind!
Related Posts
Paris was on the brink of widespread flooding, which did occur in one part of the city and in several places in France .  Despite this catastrophic menace,  the French seemed more concerned about keeping up their resistance to the new labor law by multiple strikes and continued protests. Besides…

Certainly the ghost of Napoléon Bonaparte was floating around École Militaire this weekend, proud as a peacock for sure.  He was only 15 years old when he first entered École Militaire de Paris,  having been already designated as a "promising student" from his former military school in Champagne. The sky…

I have to admit that I have always been fascinated with this lady and the incredible story of her life.   Marguerite de Valois , nicknamed La Reine Margot was born into French royalty in the year of 1553. She grew up in the Louvre, which was the royal palace to…

I love France for many reasons, but not the French broad tolerance around cheating in relationships and marriages!  The majority here seem to be in utter denial about the underlying implications of infidelity, as it is something that is nonchalantly treated with amusement or shrugged shoulders. Infidelity is the worst sort…

Last weekend was father's days on both sides of the pond, which is unusual, as mother's day is always different in the states from France.   Not being a father, I am writing this from a perspective as  a therapist who has dealt with a lot of fathering issues ,…