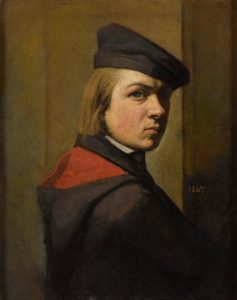 Jean Jacques Henner may not be well known, especially outside of France, but his nudes, religious subjects and  portraits are beautiful  and very provocative.
There is very little written about his life, but his art speaks volumes about this obscure artist seen in a self portrait as a young man.
The first time I saw his work, I felt pulled into learning more about this artist whose paintings elicited as many questions about him, as feelings.
I went back Sunday to his museum which was recently renovated.  His works are housed in a lovely old bourgeois house, worth seeing as well, though Henner neither lived nor painted there.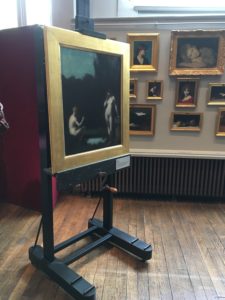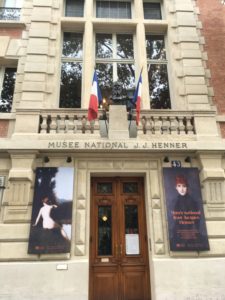 This post is written from my own subjective perspective as a psychotherapist and not in any way as a guide to his art from an art historian's viewpoint.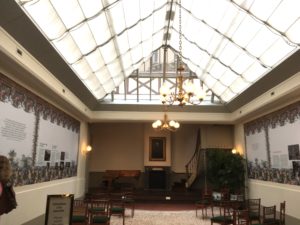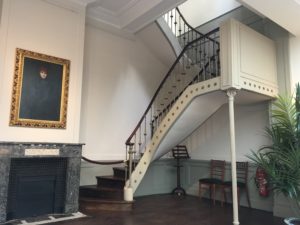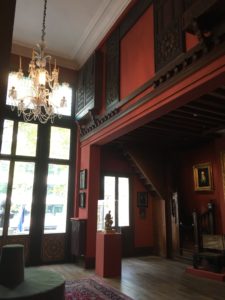 Frankly, his biography is limited and the only thing one can find about him is more focused on his art, with little to none about him personally.
He was born on March 5, 1829, in Bernwiller, the youngest in a  family of 6 in rural  southern Alsace.  His parents were well off cultivators, who encouraged him in pursuing drawing lessons at school.
After two failures in trying to win the very coveted Prix de Rome, he finally won in 1858, with the painting below.
The Prix de Rome, which always elicited fierce competition, was a scholarship for art students to live and study in Rome for up to five years.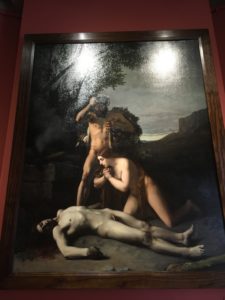 After his studies in Rome, he traveled all around Italy before he returned to France in 1864.
From his exposure to the great Italian masters, he came home greatly influenced by two distinctive artistic styles that he is noted for; sfumato and chiaroscuro.
I was not familiar with either of these  painting techniques and had to look them up.   Sfumato  means  painting in  hazy or smoky tones where the outlines, colours and tones are blended  and shaded into transition to each other.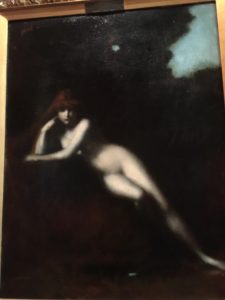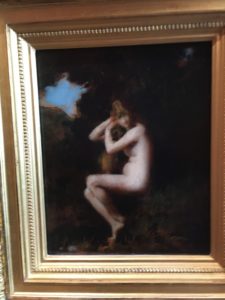 The majority of his female nudes have  these characteristic of softly blurred outlines and shading. Di Vinci was noted for this, especially seen in the Mona Lisa.
Chiaroscuro is a method of painting a darker background to illuminate  and bring out the main figure of a painting.  Chiaroscuro was popular during the Renaissance, notably with Leonardo di Vinci, Caravaggio, and Rembrandt.
After returning to Paris, his name had become fairly well know amongst the art world.  He was solicited by the French government for painting for the Musée of Luxembourg  and well off Parisians sought him for portraits.
He created his atelier  at the foot of Montmartre, at 11 Place de Pigalle, which now houses a strip club, the Folies Pigalle.   HIs immediate neighbor was Degas , with whom he often visited.
Although this was the era of impressionism, Henner was his own man, in that art historians have been unable to categorize his style of art.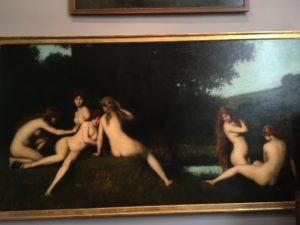 He was noted to have always used live models for his paintings, rather than photographs, which was still in its infancy.
He kept a meticulous agenda of the models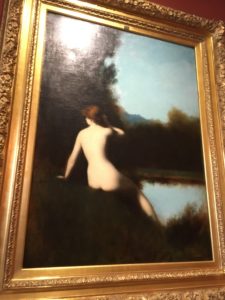 who posed for him and was said to have been professional and punctual with clients.
He seems to have been a perfectionist type who initially was so influenced by criticism to one of his earliest works, that he completely destroyed it.
Strangely, there is nothing written about Henner and relationships, other than him dining with male friends.   An art historian friend, Emile Durand Gréville documented several interviews with him in a book, that revolves around Henner talking mostly about his art and that of fellow artists.
Whereas there are volumes written about his fellow artist friends, Henner remains an enigma. Perhaps that was due to his own wishes or to those of his nephew who inherited his works.
If the eye is noted to be the window to one's soul, an artist's work can likewise give us a peek into  his psyche.  With Henner, that is about all you can go on, but perhaps there were reasons around this mysterious artist, who left clues to who he was as a man in his art
He was an early recycler, in that he occasionally painted over previous images and used everyday items, such as fruit boxes and a cigar box seen underneath one of his Andromedes.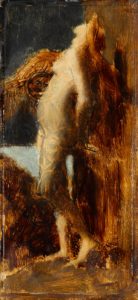 His portraits of clients were painted with much realism.  Some have a mysterious smile such as the one below and Lady with Umbrella.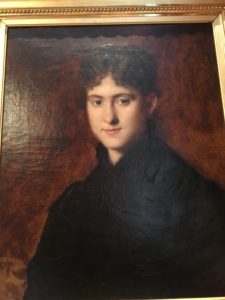 I found his paintings to follow prominent themes of melancholic longing, grief, persecuted identification with Christ and San Sebastian, death, and last but not least a conflicted and very obscure sexuality.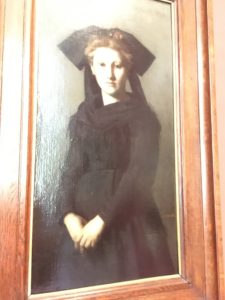 The  melancholic longing is portrayed quite well in his famous portrait of the Alsatian woman seen here, titled Alsace, Elle Attend.
She reflects his sadness he had about his natal Alsace being annexed again in 1871 to Germany after the Franco Prussian war, where it remained until being returned to French soil in 1919.
He also often painted the dead perhaps as a mirror of the  grief that he must have endured in his lifetime.  He was very pained by the deaths of his two sisters, one of whom is seen with his mother praying over her deceased daughter.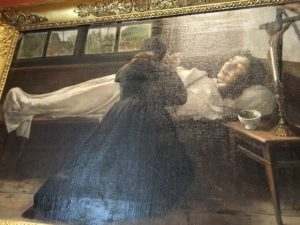 His landscapes of Alsace are mostly sober and dark, as they are cloaked in his own grief of feeling displaced from the land of his birth.
He returned to his home for several months  each summer to see family, but did not live to see his homeland returned to France.
Although Alsatians do share some cultural aspects with  Germany, in so far as  architecture, some food and their germanic inspired Alsatian  dialect, they consider themselves distinctly and proudly Alsatian and French.
After all , the area had been French since 1648, and although they were reattached again to Germany in 1940 during the German occupation, Alsatians remained loyal to France and consider themselves French with fervor!
I find it rather ironic that the majority of his paintings of female nudes  are painted with outlines softly blurred in sfumato style. They take on mythic airs and seem rather obscure and dream like, as if they weren't tangible beings to him.
The vast majority are adorned with  reddish hair, which Henner seemed to adore painting on his subjects regardless of their natural hair colour, with the exception of Mary Magdalene seen below, which she supposed had.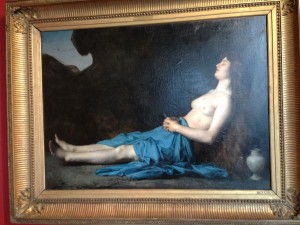 Some historians say he thought it complimented his usual dark backgrounds.  He was even tempted to do the same with his male nudes.
In stark contrast, are his many superb male nudes, which portray a raw sensuality and are painted with more photographic realism, except those of Saint Sebastian.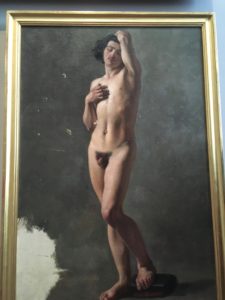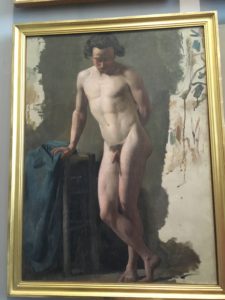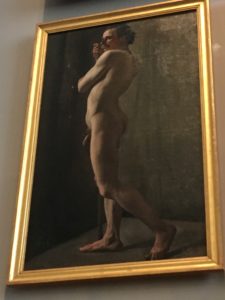 They do not have any distracting adornment other than the figure. It is obvious that males nudes were portrayed with Henner's well focused eyes and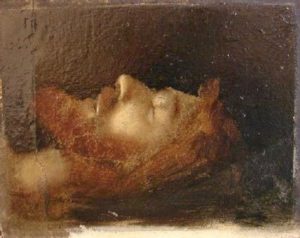 painted in minute detail.
He had several paintings of Christ, all either crucified or in death such as a rendition   seen here with reddish hair.
Of particular note is one of his Christ En Croix, which bears little resemblance to the biblical Christ.
I can only conjecture that Henner identified with the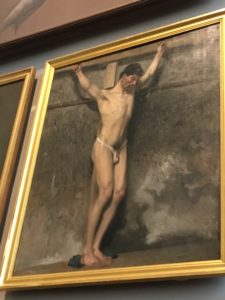 crucified Christ as a reflection of himself, perhaps feeling persecuted for his hidden sexual orientation, which in his era was rarely fully acknowledged.
This theme of death and persecution was further carried out in his fixation on one particular religious figure, Saint Sebastian, whom he had multiple sketches.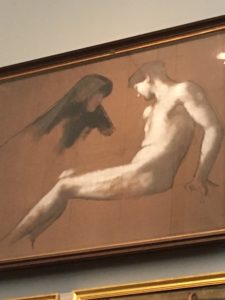 He was martyred for his Christian faith by Diocletian in Rome in the 3rd century, killed by arrows and clubbing.
In researching the story of San Sebastian, I found multiple referrals to him as a homosexual icon, which I was not aware.
In these two renditions, the saint seems missing his left arm and his outlines are more obscure as in sfumato style.
This was well known in Rome where the remains of this saint are buried, and certainly Henner was well introduced to his legend having studied there.
Jean Jacques Henner died in 1905 at the age of 76, while living in his home on Rue Bruyere  just south of his atelier. The cause of his death was not mentioned.
Throughout his life he remained single and childless.  He was  especially close to his nephew Jules Henner, seen here as a young man.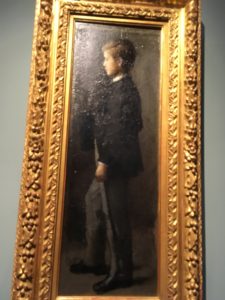 It was Jules's widow Marie Henner who bequeathed the present day museum and all his works to the state of France.
Though he did not have children, Jean Jacques Henner's legacy lives on in his art.
Perhaps it was safer for him to  reveal his feelings and thoughts through his paintings than through any spoken words.