Parisian pleasures are waiting to be discovered in  strolling  aimlessly  around the many different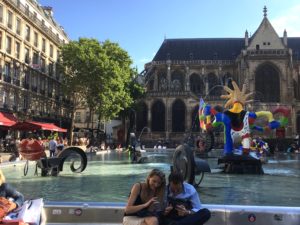 quartiers of Paris.  I just happened to be in the Beaubourg and lower Marais this Sunday, in search of joy and distraction.
When I don't have any particular plans, nor any big event beckoning me, and it isn't free museum Sunday, I often take in the wonderful concerts at Saint Merri church on Sunday afternoons.
Most of the time its classical piano music, but they recently have offered a sprinkling of Tibetan chanting. It is always a casual affair, with free entrance and pass the hat collections for the artist.
Saint Merri is not amongst the  largest, nor more lavish churches in Paris, but the acoustics are good, despite its rather dilapidated interior, which for me is part of its beauty.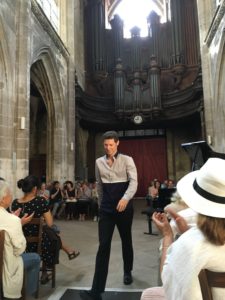 As the French like to say,  "dans son jus", meaning a building  appears  as it was, could be applied; though of course there have been some restaurations since 1500's!
It is named after Saint Méderic, shorten to St. Merri, who was a Hermite there in 800.  The present church dates back to 1550 and was built as an "offspring" of Notre Dame to serve  right bank faithful.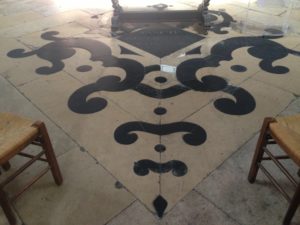 I have always been intrigued by the unusual lyrical mosaic  in the marble floor and some controversial sculpture attributed to the Knights Templars.
It is one of the few churches that retains that odor of mustiness, especially in the side chapels with well worn wood platforms, and faded yet beautiful frescos.
It has a unique energy of being very welcoming and not at all intimidating.  After all the old Les Halles district was near  and the area's many resident prostitutes felt more at home at St. Merri than St Eustache.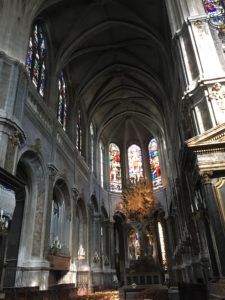 The area use to be one of the poorest working class neighborhoods in Paris.  Slum type tenements held the swelling numbers of immigrants and the area was rife with tuberculosis and cholera.
All that has changed and now the Beaubourg St Merri quartier has expensive real estate thanks to the construction of the Pompidou center and the Stravinsky art deco fountain lined with outdoor cafes.
Sunday the young Argentine born pianist,  Silas Bassa was superb in playing both classical and contemporary compositions that he had composed and recorded for Harmonia Mundi.
His uplifting music energised me and afterwards, I felt called to wander along the Rue de a la Verrerie, the street alongside the church, which is a  crooked cobblestone path, mostly set aside for pedestrians.
Crossing over Rue Renard and passing in back of BHV department store leads into the Marais district, an area full of small boutiques that was filled with many foreign tourists as  half of Parisians have fled the city for vacation.
I had heard about a new and unusual Syrian pastry shop, called Aleph, that I was interested in checking out.  The smiling owner was there explaining her creations called "nids" or little "nests" made of shredded phylo dough and her interpretations of a baklava type confection.
They were all cute with various flavorings, like mango jasmine, lemon cardamom, and rose.  She was born in Aleppo, which has now been rendered into concrete crumbles and came to France where she enrolled in  pastry school
I felt more drawn to her hand-made ice cream of rose of Damas and yogurt.   I rarely will treat myself to a whole ice cream, and if I do, it will be from an artisanal maker, such as Berthillon or a pastry shop.
Gingerly holding my amply filled swirl of soft pink and cream coloured ice cream topped with pistachios, I proceeded on.
The ice cream was excellent and not too sweet and it suddenly dawned on me how wonderful it was to amble along with such a simple delicious treat!
I soon discovered that I had stepped into a veritable den of the sweetest of temptations.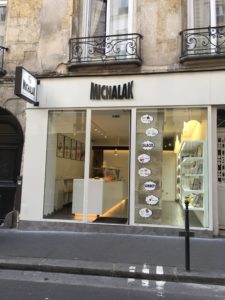 The whole neighboring streets were studded with some of the most famous bastions of pastry and ice cream makers!
Fortunately I don't crave ice cream nor pastries , because without a modicum of discipline,  anyone would be drooling and very tempted passing by all the glorious patisseries here.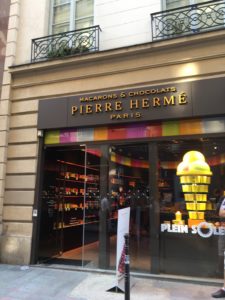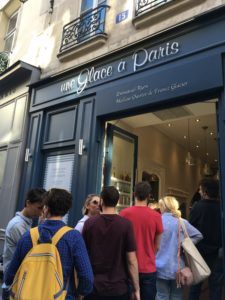 Next door was Christophe Michalak's star studied pastries and pastry books for sale.  He too had some ice cream offerings.
A few more doors down was the pastry king of the world, Pierre Hermé Marais boutique, filled with all of his unique pastry creations.  His citron bergamot ice cream I will just have to try another time!
On Rue  Croix de la Bretonnerie there was one shop, Un Glace a Paris,  that I have never tried, where the line was long.   Emmanuel Ryon is a MOF (Meilleur Ouvrier de France Glacier)best in ice cream winner, that proposes many usual flavours.
If pastries and ice cream are not your thing,  perhaps you would like some perfumed bees-wax candles from  Trudon, who have been making candles since 1643!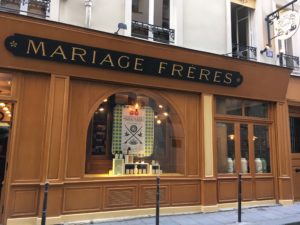 Mariage Frères tea salon is right around the corner offering their superb renown teas.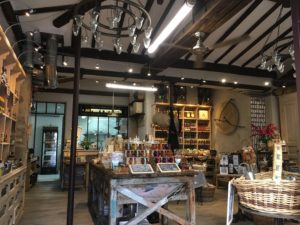 Maison Bremond is another old French store  offering olive oils, calissons and other products from Provence.
Before you leave the area, you could stop off for some savon (soap) de Marseille made  of olive oil and renown for its soft and soothing properties.
I caught a glance of the restaurant Les Mauvais Garcons, or (the bad boys), on the old street with the same name. It is a curious name that always makes me smile, but I  have never eaten there though because the food probably isn't as wonderful as the cute name.
Trying to scrape out the last dribble of the now melted ice cream, I realised how much enjoyment that simple little cup of cold delight had brought me.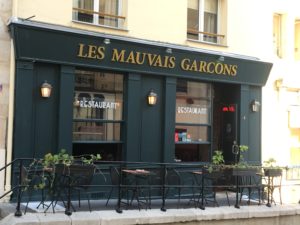 I decided that I would  stop denying myself a "whole" cup, and treat myself to one every now and then.  Life is too short and totally unpredictable for such continued nonsense!
Amazing what a little Sunday stroll in Paris can teach you about yourself as well as delight all your senses!