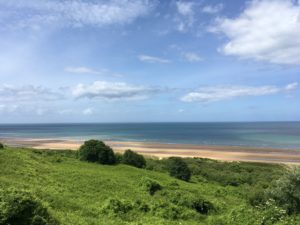 I find it very strange, yet synchronistic that I ended up here.  Was I called?   D Day beaches in Normandy are certainly very pretty, but because of all the blood shed there, they  frankly were not my first thought for a seaside stay.
Having to plan a rather last-minute vacation, I considered the entire Atlantic coast down beyond the Spanish border and of course Brittany , before Normandy.
In the end, I did not want to drive very far, considering the time and all the expensive tolls you pay to travel anywhere here in France.
So here I am at Courseulles Sur Mer, where Juno Beach is located. It is only a 2 and 1/2 hours drive from Paris, and yes the beaches are really lovely despite the horrific history.
It is just one of the several D-day beaches where allied troops landed to free France from the occupying Nazi regime. Utah, Omaha and Gold are all near by, each one having a specific battle history with different allied troops.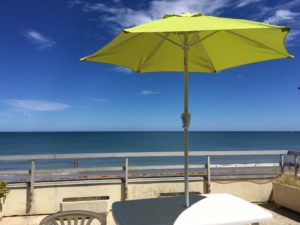 Was it because I found another apartment with a splendid  view that drew me here, or was it something beyond the explainable?
It's hard to  ignore the history of the place, when  military tanks are displayed like shrines in the center of the villages and road signs point to the American and Canadian cemeteries?
Making it even stranger was the fact that we arrived on the 7th of June, just one day slight of the anniversary on June 6, the day I had originally planned on arriving.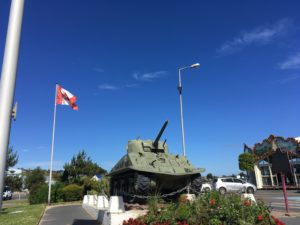 Of course you would never know from the looks of these beautiful beaches today, pristinely clean and nestled along peaceful green pastures where grazing cows dot the landscape.
Bombed to smithereens, during World War II, the towns and villages along the coast have all been rebuilt and most look very modern and clean in appearance.    They bear little resemblance to the typical quaint rural villages found throughout France.
There is always an  annual ceremony to commemorate the invasion that saved France, along with many activities  of several weeks duration, that draw many  French and foreign tourists to honor this deliverance from a devastating war.
The list of elderly soldiers who participated keeps diminishing as I write.  They are mostly in their 90's by now.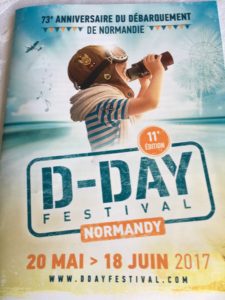 My own father was an air force pilot during this time, who was expecting to fly off to the cause just before he married my Southern belle mother.
Before I was born, he had made tiny little booties crafted from one of his thick wool insulated black leather bomber jackets, that always intrigued me.
My son was  extremely interested in the military evasion here to the point that I considered it more than a little boy's war stories phase.  He could recount which allied forces landed where and all sorts of other various details that I never knew, nor cared about knowing.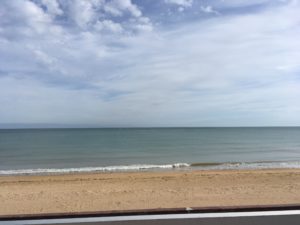 The light golden brown sand beach against a pale greenish blue sea is why this area is called La Côte de Nacre. The colour of the sea does indeed remind me of the inside of a mother of pearl(nacre) shell.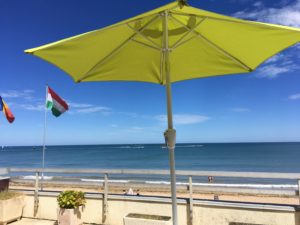 Our wonderful huge terrace looked directly over the beach and I loved just sitting out looking at the surf whooshing in rhythmically. Even more so listening to the loud surf falling asleep.
The tides cause the sea to recede quite a distance from the shore, and like clock
work every 7 hours, come rushing back in, narrowing the sand beach considerably.
I imagined that with each white crest wave crashing on the sand and then dissolving into millions of white bubbles  releasing tons of healing ions of oxygen to my thirsting grieving neurons.
With each breath, I visioned breathing in deeply this life infused sea mist elixir  like a newborn taking their first breaths.
This is a do nothing type beach vacation for me.  The emphasis is on the sea and nature rather than seeing ancient historical sites or wandering around tiny medieval  streets as I did in Sicily recently.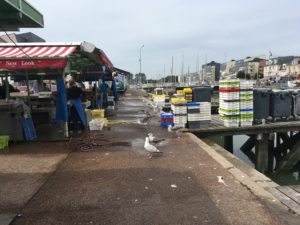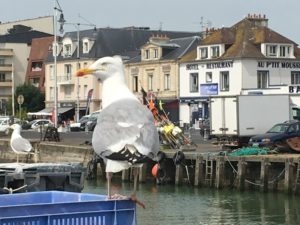 Courseulles Sur mer still has their "criée" or fisherman's wharf where the catches of the day are for sale. The women do the selling and males and females take turns with the cleaning and preparation of the fish, hounded by the sea gulls.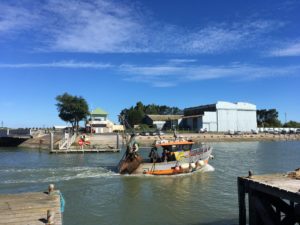 I see fishing boats go out several times during the day and in the evening. Maybe the majority of the evening catch goes to Rungis in Paris, where fishmongers go to get their fish to sale.
I like walking there in the morning to see the fisherman unloading the vast trays of fish and watching the ever present sea gulls fighting over morsels of remains.
They make quite a noisy bunch of characters squawking and screeching in very high decibels with such variations of pitch , that it must be a rich vocabulary comprehended by sea gulls only.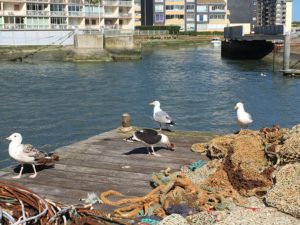 I saw one daring bird steal right out of the tray a whole sole flying off to devour it while defending himself from fellow bird thieves in hopes of catching him off guard.
I came prepared to cook more than eating out, envisioning being delighted in the right off the boat fish bounty.
Normandy is likewise very famous for the richest of butters and cream from Isigny, sparkling apple cider, Calvados, buttery white crust cow cheeses, especially Camembert!
Since I was driving, I could really load up with a few kitchen essentials I would not leave home without.
I never know how equipped rental kitchens will be, so I try to be prepared. My pepper grinder,  sel de Guérande and champagne bottle corker are the first to go in, then olive oil,  fresh herbs, garlic and lemon.
I carried a sharp chopping knife, a serrated one, oyster knife, and a steel whip as I knew that I would be making beurre blanc sauce for fish.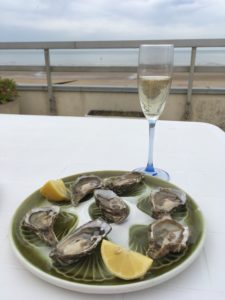 Filets of Saint Pierre or John Dory was my first choice to serve  with my delicious beurre blanc made from beurre d'Isigny.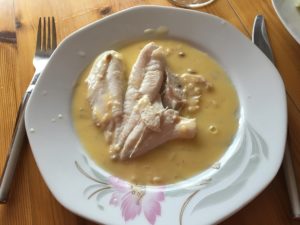 I can count on the French to have champagne flutes, but have some in plastic for travel to other countries.  This kitchen, though tiny with no real counter space was surprising well equipped with even a food processor and lots of pots and pans.
As it turns out, I was glad I came to cook, as the two times we ate out were disappointing.  Once it was not as fresh as it should be, the other time overcooked.
No excuse for any restaurant serving stale fish,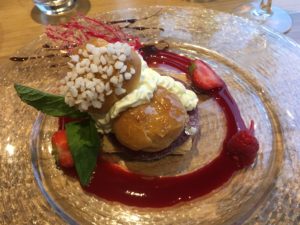 I get very fresh fish at the poissonnerie of my neighborhood marché, bought at Rungis in the wee hours of the morning.
If I overcook my fish, It is certainly my fault. When I am paying restaurant prices at a place specialising in regional seafood, I am not happy.
I was rather shocked when the very young chef came out to defend his cooking, rather than accommodate my very politely delivered complaint and refused my request to exchange it!
Maybe he can get away with this in a small seacoast town that swells with tourists during July and August, but in Paris that would be unheard of if he wanted to keep clients.
Insofar as oysters, and I know that I am generalizing somewhat, because I certainly haven't tasted all oyster producers n Normandy, but I prefer the oysters from Brittany.
I find them lacking in brininess that I find more pleasing to my palate, but eating them in front of the ocean made up for any deficits.
They are more nutty and buttery as an oyster goes, which I think suits them well to being served warmed with sauces seen here, rather than just on the half  shell.
North Atlantic fish such as turbot, saint pierre, cod, carrelet(plie)and of course sole are priced much lower than in Paris, and the same for lobsters, langoustines, tourteau and spider crabs.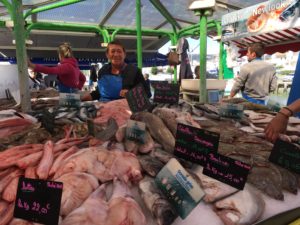 I was tempted by the lobsters, but there weren't any claw crackers, or a large enough pot at the apartment. Besides,  I always have a problem with "dispatching" them to a pot of boiling water.
I would not be able to briefly 'anesthetize" them in the tiny freezer compartment either.  Forget about cutting them in two, as still feel traumatized by doing that once, written about on January 4, 2016.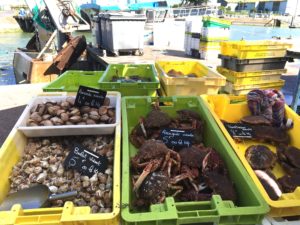 My father, who spent his childhood summers at Cape Cod, Massachusetts was a huge lobster aficionado and would not have had the least bit of problem doing the dirty work.
Northern Atlantic crabs  are much larger than the blue crabs of the Gulf of Mexico that I love, and I do not find them to be as sweet, not as succulent as the Louisiana blue crabs of my past.
Unfortunately those huge fat prawns that I delighted in Sicily were missing, except those imported at 48 euros a kilo!  That's normal of course as they are warm water creatures from the Mediterranean, not the cold Atlantic!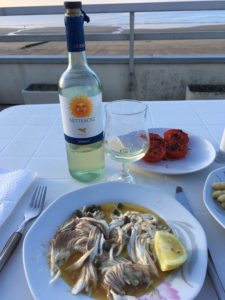 We settled on the raie(sting ray) which was absolutely succulent served with a beurre noisette and capers on the terrace.
So much for the culinary treats I enjoyed, as I had only one other thing that I wanted to do while here, besides walking the beaches.
I felt called to go to the American cemetery again near Colleville Sur Mer, a mere 10 or so kilometers away.
I had visited it for the first time with my son André, when he was living in Paris doing his culinary studies at Ferrandi.
The cemetery is set on a cliff overlooking the vast and sweeping Omaha beach.  France gave this immense parcel of land as a perpetually  concession , never to have charges, nor being taxed in gratitude for the sacrifice of these brave American soldiers.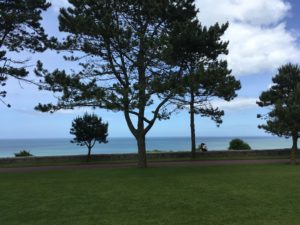 The first time I visited, I remember vividly being overwhelmed with sadness and tears, that I couldn't hold back.  A field of white crosses as far as my eyes could see was something that I never could have imagined before.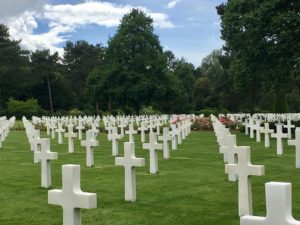 My return visit, I felt more somber, and my tears felt frozen intertwined with my own grief.  For every soldier who died and is buried here, there was a grieving mother like myself.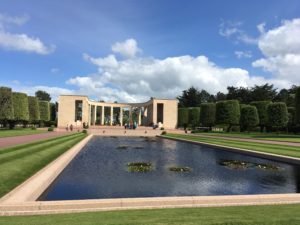 I was not alone in their pain as I walked meditatively  through the countless rows of marble white crosses and a few stars of David.  There are 9, 387 courageous young soldiers buried here, certainly a small fraction of lives lost during WWII.
Stems of fresh roses had been laid at the foot of the crosses, and I was especially touched that each cross of an unknown soldier had a long stem white rose.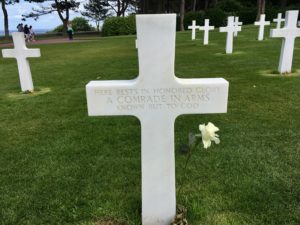 Here rests in honored glory, a comrade in arms, known but to God.  I sent silent prayers  to each of these men and three women buried here for the supreme sacrifice they made for a very noble cause.
Their very young lives cut short in fierce combat against a heinous military plague lead by an evil leader.    A very stark reminder of the pain and loss of war, that many French people endured having their homes and villages totally destroyed.
The French people are very grateful to the Allied Forces for giving them back their freedom, easily witnessed by all the American, Canadian, Irish and British flags waving in the wind at each sea coast village here.
My own son died in a combat against severe Bipolar II and addiction, certainly cruel fierce enemies, but hardly still recognised as such.
I wonder if it was he who called me here again, despite my reluctance to hang around these beautiful beaches with a very sad and violent past.
Perhaps yes.  At times I felt his presence and even his words would surface spontaneously as if he was just next to me.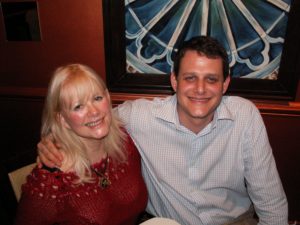 I want with all my heart to believe they were from him, and not a replay in my mind.  So thank you son for bringing me back here and being by my side with love.