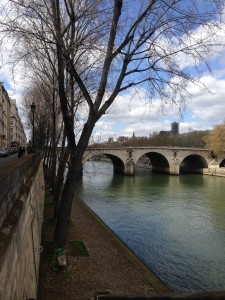 Paris is not just for lovers, but surprisingly Paris is  for the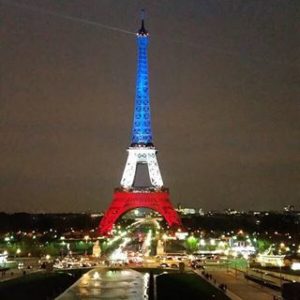 heartbroken and grief stricken too. I don't have any illusions that the city's tourist bureau wants to take up my title, nor adopt me as a veritable poster child to spin Paris as a haven to come to forget your woes, sooth your pain and pick up the pieces of your broken heart, but I can, because I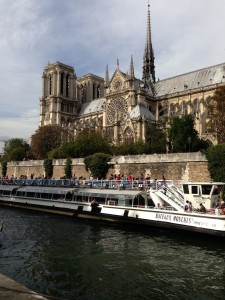 am living that reality.
Actually the first time that I ever set foot in Paris,  at age 20, I was  heartbroken and grieving over the demise of a college relationship, a mere minuscule precursor of life's greater tragedies to come.
I never imagined at that time that it would be my beloved Paris where I would feel the worst pain possible and the magnitude that I am suffering now, in the death of my son.
My tears are now falling from the eyes of a mother who has lost perhaps the last remnants of her own innocence and nativity, that I chose to hang on to, despite knowing better.
Fortunately there have been happier times.  Obviously, Paris is much more vibrant and wonderful to explore when life is kind and especially if in love with someone that resonates within your heart.
Paris is as ageless as the lovers who are immortalised in clouds of passion and love, carrying within her walls memories encoded in their hearts.  Yet with all human attachments, the risk of loss looms like a terrifying nightmare you hope never to have.
Yes, I have been blessed to have  had the delicious pleasure of falling in love in  romantic old Paris twice.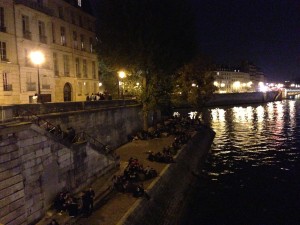 Therefore I  can testify to the magic of walking along the quais of the Seine hand in hand in the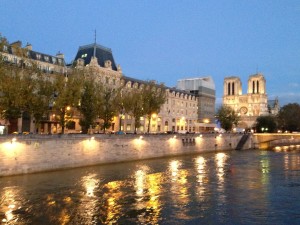 moonlight, cradled in the arms of a beloved and stealing secret kisses like long-lost lovers just reunited.
Coming to Paris laden with your shattered dreams and grieving heart still warm and beating, where you try to give off a semblance of being alive whether you want to be or not, is not a bad option.
As I said before in recent post, right now I feel as though I am going through the motions , crawling along with my bag of pain and grief in tow, like a heavy sack of cotton that just got rained upon in a downpour.
Paris does not have the healing energy of the vast oceans, nor  the soothing caress of green forests, but she has the Seine and unlimited exquisite beauty in every direction as far as your eyes can see, even if salty  tears are welling up, waiting to  spill out down your cheeks.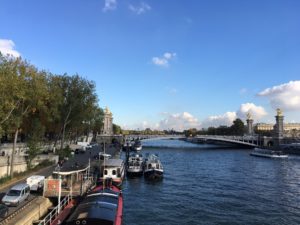 Perhaps more important and even more penetrating in a very mystical way is the ever present  joie de vivre just wanting to seduce you again.
It's everywhere you turn, even reeking like clouds of cheap perfume along the crumbling cobblestones streets, like Faubourg Saint Denis.
Dotted with streetwalkers so ridiculously dressed that they make Irma La Douce look like she stepped out of Vogue, you just have to smile at the ludicrousness of Paris that never really changes.
All of that beauty, even if seen many times before still pulls me in like a hungry child in need of sustenance.
The many beautiful churches of Paris offer a respite for my pained soul and become easily entered harbors to park my grief in search of solace or light candles to my son.
Flickering  votive candles under icons or statues of Saints long ago parted from this physical life give me hope of them interceding for me in my grief now,  as they so mercifully did to help my son survive as long as he did.
This all encompassing beauty bathes me like a mother's voice,  not grabbing me like before, but more as a lullaby sung in softer tones.
The joie de vivre is like a lacy shawl that keeps falling off my shoulders, because I can't wear it right now, but I know it is there in the wings of my recovery and I am grateful.
That joie de vivre is contagious you know,  waiting to seep through the holes of a broken heart clogged with grief.
Even if you are not ready to really feel alive again, that extremely unique joie de vivre  is like osmosis.  You really don't have to do anything to have it permeate you except be here, plain and simple.
The runoff given freely will start filling in your cracks of sadness and flooding your parched jagged heart,  like gravely soil waiting for rainfall.   Before long there will appear new seedlings growing back in the most unlikely places.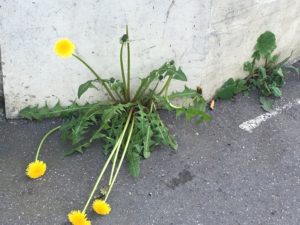 Haven't you marveled as I have, seeing bright flowers growing impossibly though cracks of concrete in stifling heat, and you wonder how it the world did such a life force trudge forth in such a hostile environment.
When in grief, we lean towards the comfort of food and drink, like a babe longing to be put back to her mother's breast.   Honestly, you will never find another city in the world so rich in depth and breath of  the most beautiful foods and wines on earth.
Gently nudge if you can or shove if you must your sorrowful self outside and start walking.  Paris is made for walking, so you can feel the city's vibrant energy beneath with every step.
Your feet need to make earthly contact and move along like you are retraining your brain to feel alive, hoping to soak up again the vibrant animated life and beauty on every street corner.
Everywhere you walk in Paris is beautiful, and there are so many distractions to choose from.  Here are some of my most favorite walks to either be overwhelmed in beauty, intrigued or just be enlightened by the delights  of Paris, whether your heart is breaking  in grief or just seeking visions not experienced before.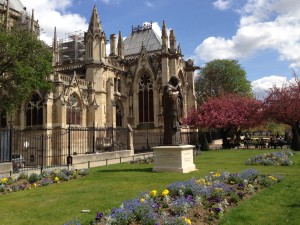 Head to the Seine side of Notre Dame, and go through the swinging gate.  You will pass by children digging in the sandbox and gardens of seasonal flowers in bloom, and continue walking through the back of the gardens onto  to the bridge to Ile Saint Louis.
The whole walk round this beautiful little island if full of the ghosts of previous residents who know the vicissitudes of your pain.  Marie Curie, René Cassin, Camille Claudel, Charles Baudelaire, Chopin, and as  you return to Ile de la Cité, the ill fated  lovers; Heloise and Abelard.
Even more solemnly is the Memorial  of the Deported during the Nazi occupation just pass the weeping willow tree on your left. A reminder of the tremendous injustices and pain this life can unfold amongst the innocents.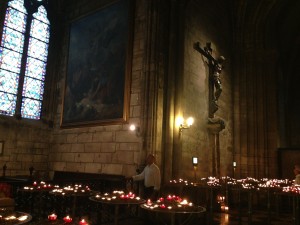 I often  go inside Notre Dame and light a candle for myself and my needed healing, likewise offering  prayers of gratitude for being here.
Upon exiting the cathedral, to my right, the old Hopital Dieu prompts another silent prayer of gratitude that I have the eyes to see and the legs to take in all this beauty.  Without my health, life is indeed pretty dismal and a constant struggle.
From there, I generally head towards the Marche aux Fleurs and then cross the Seine to get my last infusion of colorful flowers along the Quai de la Messagerie.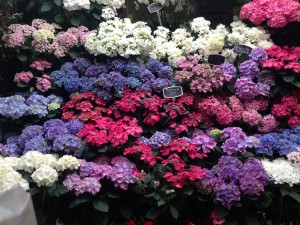 If I want to hang around, I will walk back beyond Châtelet along the right bank and  stop at the  Les Maquereaux for a glass of wine watching the Bateaux Mouches ply by.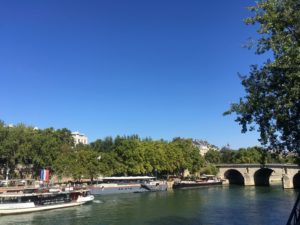 Walking around the  Tuileries gardens and Palais Royal,  makes for another superb walk amongst graceful  sculpture, flowers, trees and greenery.
Afterwards I might rarely treat myself  to some of the city's  most sumptuous tea salons for pastries  fit for royalty.  Sébastien Gaudard, Angelina on Rue Rivoli, and Ladurée on Rue Royale, or Fauchon across from the Magdalen Church.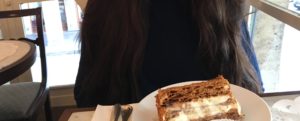 More recently I gravitate towards Sebastien Gaudard's upstairs tea salon for the quiet elegance of his Mille Feuilles au Vanille Bourbon and excellent hot chocolate, if you can handle them both.
Perhaps I will one day make reservations a the Hotel Meurice, likewise on Rue Rivoli, for their "tea time" to take in the ecstasies of Cedric Grolet's sublime creations.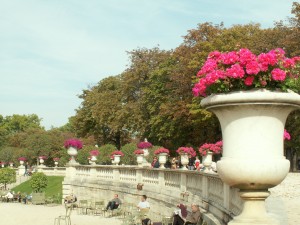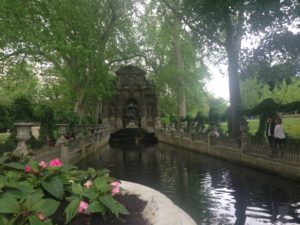 Another great walk is in Luxembourg gardens for bursts of seasonal flowers, superb statues of the great queens of France, music on summer Sundays, bee hives, fruit orchards, and the most beautiful reflecting pool in Paris.
Sitting in the sun around the main pond watching little and big boys trying to control their sailboats in the wind, I then retreat to the quiet cool shade of the Marie Medici reflecting pool.
Angelina's has a branch in the gardens next to the Luxembourg Musée near the northern entrance.  There is also the exquisite salon of Dalloyee, where I prefer to sit upstairs and admire the view over the park.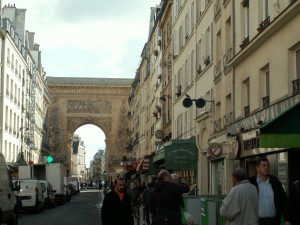 If you want a distraction and peak into what Paris looked like in the past, head to ancient Rue Saint Denis and Faubourg Saint Denis, like I often do to get my Greek yogurt, feta, phyllo. and Indian and Turkish herbs and peppers.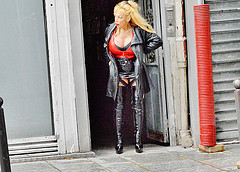 This was the ancient northern route into the city, that the kings and queen of France took coming back from their coronations at the Cathedral in Reims.
The outrageously and skimpy dressed ladies of the day and night are always a sight to see, likes scenes out of Ira La Douce come alive.
Rue Faubourg Saint Denis is even seedier, but lately there has been a sort of gentrification going on and I am afraid it will lose its crumbling decadent ambience.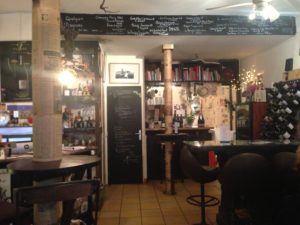 A great pit stop coming or going is the cute champagne bar, Ma Cave Fleurie, which sells champagne bio from their own vineyards.
This weekend, I forced myself out to the spring wine salon, with a heavy and disinterested heart to pick up a carton of Pascal Laboreau's exquisite cremant de Bourgogne.
Stopping by Domaine le Fort for a case of whites for the summer, I could not resist buying a case of Gewürztraminer, surprisingly wonderful, as this wine is renown as a varietal generally in Alsace.
However much I have looked forward to these salons in the past, I just didn't feel like making my rounds to see the rest of my vintner friends.  I knew that with my sad face I  wouldn't have been able to deny my grief.
Yesterday, I felt tearful again at mass and only wanted to retreat to my bed, even though the sun was out in full force. By late afternoon, I told myself that I have to get out and get those legs walking again in the park.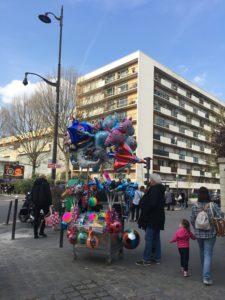 The balloon man was there at the entrance and Park Montsouris looked like it was sprouting people all over the grounds.  I hid my downturned eyes with sunglasses and made my way all around like I usually do in better times.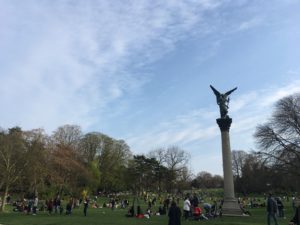 The kiddies were running around,  clutching their helium balloons that bobbed up and down, and there was a long line at the artisanal ice cream man.
I stopped to look at the proud parents taking photos of their kids on the merry go round and wished they knew how precious those little moments are.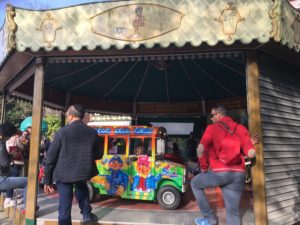 Juliet, the black swan was still sitting atop her eggs, with husband Julien nowhere in sight.  Her nesting area has been roped off now for several weeks, and certainly she must get relief of duty from her wayward winged conjoint.
The ponies are always busy on Sundays, but I eyed an unusual event of a man giving his two ferrets a "walk"  in the park.  Surrounded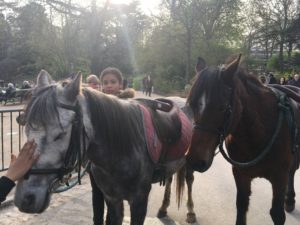 by children, they much preferred the sanctuary of curling up either under a bush or running up the man's legs back into their pouch after being frighten by the shouts of a little girl.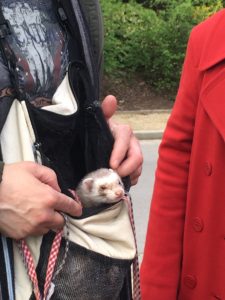 I have no pretext that I can recover the crumbs of my life before my son died.  Impossible to glue back the pieces as they were before, like a broken vessel full of cracks.
I will have to walk the streets of Paris, cracks and all in search of whatever I can glean off her that gives me a moment of joy, however fleeting, like one does in tearing off all possible morsels of flesh on a rib bone, like my beloved little dachshund use to do with complete perfection.
The Japanese have an appreciation of cracked vessels.  This philosophy of aggrandizing the cracks of pottery with gold and silver is called kintsubi.
Instead of trying to hide the scars, they are brought into greater value for adding history to the piece.  Living this human existence, we  humans accumulate many hard knocks and scars  that become our emotional and physical patina.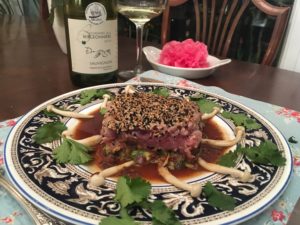 In the theme of such lovely Japanese philosophy, I decided to use some of the Yuzu juice that I bought around Christmas.  Saturday night a spark of my old creativity returned long enough to serve barely seared red tuna encrusted with sesame and nigella seeds over a tartar of avocado and a soy ginger Yuzu sauce.
Quick braised shimeji mushrooms I arranged like  spokes of a wheel around the tuna, a reminder that the circle of life has to keep going around like a planet orbiting its sun.
A cheesecake glazed with Yuzu lemon curd that I purposely prefer very tart, made for a good contrast to the creaminess of my cheesecake, made with petits suisses, mascarpone and Greek yogurt.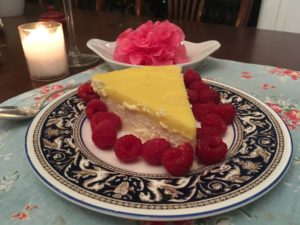 I was attracted Sunday morning while waiting in the usual long line at Dominique Saibron's boulangerie to a bunch of super bright yellow daffodils that I bought to be my happy flowers of the week.
I resisted getting another one of his delicious brioche feuilletée that I treated myself to last weekend, and came out with only his sarrasin(buckwheat) baguette.
Having changed the clocks back Sunday morning, it felt good to linger in the sun past 6 in the park.
Seeking the warming sun, walks in the park, sunny yellow flowers, and my good food were simple and obtainable joys I could give myself this lovely weekend in Paris.
Best of all is the continued love, support and prayers from my friends on both sides of the pond.  Frankly without them, and their kind words and prayers, I doubt I would have the energy or desire to even write these words, much less carry on towards any level of healing.  Hugs and blessings to you all.