I kid you not!  Not since World War II has France faced such a severe butter shortage and the crisis is worsening as butter stocks have literally melted away from grocery shelves.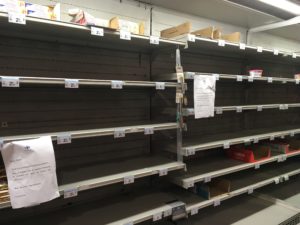 France runs on or perhaps I should say swims in  butter! It has the highest butter per person consumption in the entire world.
Butter is very integral to the French way of eating and cooking.
The average French person starts his day with a breakfast "tartine"; usually a huge piece of fresh baguette, sliced in the middle with both sides generously slathered in butter.
The consumption of butter laden pastries and foods either cooked in butter or served with butter sauces has long been a cultural tradition,  with the exception of olive oil producing Provencial cooking.
When I was in Normandy, aka,"butter and cream country" two weeks ago, I did not notice any shortage  at that time, but in Paris yes.
I was skeptical in believing this could ever happen here.   I had read that bakers were complaining about the difficulty in finding the vast amounts of butter used in making the sumptuous buttery croissants, brioches, and all the other wickedly delicious pastries.
Saturday at my local Carrefour just up the avenue, I was shocked to see those  bare shelves, usually bulging with the usual plethora of butters.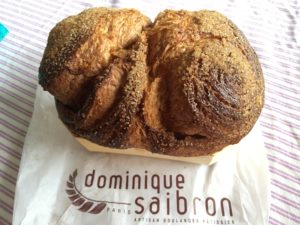 Sunday morning I was thrilled to see my own fabulous neighborhood baker still was making his superb brioche feuilletée! Made with layers of butter and brioche dough much in the same way as puff pastry, it is beyond delicious!
I went back to check on Carrefour Monday  to see if it was better, and this huge space remained totally bare, as seen in my photo,  except for two packs of miniature portions and three packs of the store brand.
Ever since I can remember, and yes long before I ever came to live in France, I have always made sure to never run out of butter!
I never fell for that horse nonsense that butter was bad for you  and have stood proudly by this succulent essential delight, that has finally gotten a retrieve from those crazy false accusations.
How can a country that makes over  1200 different kinds of cheese run out of butter pray tell?  I don't see any shortage of cheeses here!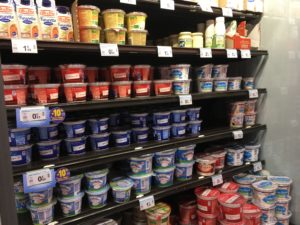 Nor is there any less creme fraiche, the slightly fermented cream and all the other creme based delights this country revels in.
You have never tasted how sacredly delicious cream can be until you taste some creme d'Isigny.  A beautiful creamy yellow and so thick that a spoon can stand upright in it, it is a culinary masterpiece from Normandy.
The butter made from D'Isigny cream is likewise very renown and considered one of the very best in flavour.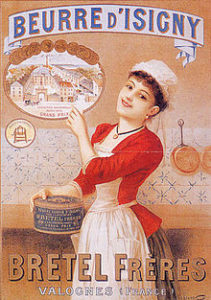 France is and has been a butter paradise for gourmets.  Whereas in the states, you might few brands and kinds of butter, here in France is a dazzling world of butters to choose from, or was!
The three main butter producing areas of France are first and foremost Normandy, then Brittany, and the Charente Poitou regions.
Normandy being more famous for sweet butters, and Brittany noted for the demi sel, or salted butters.  Charentes Poitou produces a dryer butter with a lower moisture, called for with making puff pastry, which is super popular here.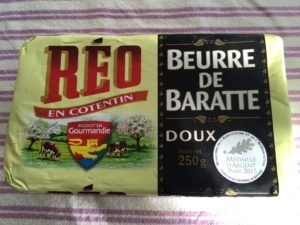 Butter even has its own AOC, or Appellation d'Origine Contrôllée, which is a very strict labeling guarantee that it was produced in a certain area in a certain traditional way.
The newest AOC to join Normandy and Charentes Poitou is Beurre de Bresse, already famous for their pampered AOC chickens and other birds.
All French butters have a lower water content than American butters.  For pastry makers that is important, as it can give a shorter or more tender pastry.
The flavour of butters here really is far superior to what you can find in market butters in the states.  Just no comparison!
I find them to have this very nutty flavour, that is consistent with good butter bar none.  Even the mass produced ones here fare well in flavour.
Some are made from raw milk, and some are baratte produced like the one above that I picked up in Normandy.  Baratte means making it the ancient way with  slightly matured cream to increase buttery aromas.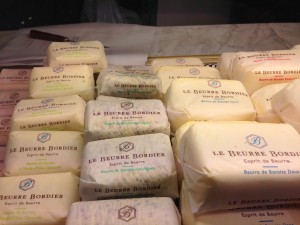 Besides of course the plethora of bio(organic) butters, there are artisanal butters done in small batches by artisanal butter makers, such as  Bordiers.
Jean Yves Bordiers makes his well sought out hand paddled butters in Saint Malo on the Brittany coast just west of Mont Saint Michel.
My favourite of  his flavoured butters  are seaweed and smoked,"fume".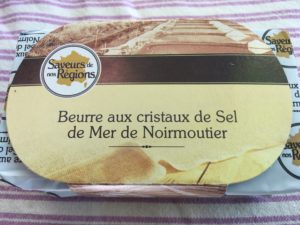 Then you have the fantastic butters that have whole crystals of sea salt imbedded in them.  We have very renown sea salts here, most notably the Sel de Guerande and sels de Noirmoutier, an Island southwest of Nantes.
So, what is the cause of this butter crisis?
Does France not have enough cows?   Have they all decided not to produce milk?
Have they been decimated by some horrible disease like the poor ducks and geese here, leaving us with a shortage of foie gras?
No, no, no! The cows are all out in the pastures chewing their cud as much as usual, but greedy huge retailers are controlling the butter market here.
In France, large grocery retailers settle on a price every February and that becomes the price that they will pay butter producers for the year.
When butter producers need to sell their butter at a higher price because of, increasing cost of milk and cream, due to farmers increasing production costs,  the French retailers have refused to pay any higher prices.
The dangling letters seen on those empty shelves puts blame on not being able to meet the supply, not pointing out that they were unwilling to pay higher price.
Milk farmers are starting to pass out leaflets addressing the real reason to consumers, pointing blame towards the huge grocery distributors.
There seems to be compassionate concern for milk farmers here, who have complained of being barely able to keep their milk cows flowing milk, with increasing costs of hay and other feeds needed during the winter months.
There have been a rising number of suicides of  French farmers because of this chronic financial strain and yes some milk farmers have thrown in the towel.
Fortunately, France recently fought tooth and nail against the establishment of a huge proposed dairy farm of 1000 cows and remains committed to keeping dairy farms within a more modest size.
Since the de demonization of butter, worldwide demand has risen.  As Asians have shown an intense interest in French pastries,  there has been increasing butter exports to Asia, especially China.
Of course when any shortage starts to occur, panic buying and stocking increases and that too is to blame for empty butter shelves.
Some large grocery chains have agreed to pay a higher price and pass it along to consumers, but the "walmart" size ones are so far holding out.
With the holidays not far away, I hope this butter shortage won't last, or we are going to see some really large scale  butter riots!
Well, at least France is not running out of mushrooms,  but of course they need to be sauteed in butter!
After experiencing somewhat my own butter panic, I assure you that I'll be heading out on my own butter hunt this afternoon.
Vive le beurre Francaise!