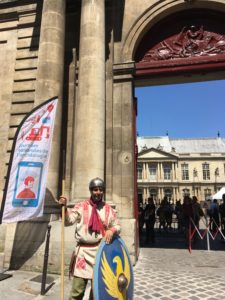 No, I haven't been digging around Paris, but plenty of archeologists do daily. I was able to see first hand what archeologists really do and see some very fascinating documents at the National Archives where the archeological festival was held.
Paris has many treasures and secrets buried beneath this old city.  Though the underground looks like Swiss cheese with miles of ancient quarries and subway tunnels, there are still plenty of plots where layers of history are still waiting to be uncovered.
The science of archeology is complex and frankly I didn't know that much about it, though I have really enjoyed visiting excavated  Gallic and Roman ruins in several places in France, including one in Paris.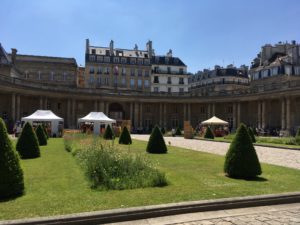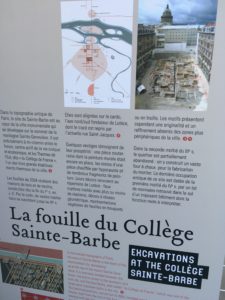 I have always been amazed about what archeologists are able to discover from examining old bone fragments, pottery and whatnot.  Getting them out intact requires a lot of patience, knowledge and great skill.
I never realised that there were so many specialties involved in the science of interpreting these ancient finds, so for me It was quite enlightening to hear them talk about  their specialty.
There are those who study remnants of wood found in ruins. They can tell its age, its origin and even the climate it was exposed to and how humans worked with it.
Specialists in pottery finds and how to restore them to the original, has an artistic bent as well.  They demonstrated how they have to restitute pottery fragments, which certainly must present a similar challenge one finds in doing puzzles, which all seems very tedious to me.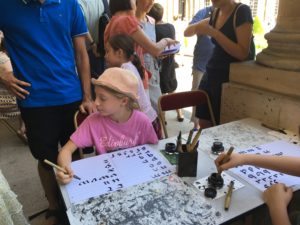 Ethnoarcheologists deal with early writings, such as cuneiform and how to interpret and recreate them and medieval script.  Here they are teaching children how to make cuneiform letters, which the kids appeared very intent on getting them right.
Another workshop was on the technique of Roman frescos paintings.  Hands on again for those interested in learning how they were made with mineral paints of the time.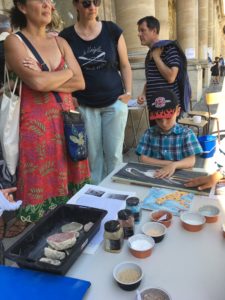 Though a lot of the stalls were geared to teach children, they were open to the adults as well, but it was the kids who were most enthused about participating.
Here they are learning how an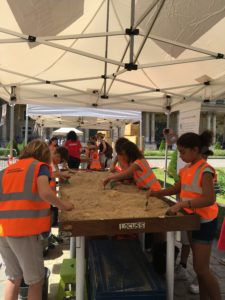 archeologist works in the field slowly brushing away dirt and sand to uncovered long buried remains without damaging them.
You would need a lot of patience in doing this type of painstaking work in the open elements.
I found the exhibit on archeozoologists and archeobotanists very interesting and amazing how by studying animal bones and plant fossils they could derive much about how humans in the past lived, the domestication of animals and what humans ate.
From the myriad of information these remains provide, they could describe dietary tendencies and how menus were different for different social classes. 
The most interesting to me was the study of human remains.  Dating them and determining how they died must be a Sherlock Holmes type of investigation, where medical knowledges is essential.
The most recent dig in Paris in 2015 was a spectacular discovery under a very large grocery store of Monoprix that caused quite a stir of interest worldwide.
As required whenever construction or renovation takes place, INRAP( Institute National de Recherches Archéologiques Préventives) is called and they send out archeologists to examine the plot uncovered.
Their objective is to identify and preserve archeological evidence intact and do research before any construction can continue.
To their great surprised, 8 small rooms were discovered underneath the grocery's storage caves, holding 200 skeletons.  The location was known to have been the ancient hospital La Trinité occupying a space between Rue Saint Denis and Blvd Sebastopol.
Built in 1207, this hospital served the poor and also would give temporary shelter to religious pilgrims when they entered from the northern gates of the city.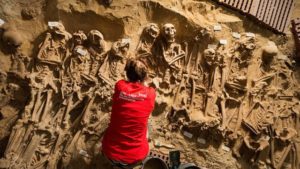 Within the hospital walls was a known cemetery.  Archeologists said that each body had been wrapped and placed strategically next to another to make for the maximum of space and there were several layers of bodies arranged.
It is theorised that this mass grave of men, women and children of all ages was due to the tragic black plague that started to decimate the population of Paris in 1348.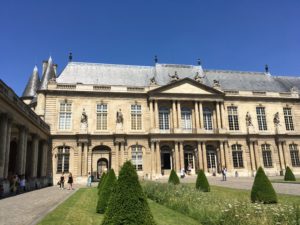 By this time the sun felt scorching and I wanted to retreat into the National Archives for some shade.
After all it was open for free for the occasion and I had never been inside before.
The National Archives lives up to its name, as it houses many ancient documents covering the historical events of France.
Though the collection was fascinating, I did not find any relief from the heat, as the place like many other small museums wasn't air-conditioned, and some rooms were stifling hot with not one window open for ventilation.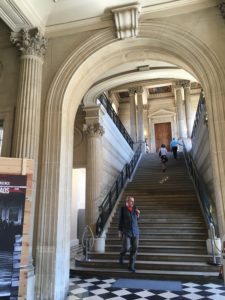 This once magnificent private mansion was started in 1371 and has been renovated several times by the  successive families who lived here.  The cute turrets seen in the left corner as well as the entrance remains intact from that date.
What you see now last belonged to the Soubise family who in the early 1700's embellished the interior to rival somewhat Versailles and created the huge front formal garden entrance.
It was confiscated during the French revolution and later was assigned by Napoleon I to hold the national archives.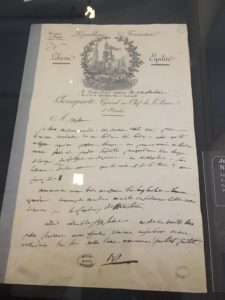 Since that time, other sites have opened to hold the forever increasing documents of the country, but here you will find those of the monarchy, many relating to the city of Paris, including ancient property records.
Certainly the most intimate is a letter from Napoleon I to Josephine, while he was on battle campaign in northern Italy.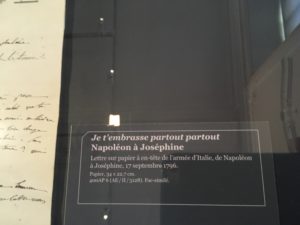 In the letter, written on September 17, 1796, he writes of his immense romantic and sexual passion for her, wanting to kiss her everywhere,  that would put a blush on any woman's face.
I also particularly enjoyed the beautiful and colourful map of the La Louisiana et Floride region that France colonized in 1682.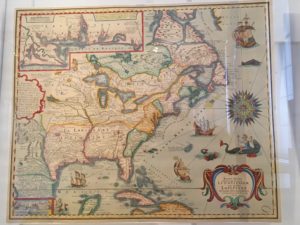 The map was created in 1698, and the additional sea serpents and mermaids, along with various sailing ships that decorate the seas are adorable.
The detail of the rivers are amazing and the geo outlines of lands are fairly accurate.  Notice the pointed hook of Cape Cod and the great lakes.
I immediately noticed that the body of water now called Lake Caddo in northern Louisiana, my home state, appeared much larger than it exists today.
This goes against the theory that the lake was formed during a New Madrid fault earthquake in the early 1800's.
Considering the elementary instruments of the day, the map is amazingly accurate!
There is a section of the mansion upstairs that has catalogued degrees, letters and official document of all the royal monarchies of France.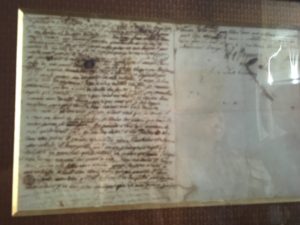 The most poignant and saddest document was the last letter of Marie Antoinette written in the early morning hours before she was guillotined. on October 16, 1793.
She was being imprisoned in the conciergerie, where you can still her room.  The letter was addressed to the sister of her late husband Louis XVI,who was guillotined earlier in January 21, 1793.
In this immensely sad letter she expresses hope that her children will be reunited and remain close and
supportive of each other and specifically asks that her son not try to revenge his parents deaths.
She asks forgiveness for any sins unwittingly committed, and indicated her desire to face her death as a Roman Catholic, but refused to see the appointed priest that she suspected was an informer.
The letter below was Louis XVI last testament written about month before his execution.
Both letters left me feeling very sad and how unjust the French Revolution was to destroy the monarchy, amongst all the other violent bloody killings of clergy, innocent people and destruction of churches and art.
One of the oldest letters was written by Jeanne D'Arc to the people of Reims, the now Champagne capital of the world.  On August 5, 1429 she wrote to assure the residents of Reims that she would not abandon them.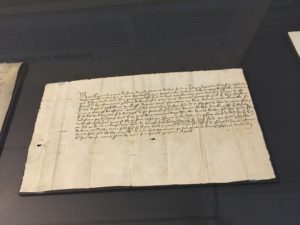 The most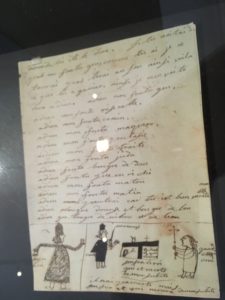 amusing was a letter of repetitive insults to someone, along with menacing drawings to scare this person.  There was line after line saying goodbye you f***** imbecile, tomcat, mackerel, etc.
The upstairs, where documents from the royal families of France are held do look very lavish with grand chandeliers, frescoes ceilings and beautiful mouldings.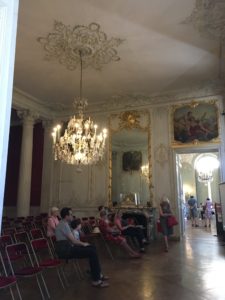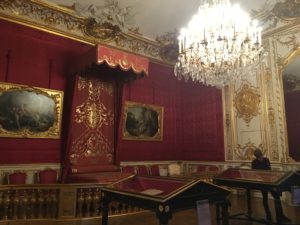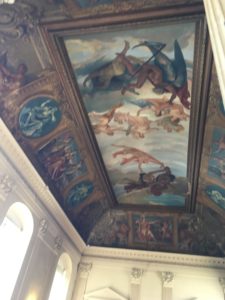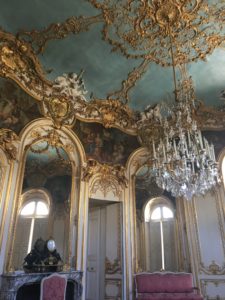 In a special exhibit, where I was yelled at for taking photos, I saw a typed letter of Hitler written during the Nazi occupation of Paris and the document authorizing the right for women to vote in 1944.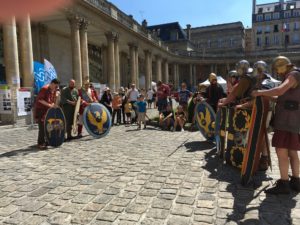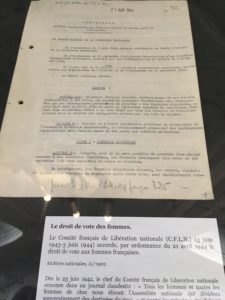 As I exited, there was a demonstration of Medieval type warriors striking swords at each other to the delight of the many children in attendance.
I came away with a much greater understanding of the various aspect of archeological research and the measures they employ to gather remains to construct knowledge of our ancestors.
For those of you visiting Paris and are interested in seeing some archeological research and remains, I highly recommend the National Archeological Museum housed in part of the  Saint Germain en Laye château.  You can get there by a 30 minute ride on RER A.
In Paris, you can visited the Crypt of Notre Dame and also the very popular Catacombs of Paris, both of which are fascinating.
My favorite excavation so far is the fabulous one on the French border of Germany in Bliesbruck-Reinheim.  Worth the two plus drive up to see an extensive uncovering of Celtic and Roman ruins.
Alesia in Burgundy is also worth a visit, and there are many others scattered throughout France. The extraordinary Lascaux caves in southeastern France left me dazed and marveled with the antiquity of man.
Knowledge about our ancestors is vital for us to appreciate some of the good that technological science has brought us, increasing our longevity of life with greater ease of  day to day activities.
On the other hand it is  a stark reminder also that injustices, hatred, destruction, intolerance and violence amongst the past inhabitants of this planet is still  firmly entrenched and propagated by many today.
Man's destructive emotions and intolerance towards  others remains  the same throughout the ages. We sadly don't seem to learn much from history.
Peaceful coexistence remains only an elusive dream and prayer.