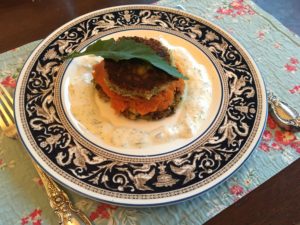 Although, I gave up meat during the Lenten season, I feel somewhat guilty that in the end is was not much of a denial.  Despite my ongoing grieving, I ended up feeling like I  was feasting rather than fasting.
I can't run away from my deep grief, but I can still cook and besides eating well brings me joy.
I enjoyed dressing up the vegetables pretty like the Mille Feuille of herbed zucchini fritters filled with pumpkin and served with horseradish sauce made from a small root from my balcony garden.
I was not in the habit of eating much meat in the first place, except on Sundays and one or two times during the week.
I must say that honestly, I did not miss it that much either, except on a physical basis.  Grief had already made me feel weak  and exhausted, but towards the end of lent, I felt physically weaker.
I was starting to feel increasingly light headed and at times felt faint, that scared me thinking I might fall out into the aisles of the store or on the streets.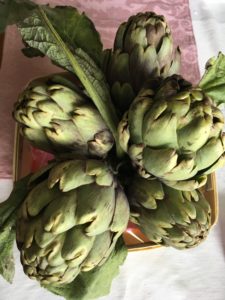 Maybe it wasn't the best idea to give up meats in Lent, though the vast majority of vegetarians report no ill effects, except long time; being careful to supplement Vit B 12.
I can only surmise that my iron stores went down, causing a probable decrease in hemoglobin as the major factor in my light-headedness.
I always eat dark leafy salads at the end of a meal, as well as serving spinach often, but that wasn't enough.
I rarely eat eggs either, a  wonderful source of iron, except in quiches or in pastries.  Towards the end, I noticed that I was developing a craving for chicken livers,  another indication of my low iron.
Instead I sought out dried apricots and did succumb to occasional deviled  eggs and one dish of them smothered in a spicy spinach bechamel.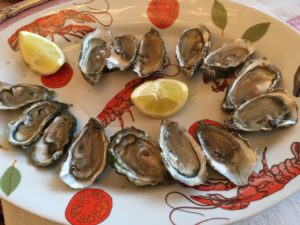 Oyster cravings pursued too, as they have a fair amount of iron and other elemental minerals, and besides, their fresh from the deep sea taste is delicious.
My favorites being from Brittany and Ile d'Oleron.
Another reason, why I did not feel "deprived" in any way was my ever present desire to eat well! At least I had enough force and energy to get to the marches and stores to prepare some joy for the evening meal.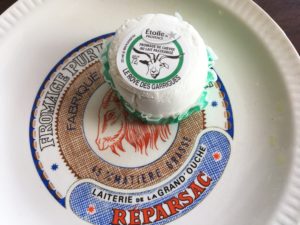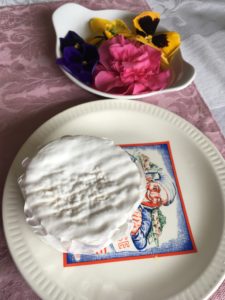 The glorious cheeses of France might make for a great lunch, but I need something more diverse and substantial for dinner
I am not a throw together pasta, stir fry or put on a pot of beans person.  Carb heavy pasta tastes lovely, but is a great way to blow up like a whale.
Maybe the Italians who remain normal size in their mature years, either don't eat it that much, have great glucose metabolism, or have genetic evolution from their ancestral heavy pasta loads.
The only downside to vegetarian only meals, other than increased weakness and feeling light headed towards the end, was the increased time allotted to producing well prepared meals.  In my opinion, they require much more prep, which means much more chopping etc.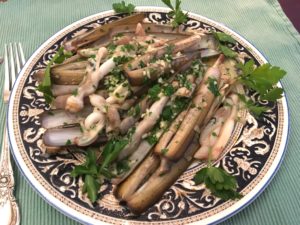 Seafoods are exceptional here in Paris for their  immaculate freshness, and variety but unfortunately  comes with a heavy price, except fresh sardines and mackerel  which fortunately I  like.
I have always treated myself to one glorious fish dinner a week, and did implement menus with more seafood within my budget.
My big splurge one Saturday was getting a batch of couteaux de  mer, called razor clams.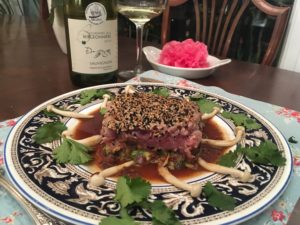 Hard to obtain, they are absolutely superb very lightly  sautéed with parsley and garlic! Sesame seared rare tuna with those cute Japanese mushrooms was lovely too.
My  meat free period, lasting 40 days certainly proved to me that one can have glorious tantalizing meals composed of just vegetables, if you are will to be creative and don't mind a lot of prep work.
I rarely had the help of my sometimes appointed sous chef daughter, except on weekends, but I carried on diligently.
Since my grief has robbed me of most of my energy to get out and zip around Paris as before, I was going to at least bring on the pleasure of eating well.
I know very well from living, that we are responsible for creating joy in our lives, rather than hoping it will drop from the sky.
I sometimes think that even if I am on my last leg to stand, I will probably  prop myself up to cook, being the ever seeker of gastronomic delights.
The few times I felt too tired to cook,we did venture out to eat, but that proved to be rather disappointing, except for one superb place nearby.
Because my daily menus sound like a list of  classical French foods, and I do prepare them well, I generally will search out ethnic restaurants, when I do eat out.
When feeling down, blue or plain depressed, I develop an increased craving for heavily spiced food.
This is not so surprising as capsaicins are a notable stimulant of neuronal transmission, perhaps more localized in the mouth and gut.
Crossing the brain barrier is another story, and it is too bad that we can't just take hot peppers ab lib to lift clinical depression.
The place that met all of my expectations, including that they use fresh seafood, and have honest richly made sauces was a Szechuan restaurant called La Saveurs de Sichuan, on Rue Friant.
At any time, one can see that they are mostly crowded with the Chinese and with good reason.
The French are definitely capsaicin shy, and each time we would order the most heavily spiced dish on the menu , the wait staff felt obliged to warn us in advance.
After explaining that we are expat Americans from Louisiana who are quite used to spicy foods, we invite them to just bring it on in defiance of their warnings.
There is some component in these powerful Szechuan peppers that leave your mouth feeling like it is vibrating.
Hydroxy-alpha-sanshool is the molecule responsible for this tingling and later numbing sensation.
The reason for this is the nerve receptor sites become extremely over stimulated giving off a mentholated hot explosion to taste buds.
So much for the plug of Szechuanese cuisine, especially useful for depressed or grieving folks.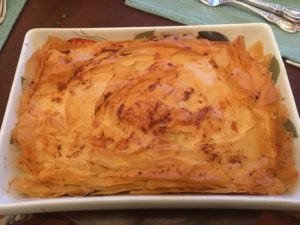 If you can not find those exquisite little red Szechuan ones, pile on your Scotch bonnets or whatever pepper you can obtain that has a high Scoville rating for a little lift.
I drew heavily from other cuisines, such as Greek, Sicilian, Lebanese. etc and the vast array of Indian vegetarian.
I love the Greek spanakotiropita filo dish, and made  unusual eggplant stuffed Kadaifi balls.
With the leftover Kadaifi, or kataifi, I made the delicious Greek dessert called Ekmek.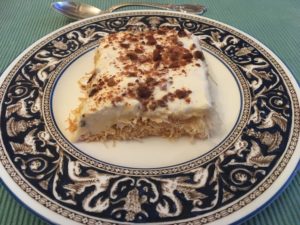 Indian hot spiced chickpeas was one I have made multiple times.   Another much enjoyed chickpea dish was the Lebanese fattah with crispy oven baked homemade pita chips, topped with dilled yogurt, herbs and pomegranate seen in the photo below.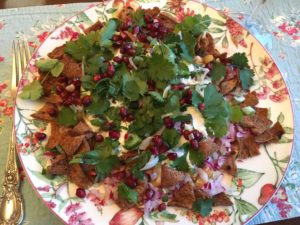 A super easy dish is sliced pan seared Halloumi cheese from Cypress, dressed with black olives, chopped lemon, capers and herbs.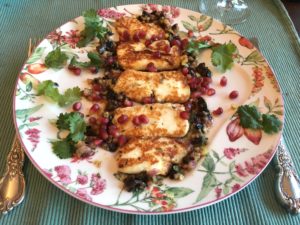 Another weekly dish was the delicious ragout de poivrades or stewed baby artichokes, with red wine and mushrooms, from the south of France.
There were lots of pumpkin tartiflettes, along with cauliflower or cardoon au gratins as well, that are fairly easy timewise.
I love risotto too, but rarely fix it in light of the heavy carb and calories.  One rice dish I did make was the Persian Tadig, a super crunchy golden inverted rice, this one loaded with herbs from my garden.
A week before Easter I came down with a mean sore throat that was more painful than I can remember in a long time, that eventually turned in a cold and dreaded bad cough.  I thought it might be strep, but  with cold symptoms, it was probably a virus.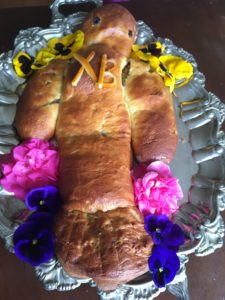 Loaded up with eucalyptus menthol throat lozenges, I made it through Holy Friday services and Easter Mass as well, without having to leave because of an embarrassing coughing fit.
My breaking the Lenten fast was with a roast leg of lamb, served as it should be, very rosé in colour, with succulent crispy potatoes Anna and asparagus. A very classical tradition that I serve yearly.
Aimee kindly offered to help do the tradition Easter dove bread, this year filled with an apricot walnut filling. Superb and delightful to look upon.
Riz a l'Impératrice is a very old French classical dessert.  Rice folded into a silky egg rich cream anglaise, along with fruit confit  and whipped cream, it makes for the most luxurious and , creamiest rice dessert you have ever tasted.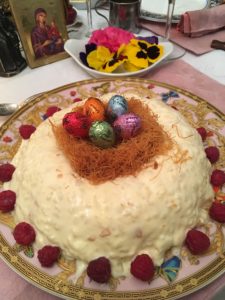 I always use my own candied fruit peels, this year orange and flavoured the whole mixture with some Cointreau for added orange flavour.
Fresh raspberries go perfectly with it or small well-flavoured strawberries.   For those in the states ,stay away from those horrid gargantuan tasteless Californian or Floridian ones, which aren't worth buying.
Throughout my Lenten "fast", I was rarely tempted to give in to meat.  The wonderful roasting chickens permeating the Parisian streets in front of all butcher shops did make me miss that treat, but otherwise I felt perfectly satiated with delighted taste buds.
So here's to the glories of vegetarian meals!