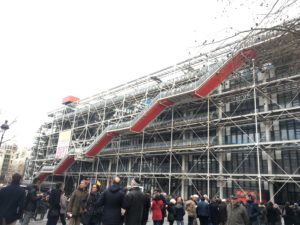 This massive rectangle of red and blue tubes,  steel pipes and marine looking white air vents of the Pompidou Center  now occupies a very privileged spot in Paris.  I have gotten use to it , though it still  looks totally out of place and reminds me of a little boy's tinker toy and erector set adventure.
Regardless of whether you love or loath the architecture, there is a fantastic collection of some amazing Modern and Contemporary art inside, making it another absolutely must see in Paris.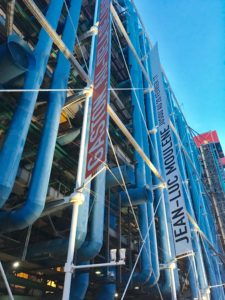 Even if the thought of another museum makes you cringe, the views from the windows and terraces are stunning and worth seeing just for that alone!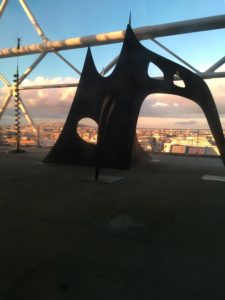 The Pompidou Center was the brainchild of French president Georges Pompidou, designed by Renzo Piano and Richard Rogers, and was inaugurated in 1977.   The idea was conceived in 1969, as part of a push to "modernize" this ancient part of the city when the very unfortunate demolition of old Les Halles had commenced.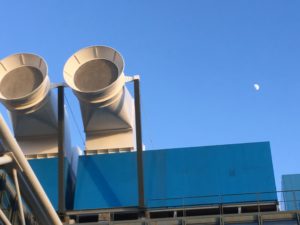 The area chosen  before and after World War II was considered the poorest and most unhealthy neighborhood in Paris, home to Eastern European refugees, who lived in the rundown shabby buildings.  Part of it was razed down to make for parking to the food market Les Halles to the west.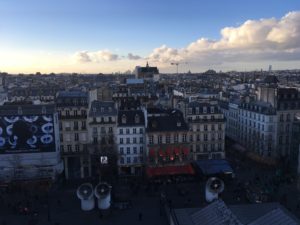 It is bordered on the north by Rue Rambuteau and its huge plaza lies along Rue Saint Martin, one of the  oldest streets in Paris. Nowadays the surrounding area has become choice Parisian real estate.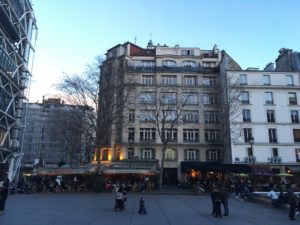 The southern border is Rue Saint Merri, and the delightful Stravinski Fountain, another marvelous creation of contemporary sculptures mostly by Niki de Saint Phalle.
Seems like I am often in that area, either for shopping around the Les Halles district, cultural events, or to go to my favourite home depot like store called Leroy Merlin across the street on Rue Rambuteau.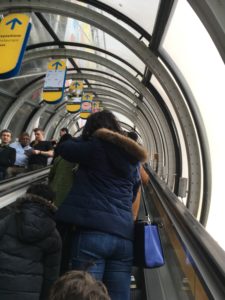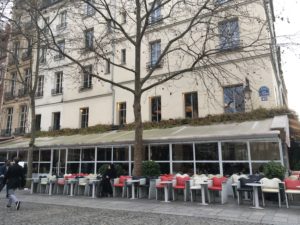 Cafe Beaubourg is a really nice place for an aperitif at any time of the evening.  Same goes for the many out-door terraced cafes around the Stravinski fountain.
Inside the Pompidou is the restaurant Georges, that offers spectacular views of the city below.
Sunday, I didn't want to miss the special events planned to celebrate the Pompidou, but after waiting in long lines that thwarted my attempts to getting around, I could only reprimand myself for foolishly  thinking it was a good idea.
What I was able to see was very enjoyable and even though I had been several times before, there were new collections and besides i never tire of the gorgeous views.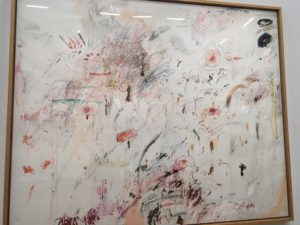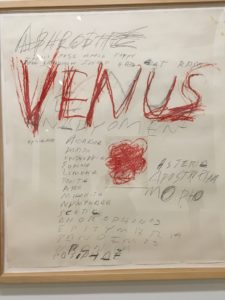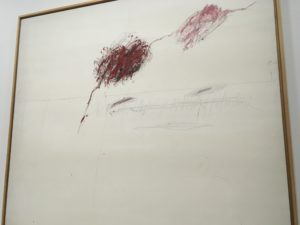 I started at the top of the building in Gallery One of Modern Art.  There was another long line waiting to get into the special exhibition of  Cy Twombly, an artist, whom I was not familiar.
My first impression of his early graffiti looking scribbles, during his Eros period left me puzzled and rather blasé.  As a therapist his tableaux reminded me of chaotic thought processes one often encounters in psychotic patients.
As his art matured though, he took on more colour and congruence.  For me, art allows us a window into the soul of the artist preserved on canvas and  Twombly would make for a great study reflecting his life story.
His Death paintings followed and then his obsessions with the cruel Roman Emperor Commode depict bloody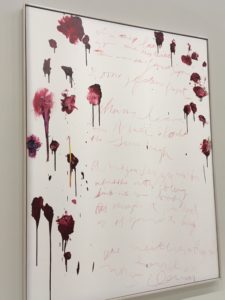 violence and torture, that was probably  occurring within himself.
The evolutionary evidence of his psyche rather fascinated me enough to read up about him when I returned home.  True to form, his paintings outlined a linear discovery of self and towards the end of his life show acceptance and completeness.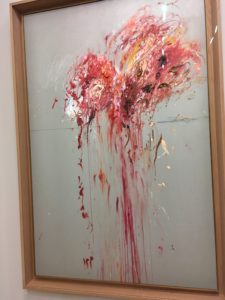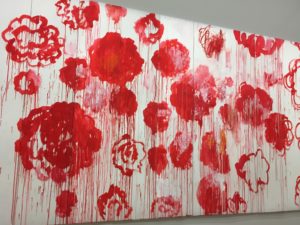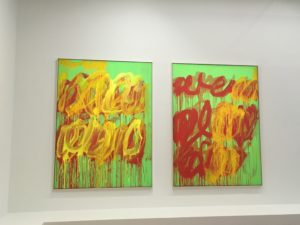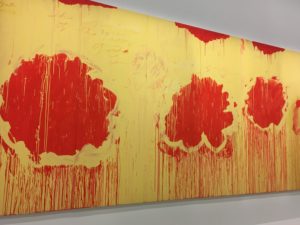 Finally his  colours are vibrant and mesmerizing, with his predilection towards rounded scrolls like one sees in the innocence of childhood playfulness, which he felt safe enough to resurrect.
I highly recommend this collection, not only for his works but for a wonderful display of how the psyche plays out in an artist's hands.
The permanent collection of Modern Art was fantastic as well.   My favourite pieces were painted by Matisse using gorgeous nuances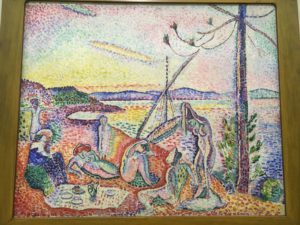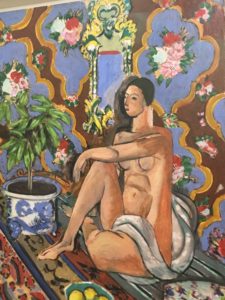 of pastels like in these below to the bold colours found in many of his later works.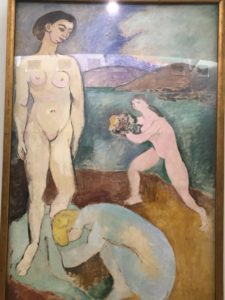 As you can see, even very small children were captivated by Henri Matisse's Guitar, as they all were interjecting their own interpretations of this wonderful artist's work.  Eavesdropping, I immensely enjoyed their comments, free of the intellectual jargon that often can be an obstacle to the spontaneous joy art should bring.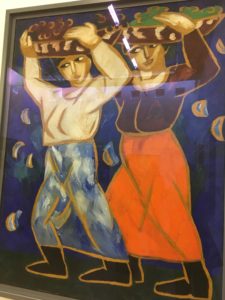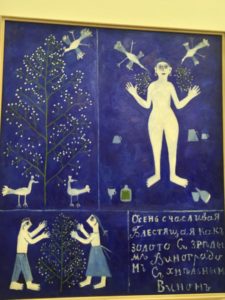 Neo cubism from several Russian artists was superb and invigorating.
Seen here is Automne by Mikhail Larionov and Les Porteuses by Natalia Gontcharova.
Yes, there are many works from Picasso, George Braque and Marc Chagall , two of his seen below as well as others.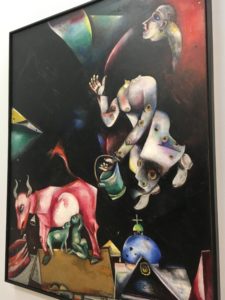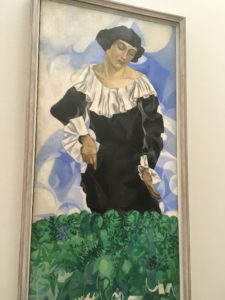 Perhaps as a tease for the following Gallerie Two, there was some  works from contemporary artists at the end of the hall. The two most outstanding works were the visually vibrant L'Arbre Bleu Eponge by Yves Klein and the monumental La Mariée (Bride) by Niki de Saint Phalle.
Apparently Ms Saint Phalle's view of conjugal love, motherhood and other statutes of women  was not one of eternal bliss, as you can see snakes and sorcerers  surrounding babies.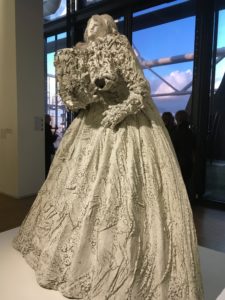 She was tragically a victim of familial sexual molestation, so that must be taken into perspective in understanding this creation of hers.
By the time I got down to level five, to the  entrance of Contemporary Art, my knee was hurting, I was hungry and the shadows of nights were gathering.  I spent some wonderful moments taking it views of Saint Eustache Church and the dome of the old Paris Bourse or stock exchange to the west.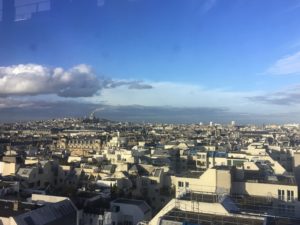 North, the wedding cake dome of Sacré Coeur perched high on Montmartre was flanked by darks clouds. South the beautiful latticed Saint Jacques tower took on a golden hue from the setting sun.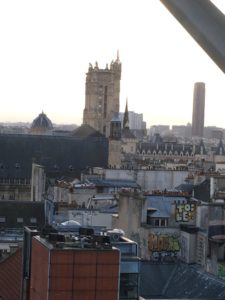 The roof of the Brancusi building still was covered with hundreds of pigeons taking in the human spectacle below like a late night movie before bedtime.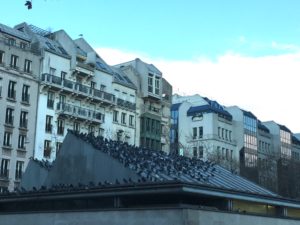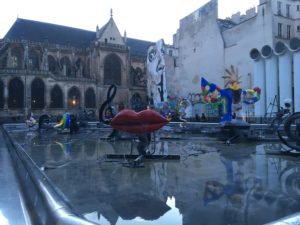 I was sorry to see the adorable Stravinsky Fountain no longer spewing and squirting spouts of water from those big red lips and  playful twirling sculptures.  Perhaps the recent hard freeze damaged the piping.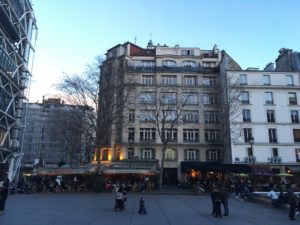 At least the old church of Saint Merri stood sombre as usual against the darken sky.  This church offers excellent free classical concerts on Saturday night and Sunday afternoons.
Take a look at the bent front facade of one of the oldest buildings, that looks bulging in the middle.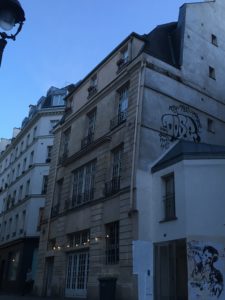 Taking bus 38 makes for a straight line home, offering views of the Seine and Notre Dame  then heading south on Blvd Saint Michel past Luxembourg gardens into the 14 arrondissement.
With a glass of rosé cremant de Bourgogne in hand, I settled down to read up on Cy Twombly's biography and contemplated his paintings and sculptures I had just seen.
After a succulent dinner of rack of lamb with parsley cream, it was a special treat to savour daughter Aimée's Gateau Basque filled with homemade  confit cherries.  It took over a week for her to confit the cherries before Christmas.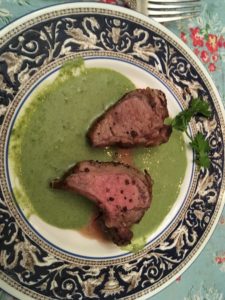 She initially did them , along with making glaceed orange, lemon and ginger to make a black fruitcake there never materialised.
The pastry was very delicious dribbled with the extra cherry juice, and I enjoyed being freed from pastry chef duties that I religiously undertake  on Sundays.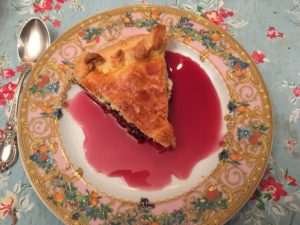 Aimée has an artistic flare and had spent the rest of the day sketching  , which brings her much joy. Art takes many forms and though only a select talented few break into fame and recognition, art, be it sculptures, painting, photography, or even pastries is a vital expression of who we are and that which brings us joy.