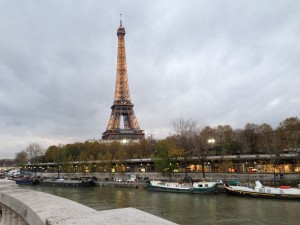 Who hasn't dreamed at least once in their lives of living on a boat?  Most of you think of yachts and houseboats, but what about a barge?  Top off that dream with seeing yourself floating gently along the banks of the Seine in Paris.
I too, very briefly thought oh, how lovely it would be to live on a barge, since I am obsessed with rooms with a view!  But my fantasies of sipping champagne on a fluvial terrace quickly burst after reading about the tons of  maintenance and money needed just to keep any boat, much less a barge afloat and working.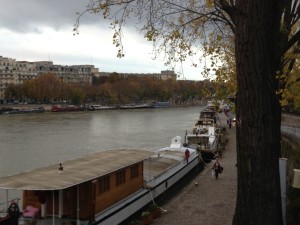 I have zero capacity to fix practically anything mechanical, and would be  totally exhausted, frustrated  and bored doing all those everyday chores needed in maintaining such a huge floating home.  But, you might be just the talented type to wing it in ease!
Supposedly there are approximately  2000 barge families in France, with around 1500 lining along the Seine basin.  Some very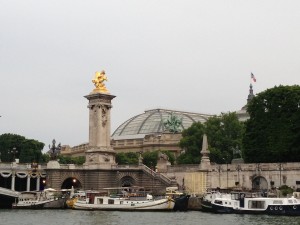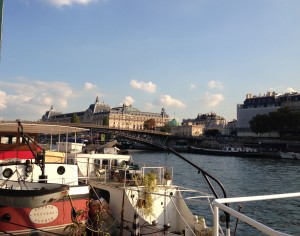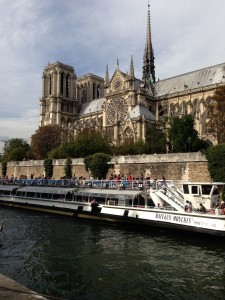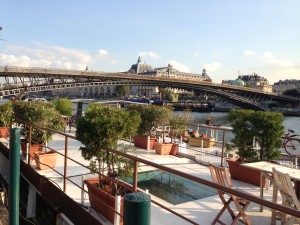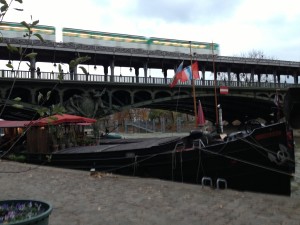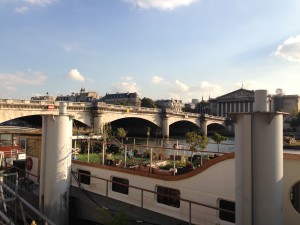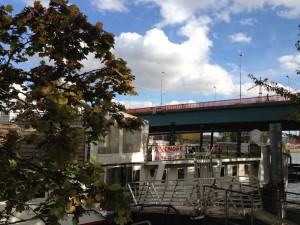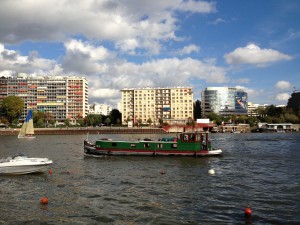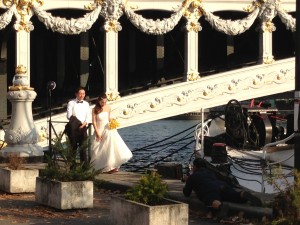 lucky ones are smack dab in the center of Paris,  offering gorgeous drop dead views from each side.
Others are moored along enchanted forested paths on the city outskirts or nestled in between little cosy islets that are quieter and very picturesque.   Yesterday I went south of Saint Cloud to the parc nautique of Sevres to see a student regatta from the top universities in Paris, called here "les grands ecoles".
Not surprising, there were loads of barges lining the banks, where I spotted one for sale.  Smaller ones, called dutch barges can start around 200,000 euros, which sounds great, until you throw in all the mooring and obligatory maintenance charges.
The basics are repainting the entire barge every three years and then a dry dock overhaul every five, plus a huge and costly complete inspection at every 10  years to prove that the barge, especially the hull is water worthy.
Even if the owner does not plan on carousing along the river, he still needs a navigating licence and pass a rudimentary exam.  More important than navigating skills, would be in my mind, being a do it yourself in plumbing, electricity and painting, or else have very deep pockets.
It sounds far easier to buy a barge than get a choice mooring for it, especially in central Paris.   You can never own a mooring along the Seine, so rental costs vary depending on the placement.  Prize ones in Paris have a long waiting list and will obviously demand the highest monthly rentals.
Very small barges, yachts and pleasure boats can be harboured at the Porte de Arsenal, an inlet that connects the Seine to Canal Saint Martin which has several locks and dams throughout.
Wherever you are moored, the French postal carrier will deliver to your mailbox, either urban or rural.  Several barges had small cars parked on deck, though not sure how they could be brought on the banks, other by hydraulic lifts.
For me, the terrace with water views would the biggest advantage of living on the Seine;  that is if it is warm enough to sit out and eat outdoors.  Since no one raves about the weather in Paris,  I would prefer to have a barge in the south of France, that has much more yearly sunshine and seasonal warmth.
Although you never have to put up with annoying neighbours on top or under your dwelling, as most Parisians do, you might be double moored to another barge, as noticed a lot.  Most barge owners though complain of the public not respecting their privacy, which in Paris would be quite limited.
If your barge home is tied to central Paris moorings, then expect the unexpected at all times of the day and night, from unruly drunk tourists peering in your windows, to a few climbing on your terrace for a little photography!
Some of the terraces, have green shaded walls to escape curious eyes, but given that the Seine is constantly being plied with tourist boats like the bateaux mouche, privacy is definitely limited out on deck.
More benign and rather cute was seeing couples taking marriage photos along the banks  near Pont Alexandre.  One such bride to be  made sure she would have secure footing under that pretty white gown, as I caught sight of bright red sneakers underneath!
At night the glowing lights along the Seine would make all the other nuisances seem trivial and worth having your little abode being admired and ogled by many.  You would certainly need thick bedroom shades though, to block those blinding search lights every so minutes from the  many bateaux mouche  lighting up passing monuments, bridges and  sights.
For those of you, like me who have resigned to have earth base housing, but still long for romantic boat getaways, there are many opportunities for houseboat rentals here. France is crisscrossed with many canals in all regions, where you can rent a houseboat  without having to pass a boat license.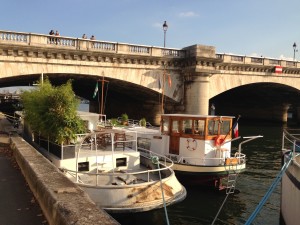 For a week or so, or even a weekend, you can slowly silo along bucolic countrysides and stop at tiny villages to bicycle around.   Grabbing a baguette under your arm and stashing a few bottles of wine and cheese in your basket, you will blend in nicely with the locals.
In Paris, if you don't mind peering tourists, noise and spot lights, you can also rent a barge stay thorough sites like Airbnb.   At the moment, I at not aware of any boat hotel in Paris, like the one I stayed in Stockholm, except a dinner cruise boat that has a few cabins for rent.
As much as I love water scenes anywhere, I am happy that I quickly vetoed buying a barge.  Instead, I am content to walk along and admire them from the banks and contemplate house boating through the canal du midi some day.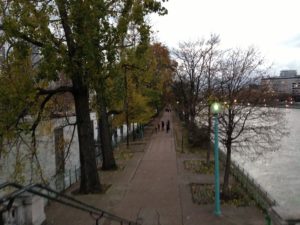 My own star lit nights overlooking the adorable rooftops of Paris and waking up to fluffy white clouds sailing pass my colourful flowers are really all I could ask for, except maybe looking down as the Seine rushes by!
Related Posts
34

If I can't walk along the ocean, which is two hours away, then I absolutely love walking along the banks of the Seine any time day or night.   Of course the great advantage of walking along this mythic river rustling powerfully through Paris is that you have the gorgeous backdrop of the city at…