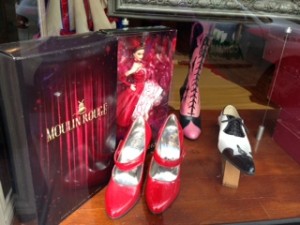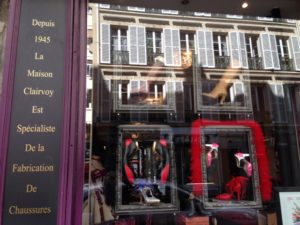 While meandering around Pigalle, in preparation for an upcoming post, I ran across this  very interesting store window that captured my eye.  Thought I would share it  just for a fun peek into the many interesting finds awaiting discovery in every nook and cranny here.
I wasn't planning on writing much, but a sprained  foot/ankle ended up keeping me housebound for two days, so I have ended up writing more than I set out to do.
The company is Clairvoy and as stated in the left hand of the window has been in business since 1945 of hand crafting shoes.  But these aren't your ordinary shoes, my dear, but destined to adorn the footsies of those very talented high-stepping can can girls at the Moulin Rouge, Le Lido, Folies Bergère , and the Crazy Horse.
They also make shoes for the Cirque d'Hiver, Cirque du Soleil, Opera Garnier et Bastille, musicals, cinema and the stars, from Bardot to Dujardin.    The boutique has five very talented artisanal shoe makers, whose hands take 40 to 60 hours to make each shoe, requiring over 400 steps.
The day a Moulin Rouge dancer is hired, an appointment is made with Clairvoy to measure and make a shoe that will provide first of all comfort, then beauty and durability.   Dancers typically dance two performances a night, for 6 days out of the week.
Though their major clients are those famous cabarets for  their professional dancers, one can order hand made shoes, but only if you are willing to fork out a minimun of 2000 euros, and have a lots of patience, as the dancers come first.  
I got a hidden peek into the life a cabaret dancer, when I had one as a patient several years ago.   She often complained of the rigorous and long rehearsals under the watchful and very critical eye of the troop's dance leader, an ex dancer herself, who had been there for years.
If a dancer looked a little heavier than usual, you were called out to be weighed. A omnious sign for certain, because if the girl was found above the "acceptable weight", you were side lined until you had loss whatever excess incriminating poundage.
In additon to eating disorders, she informed me that injuries were common, and part and parcel of the trade. She routinely performed stretching excercise to keep her hip and leg tendons very supple to withstand all the physical demands inherent in dancing the can can, and all the other various dances.
Her major complaint was that the high can can kicks left her legs sore, as it did many of the other girls, and could provoke  pulled tendons despite preventive measures. For that reason, the frenzied quadrilles of continuous high kickers generally have to rotate dancers because of the above dangers.
I thought of her, as I was taking the photos, trying to envision her fully costumed for the show. Surprisingly, she informed me that most of the girls are not French, but are recruited from Australia, where they annually recruit  long legged Aussi dancers.
I am unfortunately not long-legged, but by little feet have carried me many a mile or kilometer in my life.  I didn't start out in life with perfect feet either, because they were both as flat as  pancakes.
At the age of 12, I had surgery under the skiflull hands of Dr, Faheem Cannon, to build aches that I wasn't born with.  I am forever grateful to the man,  now deceased, that my feet have performed wonderful despite the heavy use since I moved to Paris.
Living in a huge city,  I appreciate this part of my body immensely as my very survival depends on my mobility.  My feet make up my vehicle of choice, running around the convoluted and often cobblestones streets , endless stairs of the metro, in addition to going and up and down the wide avenues  of Paris.
This past week and weekend they were over worked as usual with my photo journalism pursuits and scouring around for my Easter holiday feast.  I imagine that I would have  worn out any soul accompanying me.
After making my own pastry masterpiece, a Paris Brest Praliné sunday evening, I really wanted to take a long walk.  I made my usual tour around Parc Montsouris and upon returining chez moi, somehow , my foot missed taking on the curb entirely, resulting in a painful sprain.  Walking the rest of the way wasn't painful, but two hours later. Yikes!
I don't run to doctors, and even so , it was too painful to have made it out to the  generalist and then to the neighborhood radiologist, even though they do house calls.  It is now 4 days later and I ventured out yesterday, walking slowly and hesitantly to the marché for raspberries and asparagus.
Because I don't feel worse for baby stepping yesterday, then I think my assumption of it being sprained, rather than a stress fracture was correct. Perhaps I should think more about tucking them in more expensive shoes, than my usual bargain ones.
When you live in a large city like Paris, your feet are everything!  I may not be a dancer, but my life also depends of these poor overworked appendages, who carry Miss Cherry everywhere!
P.S. I would like to do  some quick mini posts once a week, in addition to my main one, depending on my mood, my interests, and or discoveries, however frivolous.    It could be one of my culinary creations, that I find hard to tuck in elsewhere or anything that catches my eye, however mundane, on the Paris scene, that doesn't require much analysis or writing.
Any feed back from my devoted readers will be greatly appreciated! Thank you all in advance for your coveted comments!