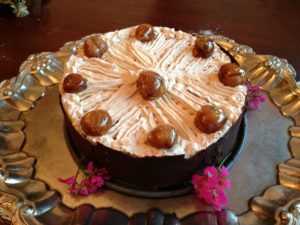 I ended up having this insatiable craving to have dressing this past weekend, despite the fact that I had not planned on having a traditional Thanksgiving meal. For me, the feast is not totally translatable here, without the rest of my family, and besides I was busy with the ultimate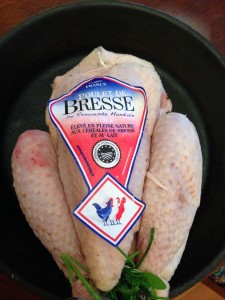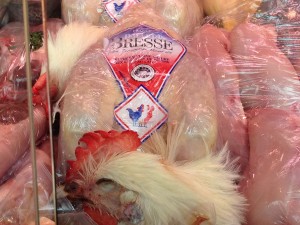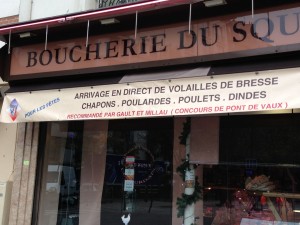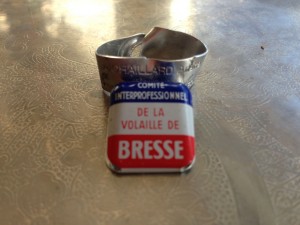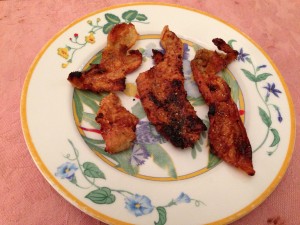 wine salon.   But by Saturday, the overwhelming desire for dressing  won out!
If I was going to make dressing, then I  had to find a bird!  I had resolved several years ago, to not eat any poultry that did not live  a happier free range life.  I feel guilty enough eating what little meat I do, so  being the appreciative carnivore that I am, I decided on one of the most renown and sought out birds in France; the Poulet de Bresse, which is perfect for two!
These royal plumed beauties  are the only poultry in France that has ever received an Appellation d'Origine Contrôlée, or AOC.  These pampered poultry are chickens, poulardes, capons, and turkeys that all have very strict rules in raising them.
They all must have been born and raised on  completely free range farms from a limited area around Bourg en Bresse, which is slightly west of southern Burgundy in the department of Ain, near the Swiss border and Geneva.
Farms must allot enough land to ensure at least 10 square meters of land per chicken. In addition to diet of  pecking ab lib,  they are given grains, along with milk and buttermilk, that all must come exclusively from Bresse.
The only time they are restricted is the last few weeks of their life to ensure a fattening up period.   This ensures that  they will have a very tender texture, that literally almost melts in your mouth.  The flavour has a finesse not found in other breeds; an exquisite sweetness of the finest chicken that must be tasted in order to fully appreciate the difference.
Generally they are only found in high end poultry and butcher shops in Paris.    Where as, when  I lived briefly in a small village near Bresse, I would see them for sale in the open markets, because it is after all their local pride and joy!
I was happy to discover that in my own arrondissement ,  Boucherie du Square as seen in the photo,  specialises in AOC poultry from Bresse.  The birds have a lovely snow white plumage , with a very red crete or comb and blue feet.  Perfect tricolour of the French flag!
All of this gustatory pleasure though, comes with a hefty price , selling for around 20 euros a kilo.   Unfortunately the whole uncleaned chicken, head, feet and all is weighed to determine the price, before the butcher trims it up for you.
As Monsieur Le Bourdais was busily preparing my treasured bird for the roasting pan, he took great pride in telling me that all his AOC poultry de Bresse, arrives weekly from the area  and must be authenticated with the tricolour badge, and the farmer's name band.
He was especially proud and rightfully so, of being selected to be on the jury that determines the very best birds during a festival in Bourg en Bresse,  where the acclaimed poultry are wildly celebrated with much fanfare close to Noel.
After paying 41 euros for the gustatory honour of serving one on my holiday table; believe me,  I took great care in roasting it to perfection.  With only some onion, fresh parsley and sprigs of thyme tucked in the vent, it was started in a cold oven, as recommended  at 120C( 250F) for 30 minutes , then raised the temperature to 180C(350F) till done, so as to not initially "seize" the delicate flesh.
With other free range chickens, I have generally started them in a hot 180C oven with excellent results, so I might try this cold start method to see if I prefer it exclusively. Most important, is not to overcook them!
Basting with melted butter, madera and a little Armagnac, every 15 minutes, it became a lovely golden brown towards the end. By that time, the glorious aroma had overtaken the apartment making us all salivate.
It is essential to let the chicken rest for approximately 20 so minutes after you take it out of the oven, to allow the juices to recede back into the flesh.  The rich pan juices are deglazed  with a little of my own chicken stock that I had made for the dressing, and after the the seasoning is rectified, it is ready to serve.
For the two of us, I was able to get three meals out of it, and last night alone, I  savoured the  lightly grilled gizzards and liver medium rare, served with the last of the pan juices. Accompanied by a julienne of celery root, red onions and a smidgen of chopped mountain ham, the left over meal, however modest was wonderful!
Out of respect for the sacrificed animal and in light of the cost, nothing is put to waste!   I made some more chicken stock, which  I am in the habit of routinely doing anyway with all leftover chicken carcases. Leftover skin was grilled till it was crackling brown, as seen in photo, making for a a good snack.
My dressing was a pure southern rendition of cornbread dressing that I grew up with, but with a French twist.  Adding chopped Montbéliards sausages and a few roasted chestnuts  takes an  ordinary cornbread dressing to new dimensions.
Montbéliards and the larger Morteau, which are IGP( Indications Geographiques Protagée),  are perhaps the most wonderful sausages in the whole world,  coming from the Jura area of France .   These delicious sausages, and like the Bresse chickens, have strict laws concerning making and smoking them in special farm chimneys.
Since I hadn't planned on bringing my cartons of wine home from the salon till Monday,  I fortunately still had one lovely bottle of 2009 Saint Émilion left in my cave. This very perfumed wine went beautiful with the absolutely sublime roasted poulet de Bresse, sautéed fresh brussels sprouts, and my marvellous smokey and nutty dressing.
Pecan pie had likewise been on my mind , but since I did not make it up to Rue Tiquetonne, to buy my pecans at G. Detou, I had to quickly change my dessert plans to a chestnut cake that went far beyond fantastic.
Since I already had chestnuts and chestnut flour, I was ready to go.  The recipe is from Rose Beranbaum, a wonderfully gifted American baker and cookbook author.
I find her recipes for genoise cakes practically foolproof, as the chestnut genoise proved to be.   I do reduce the amount of sugar called for in the cakes and fillings, as I find Americans continually to over sugar their cakes and pastries way too much.
Cut in half, the genoise layers are imbibed with rum syrup and filled with a chestnut mousse cream.  The chestnut mousse is simply slightly sweetened chestnut puree folded into plain whipped cream.
I added chocolate bands around the circumference of the cake for a little chocolate tease, as chocolate, chestnuts and whipped cream, make for a perfect marriage of flavours. Not having any candied chestnuts on hands, I dipped some chestnuts in caramelised sugar for the decoration of top.
Pretty to look at, but what is important, is was absolutely fabulous and luscious on the tongue.   So, even though I did not have all the trimmings of a traditional Thanksgiving meal, it made for glorious autumn feast and delicious leftovers!