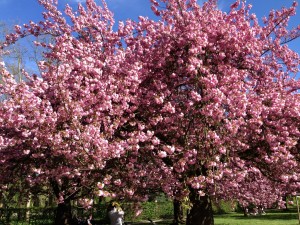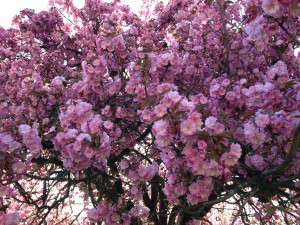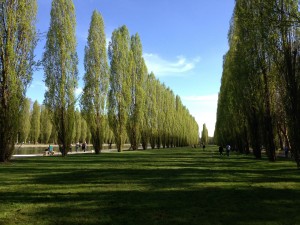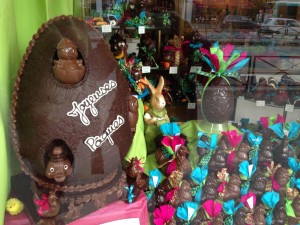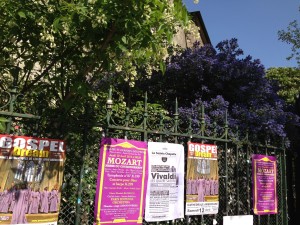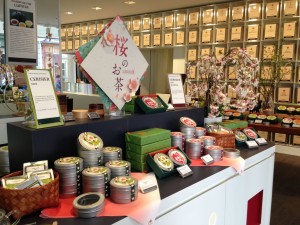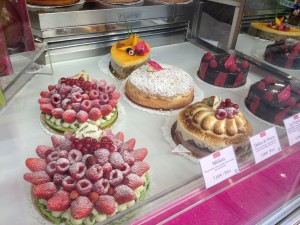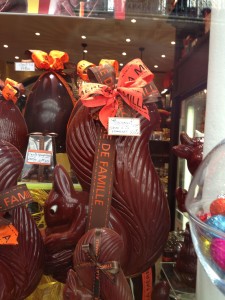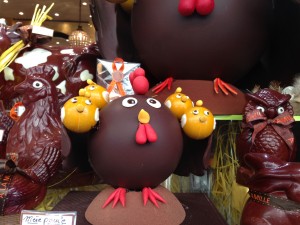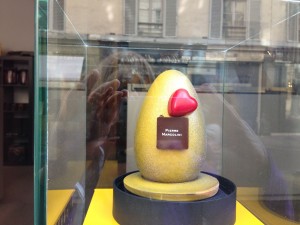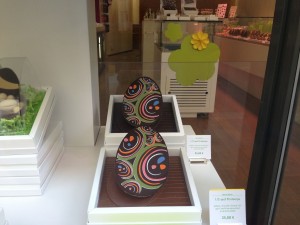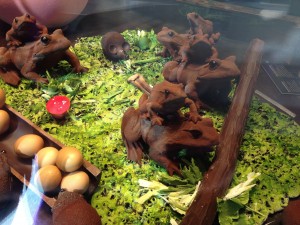 Easter chocolates and cherry trees have little in common, except that they both appear in the spring.  Nevertheless, in the past week, I have had long and fruitful walks discovering both again.
The first one was a 14 kilometer walk through three of the prettiest parks south of Paris in the suburbs of Sceaux, Plessis Robinson and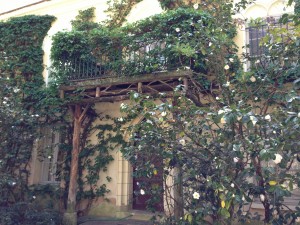 Châtenay Malabry.  The semi urban walk in nature was a meet-up group of multinationals who gather nearly every weekend for long hikes here and there, around Paris.
Climbing up to a promontory in the first park of Henri Sellier, offered a breathtaking  view of the green valley below.   The second park, La Vallée des Loups,was the setting of Chateaubriand's retirement house seen in the photo nestled in blooming flowers and shrubs.
Chateaubriand was a French writer, politician, and diplomat, who sought refuge in America during the brunt of the French revolution.  However, his name is more known and associated there as a cut of beef.
Throughout the walks I really revelled in the sight and smells of trees and shrubs that had awakened from the long winter, soaking up the sweetly perfumed blossoms here and there that delighted my nose.   Even though I was wasn't able to decipher each scent nor each flower, the overall effect was extremely pleasant!
The Parc de Sceaux, has been one of my favorite parks outside Paris to walk about on any warm and sunny day.  The rather small but pretty château is set majestically on a hill, that overlooks a beautiful formal garden by the great French landscaper, André Le Notre, who designed the gardens of Versailles and many other chateaux.
The orchards were planted with 250 cherry trees, that from afar  resemble puffs of pink cotton candy atop a tree.   Close up the blossoms really do look delicious enough to eat, but didn't have any distinct perfume.
Almost every tree was occupied with Japanese families sitting beneath the blossoms enjoying a picnic and drinking sake.   I wasn't aware until recently, that they consider "hanami" , meaning looking a cherry blossoms, a yearly celebration that is entrenched in their culture.
Parc du Sceaux , obviously is a favorite place for this event for all the expat Japanese living in Paris or Ile de France region.
Paris is always a feast for the eyes in every season, and perhaps spring is the most sought after time of the year.  For chocolate lovers, Paris is the ultimate scene at anytime, but Easter is when the chocolatiers compete designing their Easter collection.
Last thursday was one of those perfect spring days where the air was warm in the sun and only mildly crisp in the shade.  It was a perfect day for me to do part one of my chocolate walk to the sixth arrondissement, where the vast majority of the most famous chocolatiers in the world have boutiques.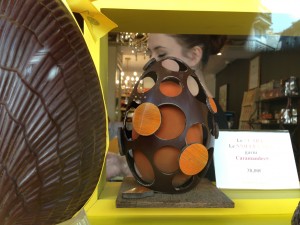 I ended up hitting seven in all, some of which I was able to capture their Easter display in the windows.  The others, like Pierre Hermé,  kept theirs inside and I didn't dare risk being admonished or plainly forbidden of taking photos of their treasured creations.
I have learned the hard way, that the majority of the more acclaimed pastry makers and chocolatiers don't allow in store photos of their complete masterpieces.   Perhaps this is out of fear of being copied, even though their web sites have photos of their collections.
Even if I don't have chocolates in mind, I often like to take this walk from my arrondissement because it passes by the Luxembourg park and Saint Sulpice church and up into the medieval part of the sixth near the Seine..  Most of the chocolate boutiques were on or off Rue Bonaparte and Rue du Seine.
Jean Paul Hevin's collection was the large egg with a bright orange beak and red dangling wattle along with the pretty fish bowl seen in the photo.  Both very pricey, I might add, with the egg costing 93 euros, and the fish bowl more reasonable at 43 euros.
Without a doubt, at least for me, the cutest displays were La Mere de Famille, which is Paris's oldest chocolate shop, from 1761.  Beautifully crafted deep chocolate owls, dolphins, squirrels  and a whole zoo of chocolate animals could be found , all adorably dressed up in the bright orange ribbons of the house. Beyond fabulous, this is where I will return to buy my own easter chocolates.
Crossing over blvd Saint Germain, I loved the purple wisteria hanging from the trees of the church, Saint Germain des Prés seen with the corlorful advertisements of concerts below.  Across from the church is the famous cafe Les Deux Magots, which I caught a perfect shot, full of happy patrons as usual.
Further down Rue Bonaparte, I discovered a brand new Japanese tea shop, called Lupicia, that was impressive seeing all the teas offered.  Not surprising, they had a huge display of cherry perfumed teas in black and green teas.
Trying to smell so many teas proved difficult, so I settled on just a few that either intrigued me or that I had not seen before.  After one sniff of a black tea perfumed with muscat, the grape that makes lovely sweet wines, I was sold on buying that one, as was also recommended for iced tea.
Further down the street,was Richart Chocolates, known for very artistic art deco decorations on his whole collection.  A shop selling wooden and porcelain Russian Easter eggs caught my eye for their prettiness.
Heading towards  Rue de Seine, I bumped into the Gelateria Grom, the famous Turin branch that serves up some of the very best Italian ice creams.   I was really tempted to get one, but since I was by myself, the two scoops would have been too much.
My very favorite chocolatier is Pierre Marcolini, who had several eggs and bunny on display, both with a red heart.  Down the street is Arnaud Larher, and Gérard Mulot, both outstanding pastry makers and chocolatiers whose sumptuous confections were all beautiful!
Last boutique visited was that of Patrick Roger, whose whimsical leaping froggies and a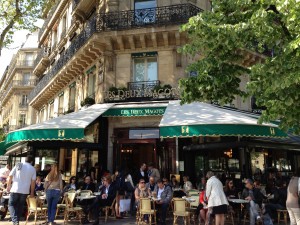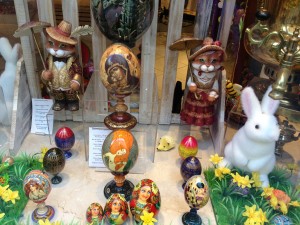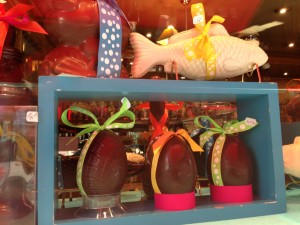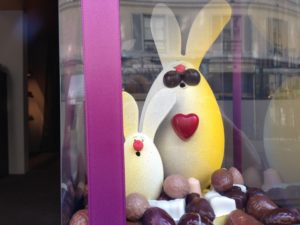 little mouse were absolutely adorable and I am sure very expensive as well! He makes all of his chocolates in his lab in Sceaux, where he grows the herbs that he perfumes his chocolates.
The next day I headed up to the marais district specifically to Benoit's chocolates, whose chocolate maker is a woman.  She learned the art from her father, where his original store in Anger is still located.
I bought a few pieces of her praline filled ones and they were all sublime. Didn't make it to Jacques Genin's shop, on Rue Turenne, where I go for the most luscious hot chocolate ever, always served with some of his very exquisite and expensive chocolates.
Like haute couture, these Easter masterpieces are planned well in advance and vary in design from year to year. With prices hovering over a 100 euros a kilo, these painstaking creations are not going to be bought to fill up the kiddies Easter baskets, but rather for those aficionados with deep pockets!
While taking photos in the window of Pierre Marcolini's store,  a guided chocolate tour group stopped by too; which made me remember that I used to put together these walks for visiting friends.   If any of my devoted readers are in Paris, let me know and I will take you personally on these chocolate discovery walks for free, guaranteed to dazzle your eyes and wear you out all at the same time!
As the Christian Holy Week starts today and also the first evening of the Jewish Passover commences; I wish you all a very happy Easter and a Happy Passover!
Related Posts
42

Chocoholics were in chocolate heaven this weekend at the  Salon de Chocolate, an annual affaire that is hugely popular here.    A chocolate extravaganza and orgy all wrapped into one spectacular show that delivered on its promise to dazzle. And dazzle it did!  As soon as I walked in, the aroma of chocolate engulfed me,…